Well, sometimes, after a couple so-so drinks I do wonder why I am doing this.
"Life is too short for bad cocktails," sort of thing.
On the other hand, if I didn't force myself to make new or different cocktails, I'd probably just make Manhattans, Brooklyns, or Old-Fashioneds every night.
And the odds of the cocktails from the Savoy being any good, seem about equal to cocktails from any other source.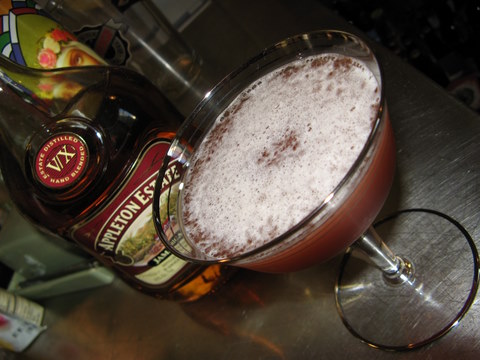 Chinese Cocktail
1 Dash Angostura Bitters
3 Dashes Maraschino (1/2 bar spoon Luxardo Maraschino)
3 Dashes Curacao (1/2 bar spoon Senior Curacao of Curacao)
1/3 Grenadine (1, well 3/4, oz Home Made Grenadine)
2/3 Jamaica Rum (2 oz Appleton Estate V/X Rum)
Shake well and strain into cocktail glass.
No idea why this is called the "Chinese Cocktail". From the ingredients, it seems like the recipe must be old. Say, pre-1900. I know there was a "Japanese" cocktail in one of the versions of Jerry Thomas' cocktail book.
The flavors combination is actually very good; but, the cocktail is rather too sweet, even with home made grenadine. I think changing it to 3/4 rum, 1/4 grenadine, and being a bit more generous with the bitters, would be closer to my taste.