re: Substituting Dubonnet Rouge for Byrrh
I did a side by side taste test, and they are not as far apart as I had imagined. The Rare Assemblage is a much nicer aperitif than the Dubonnet Rouge. Seems like the big differences might be the style of the base wine used and a slightly lighter hand with the spices.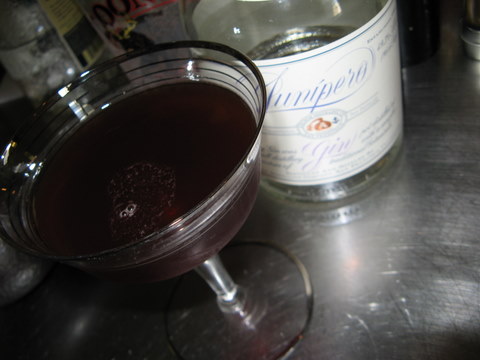 Byrrh Special Cocktail
1/2 Byrrh Wine (1 1/2 oz Byrrh 1875 Rare Assemblage)
1/2 Tom Gin (3/4 oz Junipero, 3/4 oz Boomsma Jonge Genever)
Stir well and strain into cocktail glass
We've had a few defunct ingredients, so far: Hercules, Caperitif, East Indian Punch, Secrestat Bitters... But, for most of those, cocktaildb has had substitution recommendations.
"Tom Gin", though, is one that has always stumped me.
There is still one made in the US by Boord's. However, most opinions I've read don't think much of that gin. The surly, and now deceased, barkeep at Aub Zam Zam in San Francisco did insist on making his Martinis with it, and calling for any other gin, got you kicked out the door of that establishment.
I've heard the now defunct Tanqueray Malacca was a fairly decent substitution for Tom Gin. Unfortunately, I've never run across that gin anywhere.
It's been suggested to me, by persons who would know, that Junipero, slightly sweetened, isn't a bad substitution. Of course I can't leave well enough alone, so, as Old Tom Gin is regarded as the "missing link" between Genever and London Dry Gin, I threw in some Jonge Genever.
A perfectly tasty, and slightly sweet gin cocktail. As far as "special" goes, I'd really have to give the nod to the plain old "Byrrh Cocktail" above as something truly special and unique.