re: American Beauty
I did find out that, aside from being the title of a Grateful Dead album and the name of an old garden rose variety, "American Beauty Rose" was the name of a song published around 1910. Mostly, it's one of those, "Yeah, girls from other countries can be kind of hot; but, I prefer my good old fashioned American Beauties," type songs. No idea if there is a connection.
Oh, and I ran across an article in NY Magazine which noted that they have or have had a
version
of the American Beauty on the cocktail list at WD-50.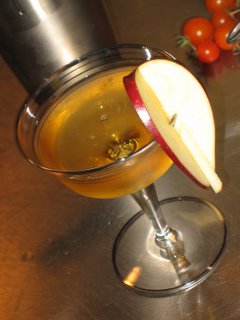 Angel Face
1/3 Calvados
(1 oz Laird's Bonded Apple Brandy)
1/3 Gin
(1 oz Beefeater's Gin)
1/3 Apricot Brandy
(1 oz Vedrenne liqueur de Abricot)
Shake well
(stir - eje)
and strain into a cocktail glass.
---
This is a pretty good cocktail. I thought the Beefeater's flavor detracted a bit, however, and next time would probably reduce the amount or make it with a softer gin like Plymouth.
I thought of the idea of the apple angel's wings garnish on the way home and actually the flavor of the garnish and the cocktail complement each other nicely. The idea of trying to reproduce an angel's face also occurred to me; but, then I could only think about the Rilke poem which sez, "every angel is terrifying," and discarded the idea.
Googling didn't seem to turn up any relevant information for the name of this cocktail.
Edited by eje, 31 August 2006 - 10:46 AM.