Inspired by my friend who is attempting to cook his way through "Joy of Cooking" from begining to end, I thought I might try the same with a cocktail book and try to gain a larger perspective on the world of cocktails.
Rob's already working on the "Mixer's Manual" so I thought I might try Craddock's "The Savoy Cocktail Book". I'll try to make as many as I reasonably can with what ingredients are currently available and post pictures. If you want to help, let me know. My liver will thank you.
I will work on my velvet light box, I promise.
First up is "The Abbey".
1/2 dry gin (1/5 oz. Beefeaters)
1/4 Lillet (3/4 oz.)
1/4 orange juice (3/4 oz.)
dash angostura bitters
Shake well and strain into a cocktail glass.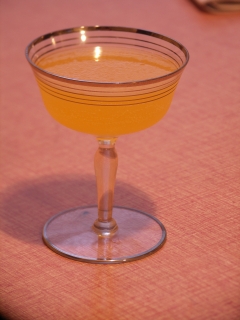 I really like the translucent orange color of the cocktail. It almost seems to glow from within. Flavor is light, orangey and a little bit bitter. Like other Lillet based cocktails I've had in the past, I don't seem to notice that I'm drinking spirits. Something about Lillet seems to transform gin into spring water. Could be dangerous.