On May 3, 2006, we had the pleasure of dining at El Bulli. Needless to say, it was an excellent meal, which ranks up with the French Laundry and Pierre Gagnaire in my experience. Highlights of the meal were probably the brioche-mozzarella-rose foam, Iberico ham and potato course and the cheese course. The seafood dishes, however, were very disappointing, as all of mine had strong "fishy" tastes, which I found surprising. Details are below. (Note that I've listed the courses in Spanish from the menu, but have tried to provide some sort of translation based on what I remembered and with the help of an online translation service).
Here is El Bulli from the "camping" hotel next door, where we stayed. As you can see, they are a short walk from one another, which is quite convenient.
Kitchen in full swing.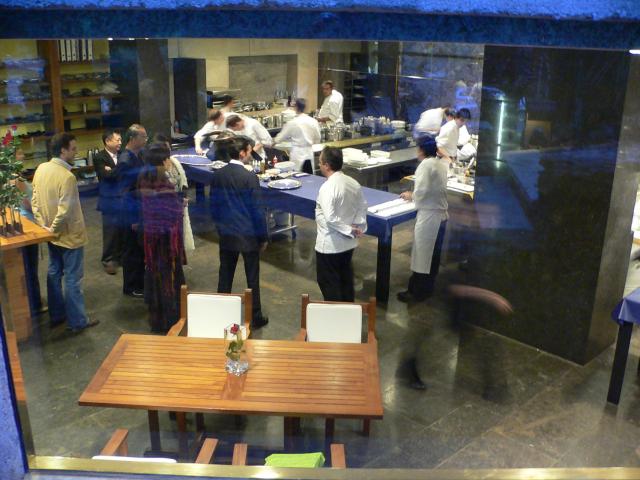 First course: "fresas/mandarina campari" (strawberry/mandarin campari). The strawberries were infused with tangerine flavor and the liquid tasted of strawberries. This was merely ok. The texture of the berries was a bit flabby.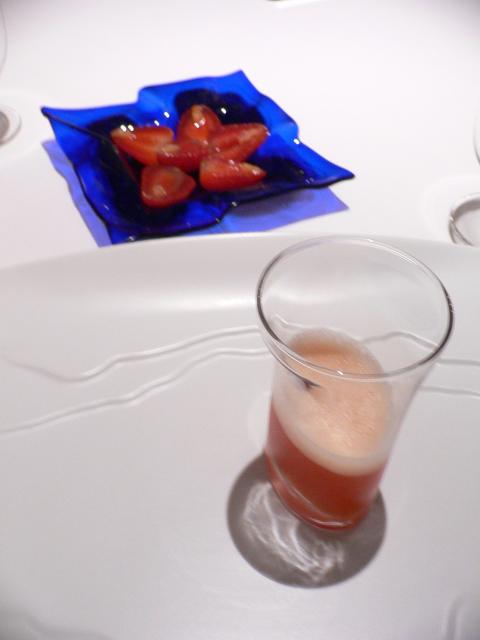 "Aceitunas verdes sfericas": they tell you they're olives, but, if you've done your research, you know they're more than that. The essence of an olive encased in a thin, gelatinous sphere that bursts when you bite into it. Very good.
Starting at the bottom left corner: "croquanter de guanabana", "waffles de olive negra", "serpiente", "corteza de salmon" and "parma/passion". I'm not sure if the "serpiente" and "corteza de salmon" descriptions are right; I recall the green twigs being some sort of crisp seaweed and the next dish looks like squid.
The "parma/passion" was absolutely delicious. What a great flavor combination -- shaved parma in a passion fruit tuile.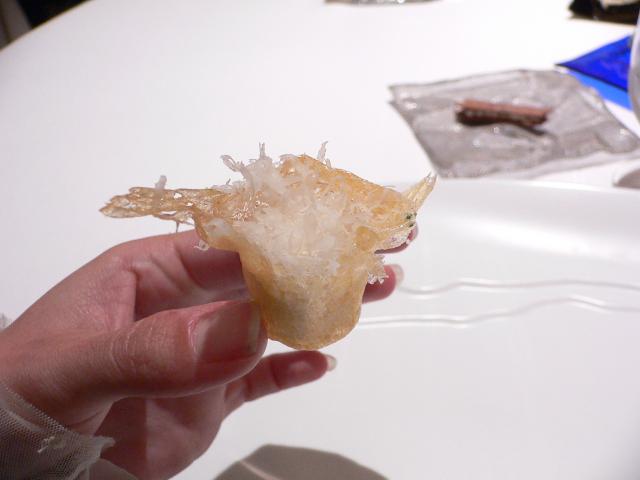 "Galletas heladas": we were told these were butter cookies. Some sort of frozen butter concotion, merely ok as they weren't too flavorful.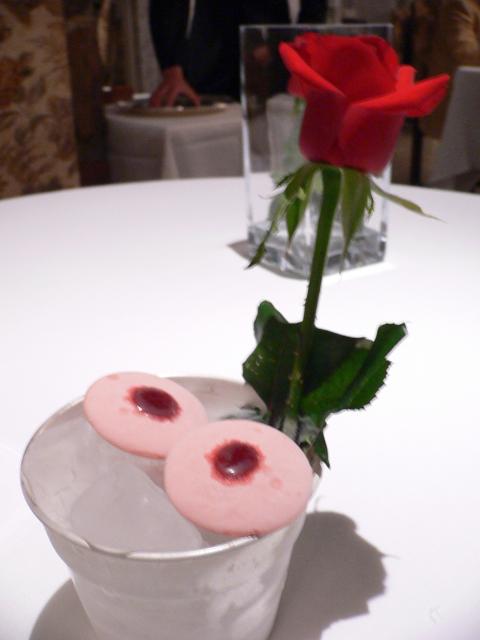 "Esencia de mandarina": tasty essence of mandarin.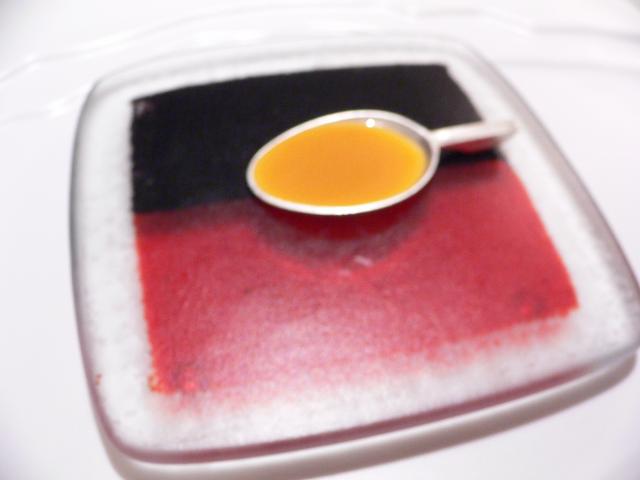 "Nitro-fresas, parmegiano": frozen strawberry and parmegiano.
"Caviar sferico de melon": melon caviar. Interesting play of textures, included passion fruit seeds.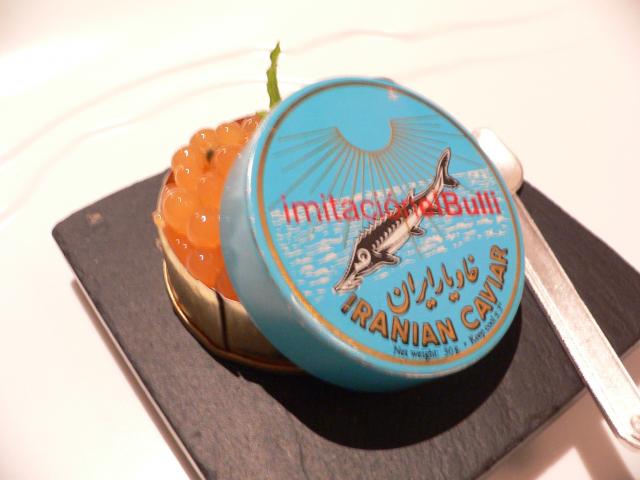 One of the standouts: "bricohe al vapor de mozzarella al perfume de rosas". This was basically a very light brioche bun, filled with warm, gooey mozzarella and topped with rose foam. I could eat this every morning for breakfast.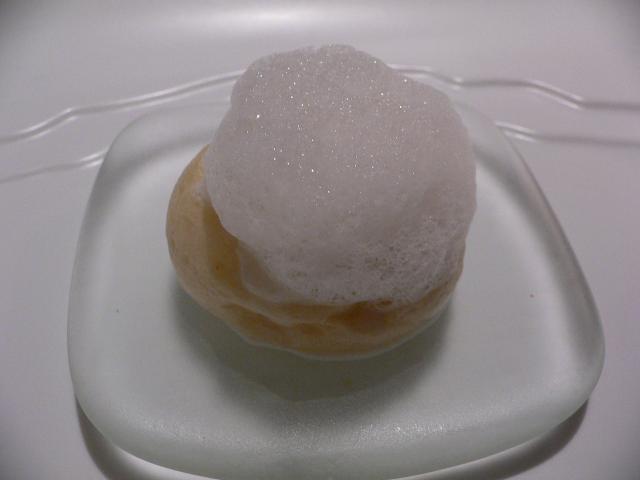 "Deshielo": I don't remember all that was in this dish, but there is some peanut powder.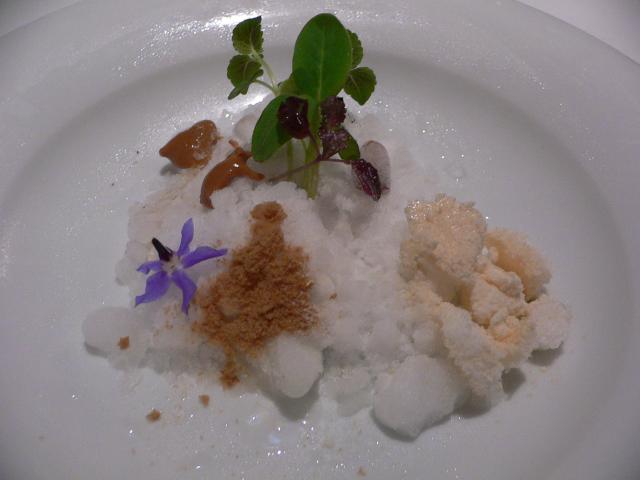 "Migas de almendra, tomate raff, sauco y gele de almen": tomatoes with almond flowers and foam.
"Esparragos en escabeche": asparagus five ways.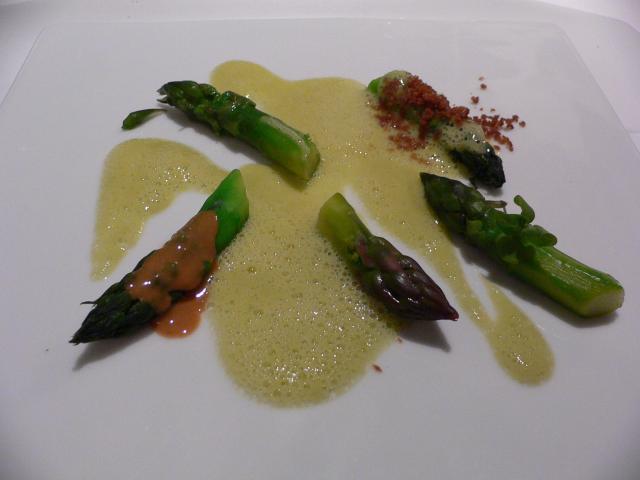 "Guisantes al jamon con ravioli cremoso a la menta fresca y aire de eucalipto": Peas and jamon with little bits of a cream jelly. The flavors of mint and eucalyptus were also worked in. Delicious.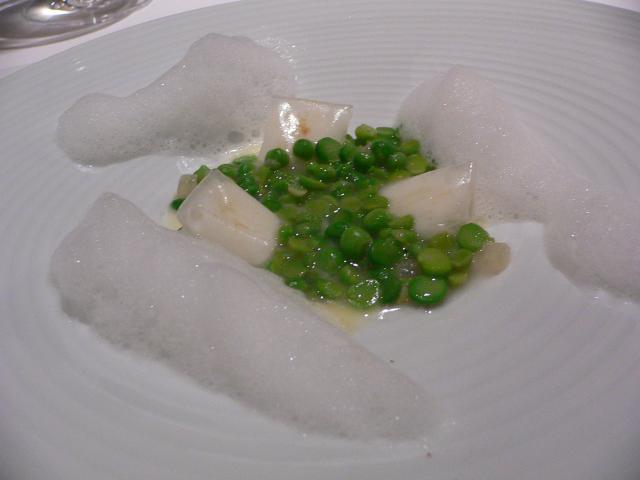 "Mejillones sferificados con sopa de patata al bacon y crema doble": mussels in spheres with a potato bacon essence and cream. The potato bacon essence/soup was amazing -- the perfect distillation of those two flavors. My mussels, however, were very fishy. I couldn't even finish them, which was a shame. I probably should have said something, but I didn't feel as comfortable doing so since I don't speak Spanish.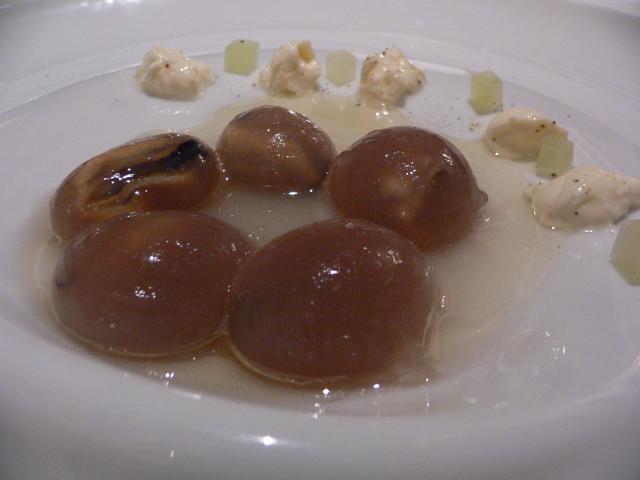 "Ventresca de salmon con encurtidos": salmon belly with various items, including pickles. Some of the salmon was a bit fishy, but the dish was pretty good, with all sorts of interesting bits of flavor.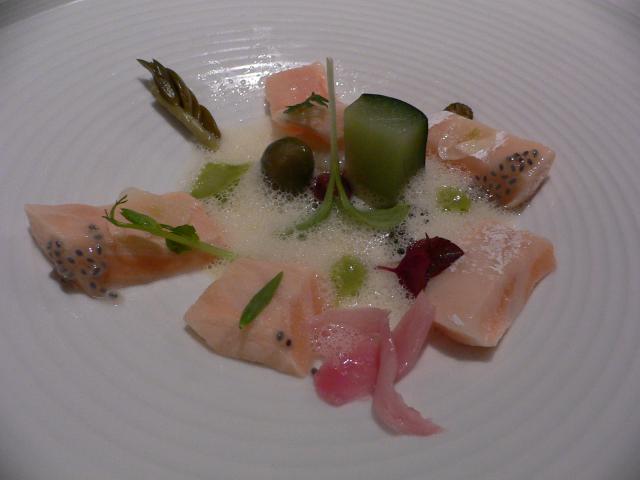 "Ostras con panceta iberica ahumada, sopa montada con su grasa": I think I have the right description here. These were oysters and, again, mine were very strong. I didn't finish this dish, either.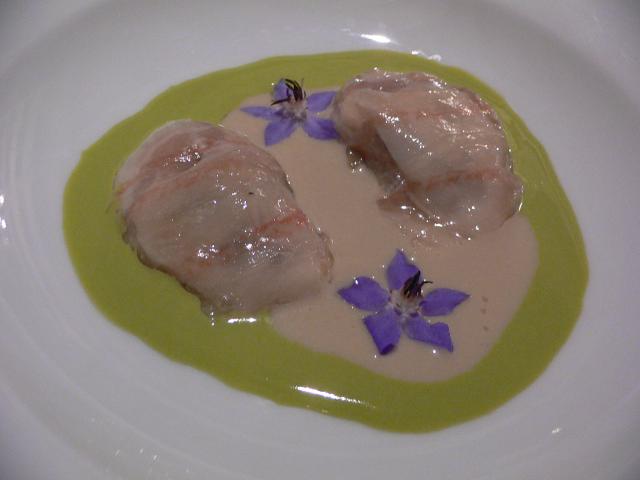 "Perrechicos escaldados": I don't know what mushrooms these are, but the dish was extremely tasty. The yellow balls are spheres, but I can't remember what they were filled with.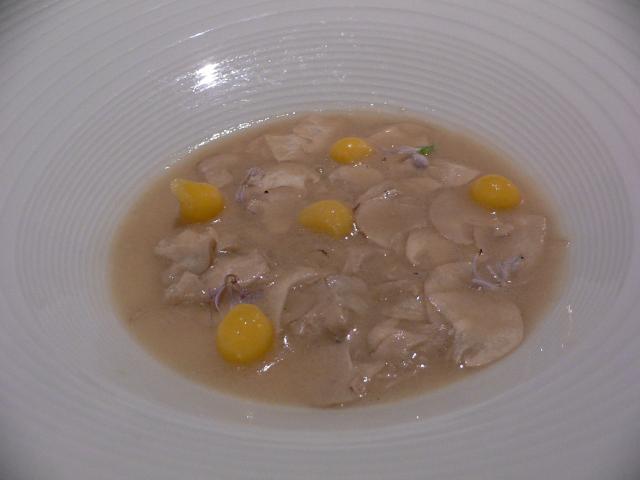 "Colmenillas a la crema": I think I have the right description off the menu. Morels in foam. Very intense.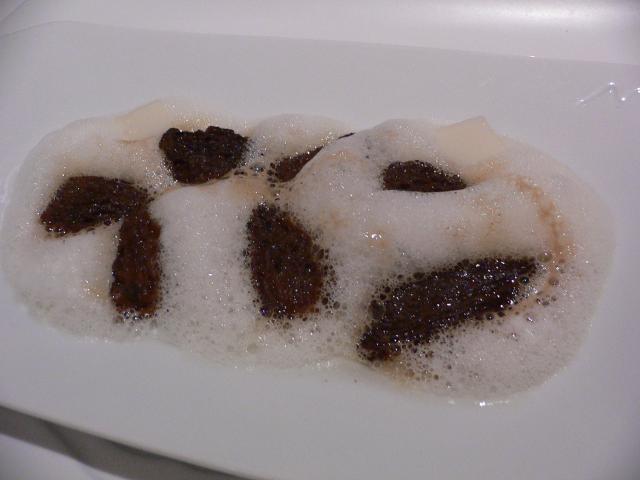 "Virutas ibericas con pure de patatas": shaved Iberico ham with potato puree. How bad could that be? Delicious and a generous serving, I might add!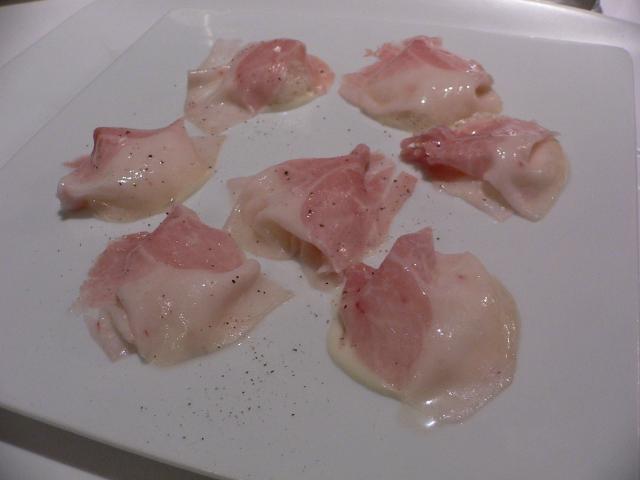 "Patas de pollo crispy": crispy chicken feet with seaweed. The feet had been deboned. Nice and crispy, but not terribly flavorful.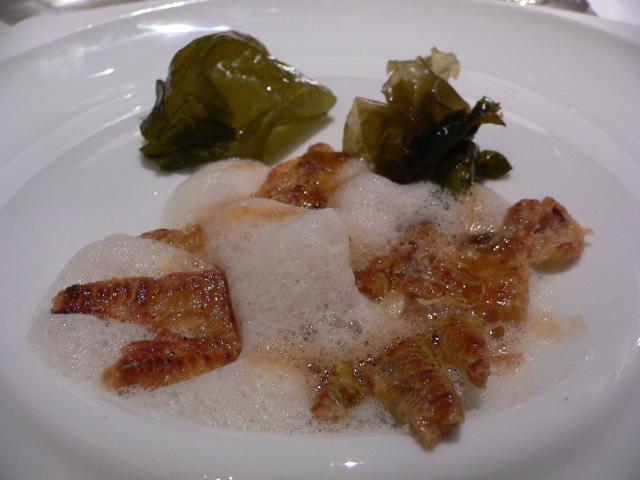 "Torta canarejal con merengue de miel": excellent cheese, perfectly ripened and served with honey meringues. One of the highlights of the meal.
"Liquid de melocoton": peach liquid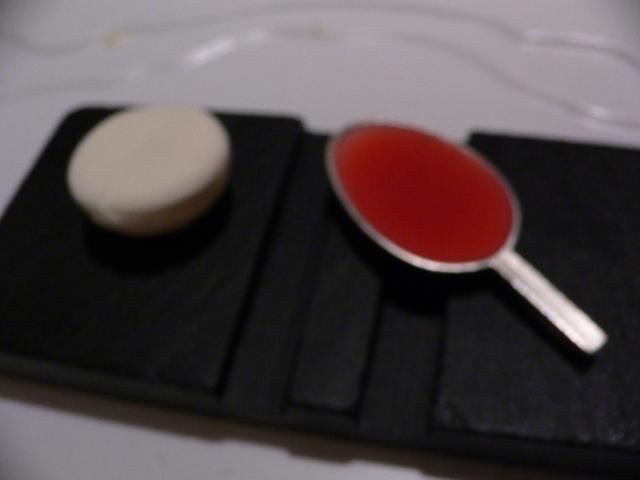 "Helado de coco con merengue ligero de zanahoria": coconut ice cream with carrot meringue.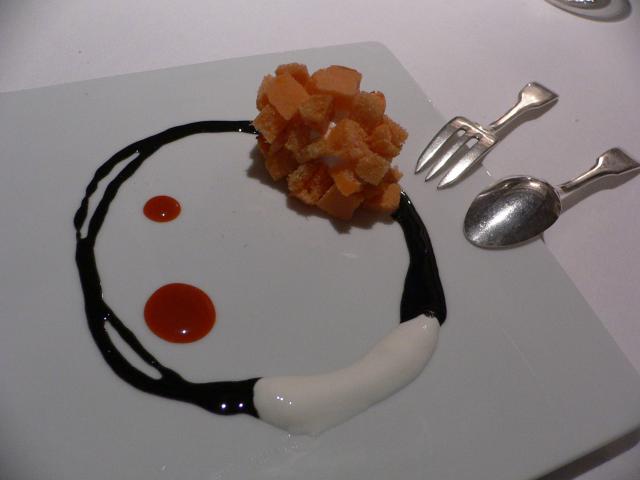 A sort of raspberry bar. We also ordered an excellent tea.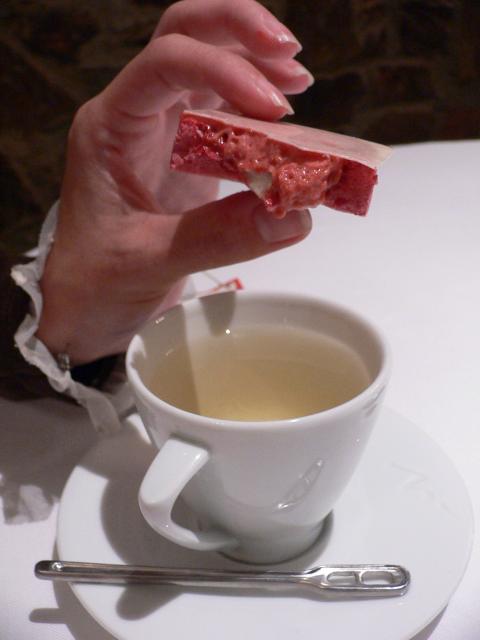 "Galletas": crisp wafers in various flavors.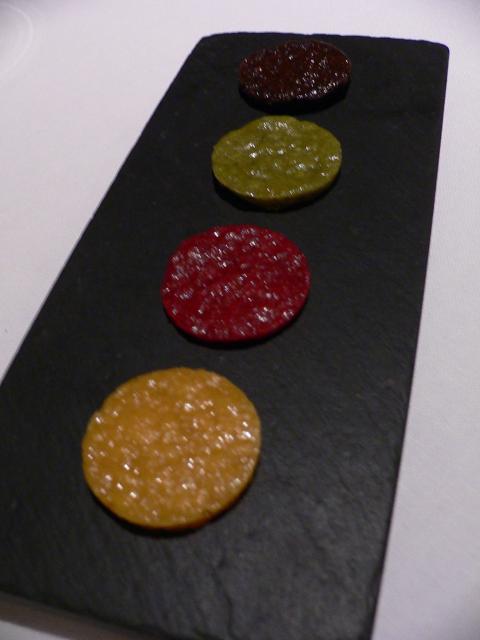 At the end of service, they set down these three bowls covered with inflated white gloves that are supposed to be waving "goodbye". Seemed a little silly to me, but there was a present in one of the bowls (see next photo).
Passion fruit chocolates -- delicious!
As far as logisitcs, we rented a car at the Barcelona airport and drove up to Roses. We decided to stay at Ciudad de Vacances, the camping hotel next door. It's very basic and I wouldn't necessarily recommend it, EXCEPT for the fact that it is very convenient.
Hilary
Edited by mukki, 07 June 2006 - 12:42 PM.