Okay--first, here's a close-up picture of two pieces of the mystery vegetable:
Notice that the one on the right looks totally like baby bok choy ... and the one on the left has the little flowers. So ... maybe this is baby bok choy, some of which has been allowed to go to seed?

Heck, I dunno, but I'm sure it'll taste just fine ...
Meanwhile, here's what's happened with the fish so far:
The hunk o' yellowtail, with some of my mise materials in the background: a couple of blood oranges, some garlic and ginger, dark soy sauce, sesame oil, and some scallions that are admittedly a little past their prime, but in good enough shape for these purposes. Also playing in tonight's game: ground white pepper, reconstituted dried shiitakes and their soaking liquid, and Shaoxing cooking wine.
The fish (rather messily) sliced into steaks:
Mincing the garlic (and showing off my big butch cleaver

):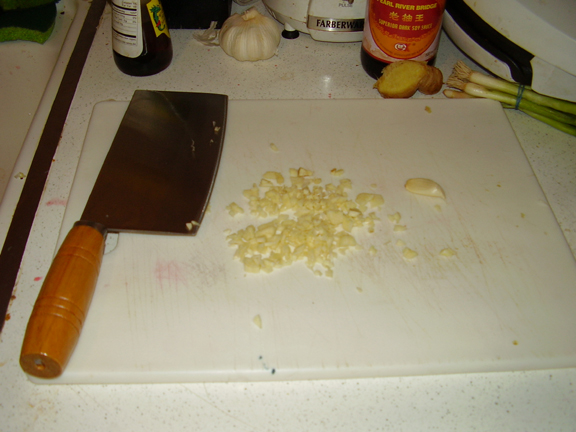 The fish, resting in their marinade: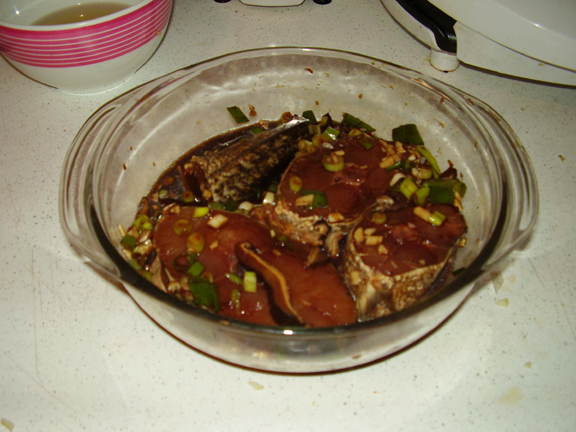 By the way, you will notice that the hour has grown rather late. I am a bit of a night owl--one of the advantages of working as a freelance telecommuter--so it is not uncommon for me to be cooking and eating at a relatively late hour. Think of me as working the night shift.

Still, that fish should be getting in the oven pretty soon now ...