This is no one night stand
It's a real occasion
Close your eyes and you'll be there
It's everything they say
The end of a perfect day
Distant lights from across the bay

--"Babylon Sisters," Steely Dan (Gaucho)
Howdy folks. Welcome back to my little food-world. I'm really tickled to have been asked to blog again so soon, and am looking forward to having another really fun time with y'all. And I do hope that, once again, people will feel free to participate with questions, suggestions, stories, whatever turns you on about what I'll be presenting.
In this week of traipsing around with me, you'll notice that a lot of the same obsessions evident in my
first blog
will still be in full effect in this one, including but not limited to: good cheap eats in little hole-in-the-wall mom-n-pop joints; ethnic markets; Asian cuisines; exploring neighborhoods; shameless references to classic rock.
You'll also note a whole new obsession making its presence known, which I realize I've been harping about almost too often in my posts around eGullet recently--but hey, it's helping me keep my commitment, so I appreciate you all humoring me.

Yep, I'm talking about my whole little crusade to come up with a weight-management plan for myself that is realistic, healthy, customized to my food preferences, and enjoyable enough that I can stick to it for a good long time without it driving me nutz. So far it's been going pretty darned good, if I do say so myself. So I'm only feeling a
little
bit nervous showing you all what I do now to implement this weight-management plan in my daily food doings.
Part of what I do now with weight-management will be occupying most of my morning today (I mean, once I get done with the business of sleeping). I'll be headed over to my HMO for my weekly weigh-in and exercise class. Then I've got a bunch of errands lined up, some of which are food-related: one will be catching lunch at a local pho cafe, and at least one other will involve some shopping. I will bring camera along, of course, and do my best Harriet the Spy imitation for your enjoyment.
Other plans will be revealed as the week progresses. Some of them are admittedly rather fluid--I do a lot of little shopping trips for fresh produce, and I tend to let what I cook be influenced by what looks good and appeals to me at any given moment. And this week, I'll also be soliciting opinions and ideas from you folks--so feel free to chime in.
As to (somewhat) more solid plans: I do know there will be at least one outdoor farmer's market. I think there's supposed to be at least one food-related community event at my organo-groovy UU church. There will even, finally, be a visit to Ba Ren, the local Szechuan joint I love so well--my food plan includes, for the sake of my sanity, the concept of the pre-planned occasional splurge, and a few of my local foodish friends will help me demonstrate how that's done.

Oh, and I can't resist filling you in about the photos from my blog teaser, especially as they too relate to planned blog stops: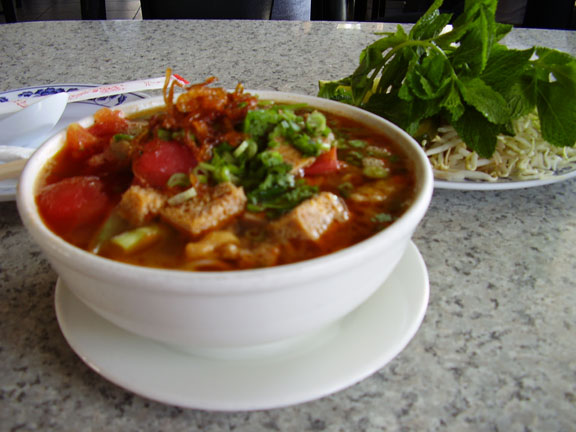 This is a wonderful Vietnamese soup known as "bun" -- actually, I think the word "bun" refers specifically to the type of rice vermicelli noodles used in this style of soup. This variation has tomatoes, periwinkle meats, and fluffy cubes of shrimp cake. The broth is spicy, and enriched with a fermented fish paste. Like its sister-soup pho, this one comes with a big pile of veggies and herbs to add in. I had this at Saigon, 4455 El Cajon Blvd, one of the westernmost outposts of a whole string of Vietnamese and other Asian restaurants and shops that I am busily exploring. I may or may not hit Saigon again during the week, but I'll definitely show you some of "The Boulevard's" delights.
Oh yeah--and this blog would not be complete without an appearance by the owner of this scarf:
I guess I gotta call him Fearless Ex-Housemate now, huh? I was over at Humphrey's Backstage Lounge, a local live-music venue attached to a very popular resort/restaurant complex, to hear one of FXH's bands perform, and I was lining up a photo of the extremely nice warm scallop and shimp salad they served me there. When FXH noticed how Humphrey's dishware pattern matched the scarf he was wearing (swag from the recent concert tour of Donald Fagen, better known as one half of the classic-rock act Steely Dan), he couldn't resist accessorizing my photo--and voila, he "scarfed" my salad. (ow. sorry, couldn't resist).
It was in fact FXH's Steely Dan tribute band that was playing that night--whenever he plays there, he can't resist directing the audience's attention to the view out the lounge's windows:
...of course, it's night by the time he sings the lines "The end of a perfect day/Distant lights from across the bay..."
All this is actually on topic, because there will be at least one more planned musical visit from FXH during this blog--and food will very much be involved.