Once upon a time, there was a little girl whose Mum used to take her out for Report Card Dinners, beginning with Grade 1, the onset of thirteen years of straight As (...then university happened. Let's not go there

). We would go to fancy places when we could afford them, and less-fancy places when we couldn't. My palate wasn't
too
discriminating at the age of 5: I was happy to go out, period, and had as much fun at Le Champignon as I did at
The Old Spaghetti Factory
(I have an abiding love for spumoni and pistachio gelato to this day) or The Noodlemaker (watching the koi madly swim beneath the little bridges, summoned to their dinner by the gong--was there ever anything more enchanting for a child?). The waiters at Le Champignon were charmed by my nascent French-language skills and always gave me extra desserts off the pastry tray.
The Report Card Dinner underwent a few changes over time, as circumstances and location changed (when we moved to the East Coast to live with my stepdad, the economic situation meant that an RCD was more likely to just be something special, home-made, than a dinner out in NYC or, later, Philadelphia), but the concept of good food as a reward for good behaviour or good marks was set. When I have something to celebrate, the first thing I want to do, still, is go out for a good meal.
Fast-forward 30-something years, and I'm back in Vancouver, living in a flash condo just outside of Yaletown, with a gas stove and granite counters...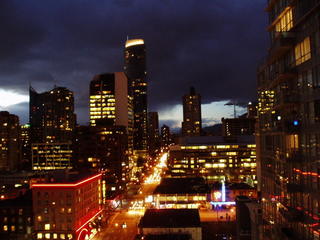 cooking now and then, baking a lot of homely but tasty birthday cakes for my co-workers, finding eGullet thanks to
Jamie Maw
's column in
Vancouver Magazine
, finding some bosom pals who appreciate food the way that I do...real estate goes insane, I decide to sell my condo, take my profit and run, and buy a little house in East Vancouver.
The little house has an enormous problem, though: the kitchen is a joke. It comes complete with an electric range and a built-in banquette, reminiscent of an RV. Just my style....NOT!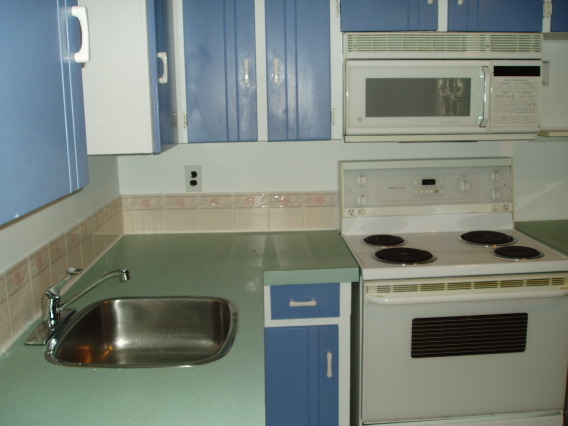 It just so happens, I know this
kitchen designer
...

I decide I need a new kitchen, dining room, and refurbished bathroom upstairs (the living space is up, bedrooms are down). I hire a guy I know to act as my General Contractor and do this work for me, with kitchen design, cabinetry and so forth from Daddy-A.
Now we come to the matter of the title of this blog:
Power, Convection and Lies
. Some of you may recognize a riff on a favourite 1980s New Order album. I've kind of always wanted a big fancy range, somewhat for snobby reasons (I mean, let's be honest here!), but also for practical reasons. I got a real jones on for
Power
when I took the Serious Foodie cooking class at
Northwest Culinary Academy of Vancouver
. Then I had a
dinner party
which brought home to me the utility and desirability of two ovens and an extra burner or two...
So I've sold my soul to the Canadian Imperial Bank of Commerce for a 48 in. Wolf range with 6 burners and a chargrill--and two ovens, one of which is
Convection
. My first! we'll see what it does to my baking.
That brings us to the
Lies
.

I know that construction is always later than they say it will be, and I mean they've only been working on the 300 sq. ft or so of the renovation since the beginning of March

...everyone told me the millwork would be late, bla bla bla. The first thing that was supposed to be finished was the bathroom, since it's rather inconvenient running down and upstairs all the time, and I didn't have water available upstairs for about two months. Then things were to be done as much as possible so that the millwork could come in, the countertops could be installed, the appliances could be installed, and Bob was supposed to be my uncle....
Well, I rescheduled my blog when it became apparent that the earlier date would be impossible.
The millwork was right on time, the countertops were early, the appliances came in a week ago...and they're still not completely installed. The other rooms are in even worse shape! My contractor has a habit of saying "I'm going to do X tomorrow, Deborah," and then not only not doing X, not doing
anything.
If I had more money, I'd fire him and hire someone a little more reliable, but I won't go into the whole rigmarole. Suffice to say that, while I thought about calling this blog Power, Convection and Size, Lies seems more appropriate just now.
So here I am. Blogging.
My house continues to be a work in progress, but I hope it progresses rather quickly as I have invited 7 Gulleters/spouses over for dinner on Saturday

The menu is sort of set; the wine has been bought; the crystal has been unpacked

and I just hope I can get my house in shape in time!
Aside from Saturday dinner, we'll do some Vespa shopping (I commute to work on my new Vespa, Enzo, every day

), go to the first
Trout Lake Market
of the year (since my house conveniently backs onto Trout Lake

), hit a luau, and I'll show you a couple of my favourite restaurants. With luck, God and the electrician willing, I'll even be able to do some cooking in the midst of all this! and watch some hockey! Go Oilers!
I will have more pics in the morning. Well, a few. Everything is still pretty topsy-turvy, but I am determined to make my coffee in the new kitchen tomorrow, for the first time.
Time for bed.
Good night, Gullet!
Edited by *Deborah*, 18 May 2006 - 07:31 AM.