A lot of people seemed to have trouble with the IMBC recipe recently published in Fine Cooking, so I thought a demo of a very popular recipe, the one from Rose Levy Beranbaum's Cake Bible ("Mousseline Buttercream"), might be helpful. Over the years I've tweaked my technique a bit, and it no longer truly mirrors Rose's instructions. Hope this helps!
First, the formula:
-- 5 egg whites (best at room temp)
-- 1/2 tsp cream of tartar
-- 1/4 cup sugar
-- 3/4 cup sugar
-- 1/4 cup water
-- 1 lb. unsalted butter, softened but not warm or soupy (bringing to room temp and bashing with a rolling pin works well)
-- 1 to 1.5 tsp vanilla extract or liquor for flavoring (** Ruth's note -- RLB suggests using as much as 3 oz. of liquor to flavor, but I find that the emulsion doesn't hold with this much liquid added. 1.5 tsp is even a bit of a stretch.)
-- Equipment: a stand mixer works best, using the whip attachment for the eggs and switching to the paddle when you start adding the butter (to reduce unwanted air bubbles when icing the cake), and you'll need a candy thermometer.
Okey doke. First pic -- nice soft butter: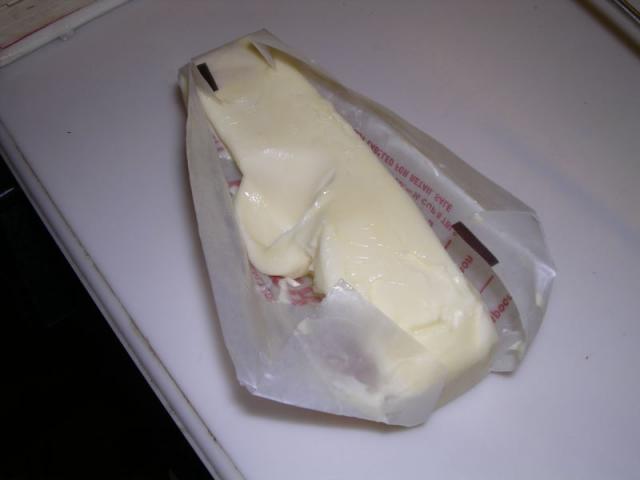 It doesn't *need* to be quite this soft, but it does need to be pretty soft in order to incorporate well with the meringue. But not so soft that it's melting. Okay, first you are going to get your egg whites whipping. You're going for stiff peaks. When they are foamy, add the cream of tartar. When you've got soft peaks, gradually add the 1/4 cup of sugar and whip to stiff peaks, as below:
Now, while you're fussing with egg whites, you also want to get your sugar syrup going. Combine 3/4 cup sugar with 1/4 cup water (no need to mix it and risk crystalization) and set over med/high heat. It's going to come to a boil fairly quickly; when it does, pick up the saucepan by the handle and give it a little swirl to aid in dissolving all the sugar. You are going to get an all-over bubbly surface, and that's when you want to start checking the temp. When you've done this a few times, you will notice that when the bubbles get thicker-looking and the syrup takes on the palest of amber hues, you'll be right where you want to be (248*-250*F). Here's what it looks like at just about 246*. You can sort of see the more viscous quality of the bubbles, but it hasn't yet started to turn pale amber: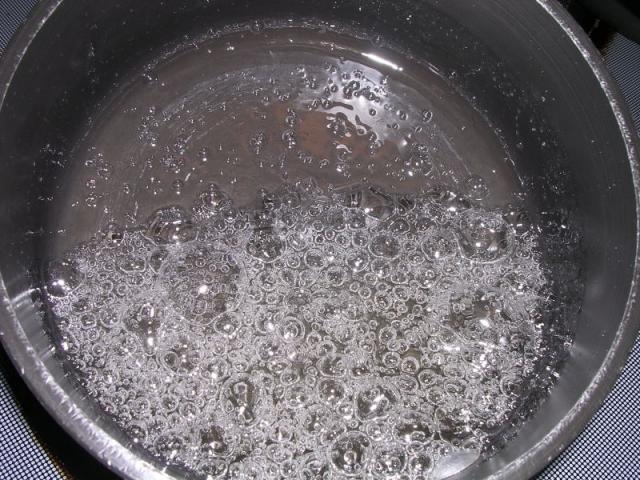 At 248*, take this off the heat. If your egg whites are at stiff peak and you're feeling confident, you can leave the mixer running on high and start dribbling the sugar syrup into the bowl directly from the saucepan, aiming for the space in between the moving paddle and the edge of the bowl (if you hit the beater, you're going to lose a lot of your syrup to the side of the bowl, where it will stick and remain). If the egg whites aren't quite ready or you'd like a little safety net, lightly spray the interior of a Pyrex 2-cup measure with cooking spray *ahead of time*, and when you get to 248*, pour the syrup into the cup. This will slow down the carry-over cooking of the syrup and give you a cool handle to hold and a handy spout whilst pouring the syrup into the egg whites, as described above.
After you've gradually poured all of the syrup into the whites, feel the side of your mixer bowl. It will feel HOT. You're going to let your mixer continue to run for several minutes while the mixture cools down -- keep the mixer on med/high for 2-3 minutes, then reduce to medium (but no lower). Keep feeling the side of the bowl to guage temp. Here's what the egg whites will look like after all the sugar syrup is incorporated -- this is an Italian meringue (which is useful for piped cookies and macarons, too, not just for buttercream!).
The meringue is glossy, thick and dense, and very stiff. If for any reason you don't get a result that looks like this, stop and start over -- don't waste a pound of butter if your egg whites aren't right.
Once the egg whites have cooled down (could take 5-10 minutes with the mixer running), you're ready to start adding the soft butter. With the mixer running on medium, plunk 1-2Tbs into the bowl at a time. After the first 1/4 pound or so goes in, the meringue is going to thin out considerbly and you'll be certain that you've made a mistake -- don't fret. This is what it looks like with a portion of the butter added: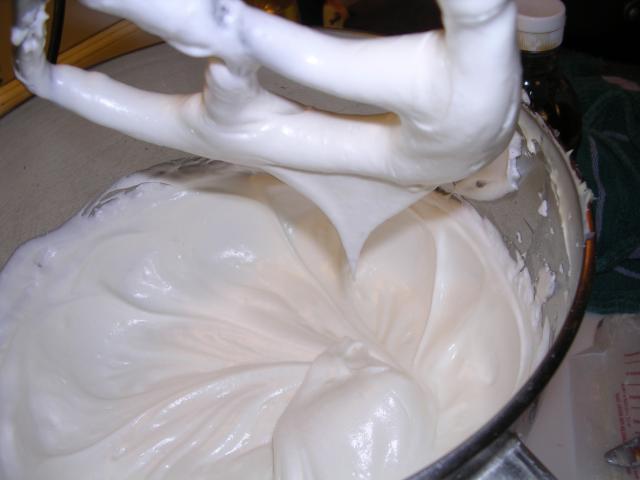 See how soft it is drooping off the paddle? No worries. Keep adding the butter, 1-2Tbs at a time. From time to time, feel the side of the bowl to keep an eye on the temp. If the bowl still feels hot, and/or the butter melts when you start to add it, stop adding butter and continue to beat on medium until the bowl cools down. If your bowl starts feeling cool (which is what happens to me more often than not), you may get something that looks like this:
See how it looks lumpen and curdled on the beater? My butter, though soft, was a bit cool going into the bowl, and it started to sieze up a bit. At this point you're making an emulsion, just like mayo or ganache, and the mixture really wants to be watched closely. When I get this curdled effect and the bowl feels cold, here is my foolproof remedy: stop adding butter, soak a dish towel in hot water, wring it out and wrap it around the bowl while increasing beater speed to high. The gentle warming of the mixture plus the additional agitation will bring it into line pretty quickly, and you will see the emulsion coming together before your eyes:
This is still not completely combined, but it's close. When you can see the emulsion coming back together and the bowl no longer feels cool to the touch, it's safe to start adding butter again. When all the butter plus vanilla or other flavorings are in, this is what you'll see: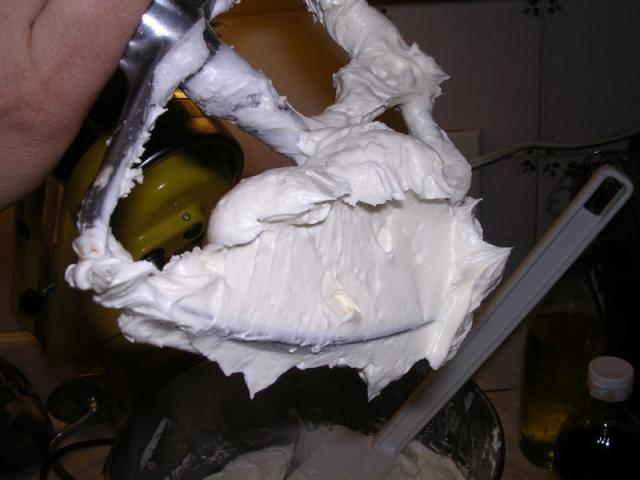 It's smooth and light, but able to hold peaks well, as you can see on the beater. You can incorporate melted cooled chocolate, lemon curd, raspberry puree, liqeurs (but only 1-2 tps to keep the emulsion intact), crushed nuts or nougatine -- sky's the limit. It holds up well enough to pipe roses and intricate borders. Everyone should try this buttercream at least once -- enjoy!
Edited by RuthWells, 10 May 2006 - 01:12 PM.