I went to Inaki Aizpitarte's latest venture, le Chateaubriand (discussed
here
), last night and was very impressed. The space itself is quite nice, with a modern bistro look that doesn't appear to have changed all that much from its last incarnation, but I could be wrong. The crowd on a Saturday night was mixed, with young, hip bobos from the quartier and well-heeled Parisians. At the end of the evening I even spotted Pierre Hermé.
And the food? Delicious. I started with the
Thon, Betteraves
, seared tuna with what I imagine was a beet foam and pomegranate seeds, with a julienne of raw or barely cooked white beets (I think). A friend had the
mini-tartare de boeuf ŕ la cacahoučte
(peanuts), which I regretfully didn't manage to try but it looked amazing with cubes of fresh beef topped with a tiny quail's egg. Another friend had the
asperges vertes, sesame
-- fresh asparagus with what I imagine was a sesame foam. The main courses were equally good. I had a wonderful saddle of perfectly cooked lamb served with a puree of potato and a delicate sliver of eel. Friends had
poitrine de cochon, celery rave, réglisse
, and the
cabillaud vapeur, sauce bourguignon, laitue, pak choy
, which, again, I unfortunately didn't try, but everyone raved about and there wasn't a speck left on any of our plates. For dessert we all had the rose ice cream with a boulette de lait caillé and lait ribo, which was my least favorite course, but still good. Next time I would try the
pot au chocolat, piment d'espelette
instead. They also had a cone de chevre and a crotin de Cavignol.
For now the menu is limited to only three entrees and three plats. Prices are 30 € for entrée, plat or plat, dessert, or 36 € for all three. The wine list was great as well, with wines from Puzelat, Dard et Ribo, Foulards Rouges, Domaine du Possible and Villemade to name a few.
I tried to take a few photos but I obviously need to re-read my camera manual because they came out quite badly. This was the only one that was salvageable—my entrée of thon, betterave.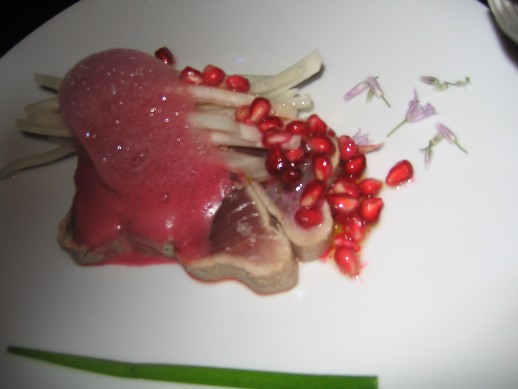 Edited by John Talbott, 25 May 2006 - 05:05 AM.