StudioKitchen February 23, 2006
Maguro, Yuzu Kosho, Sorrento Lemon Oil, Takikomi Wakame
Shime Saba, Granny Smith Apple, Blood Orange Oil, Radish
Hamachi Belly Tataki, Preserved Lemon, Ponzo Froth
Blue Moon Acres Mezza Arugula

Three fresh and intense, fairly traditional Japanese preparations: the maguro was all luxurious tender tuna goodness, brightened with a snap of citrus and a little marine saltiness; the strong mackerel was perfectly balanced with the sweetness and crunch of apple; the star of the dish was the Hamachi, a decadently fatty belly cut, just barely seared to give that dark-sweet edge of caramelization, and perked up with the citrus saltiness of ponzu. And OK, maybe the arugula was mostly filling space in the 4th hole, but it was a nice cleansing accent!
Smoked Salmon and Dill
Truffle - Egg Chiboust
Chlorophyll Sauce
Wild Maple Cured Steelhead Roe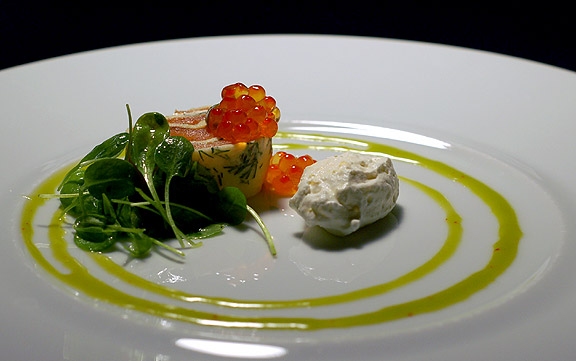 Simple smoked salmon, rolled with a dill-impregnated crepe, contrasted beautifully with the creamy, airy egg salad, which carried the subtle, but unmistakable aura of truffles. And that maple-cured roe... that's just amazing stuff: sweet, salty, springy, practically self-luminescent...
Parsley Root Soup
Pink Grapefruit Salad, Melted Scallions
Candied Pecans
Sorrento Lemon Oil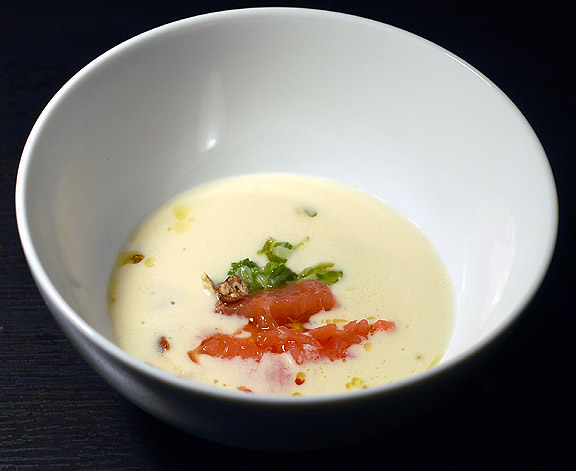 This is pretty much the same as was in the little shotglass from tuesday, and I was thrilled to have a bit more to taste. I don't think I'd had parsley root before this week, but after tasting it I don't know why it's not more common. It made a delicious, earthy soup, not too different from turnips or heck, even potatoes. But that sharp, sour snap from the grapefruits, the sweet crunch of the candied pecan, the light aroma of the lemon oil, all conspired to lift this above mere comfort.
Australian Barramundi
Brandade Croquette
Nicoise Condiment
Lobster Piperade Jus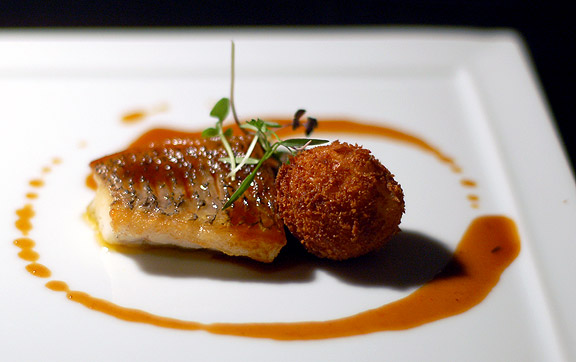 The light sea-bass-ish barramundi had a nice crust on it, and was accented beautifully by the relish of olives, capers and other strong mediterranean flavors, as well as the intense jus. But I almost forgot about the rest of the dish when biting into the airy, crunchy, perfect mcnugget of salt cod and potato, crusted with croissant crumbs. Whoa, that was good! Our menus accidentally carried the brainstorming-note Shola had written when planning the dish: "appropriately salty brandade" and indeed it was just right, with an unapologetic fish presence, but not too much...
Hot Spring Egg
Unagi Kabayaki, Preserved Nameko Mushrooms
Roasted Foie Gras, Sancho
"Blis" Maple Vinaigrette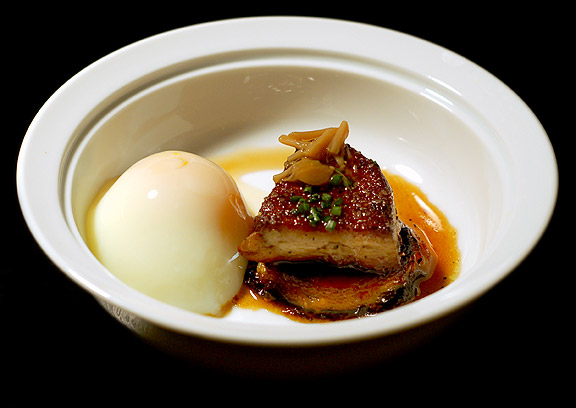 The amazing texture of the just-barely set egg, injected with maple and a touch of vinegar to restrain the sweetness would have been enough. But if you can have it with roasted foie, and grilled unagi, it's even better!
Peanut Scented Rolled Cap of Mishima Ribeye
Caesar Salad Stew
Condensed Madiera Jus
Gratuitous Vegetables, Gratuitously Stacked
Any sous-vide skeptics just need to try this dish. That slow, long cooking concentrated the beefiness of the meat, and softened, but did not lose, the decadent marbling of this incredibly tender, juicy meat. A quick sear on the outside gave that charred complexity, while leaving the bulk of the meat at an ideal medium rare. Perched atop some braised lettuce, strong with the flavors of a caesar salad, drizzled with a dark wine sauce, this would knock them dead even at a mainstream steakhouse. The texture and flavor of that meat was just mind-blowing. We got a good laugh out of the next accidentally-included menu prose: "gratuitous veg." And maybe they were beside the point, but the tender discs of carrot, zucchini and tomato made good companions to the beef.
Ginger Scented Peaches
Crystallized Orange
Sweet Fennel Compote
Cauliflower Ice Cream
Elderflower Syrup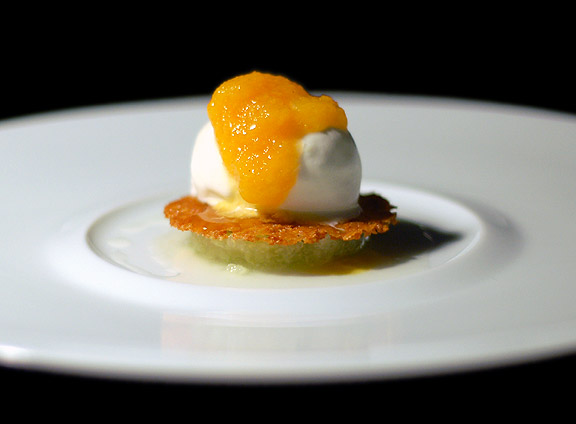 Shola's been riffing on the cauliflower ice cream thing, and it's different every time. In this incarnation, that earthy vegetal edge, in concert with the uncooked, but softened fennel compote, served to counter the sweetness of the Peach purée and the crunchy orange disc in a way that balanced just perfectly. Yet another unlikely, but very tasty combination.
It's very interesting to experience the different expressions of similar ingredients, and even small tweaks create a whole new thing... I'd be perfectly happy to eat some of these things over and over, but entertained that I never have, it's always a novel experience, and a delicious one!
As always, big thanks to the folks around the table for the good company and sharing fabulous wines. And thanks to Shola, again, for yet another revelatory experience!
Edited by philadining, 24 February 2006 - 11:12 AM.