Good Morning!
Evidence #1 that spring is officially here - this picture taken from my kitchen window this morning: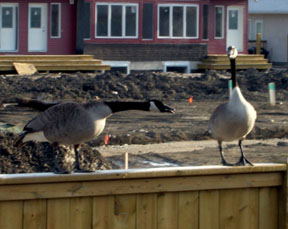 That's right. The Canada Geese have come home.
Evidence #2 - Passover starts Wednesday night. And I'm tired.
Some of you may recall that I blogged last year .
You can read up on last years events over here.
(in case you missed it

)
This year many things will be quite similar to last year. I'll be in the kitchen baking and cooking most of the same items, probably going to the same restaurants for a quick dinner in the next few days. On the other hand, the family business has changed quite a lot since last April - so I'll share with you how I spend my time at work when not in the kitchen. And between now and the end of the week I need to get a couple of recipe columns in.
As I share with you, I'm happy to answer whatever questions you may have. I might have some questions for you too - so let's get started!