Many who know me on EGullet know that I don't use a wok to cook Chinese food. I have been using flat frying pans to cook all my meals since I came to the USA for college back in the late 70's. I didn't bother with getting a wok primarily because I feel that using a wok without an adequate heat source is not effective. One thing that I always amused myself with is reading online bulletin board comments, that when someone is getting excited about learning how to cook Chinese food... before he/she even buys any Chinese cookbook, the first thing he/she would do is to buy a wok! And... typically... a "non-stick" wok with flat bottom so one can use it over an electric stove, and a plastic spatula.
Anyway, things are about to change...
All because I happened to see this gas burner for sale in the local grocery market at only US$32.00: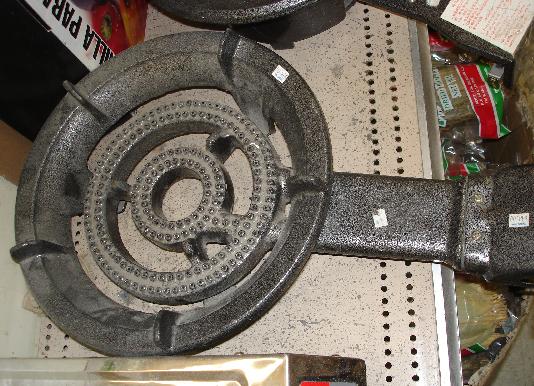 It has 4 rings. The diameter is about 8 inches. Just use a portable natural gas tank. Nice. I was hoping to find some burner that uses compressed air to boost the heat but so far I haven't seen one available in the USA.
That just got me interested to start a project on my stove and wok shopping. I am posting my photo journal to share with all of you on my thought process in evaluating different burners/woks and related equipment.
The burner that I saw, of course, is far less powerful than the one posted by
infernooo
:
My new wok burner, 120000 BTU/hr!
but it is still pretty nice to have.
Assuming that I am going to get that burner, my next task is to shop for a good wok, then go through the proper way to season it, etc..
In the same shop, I have found only 2 different models. The first one: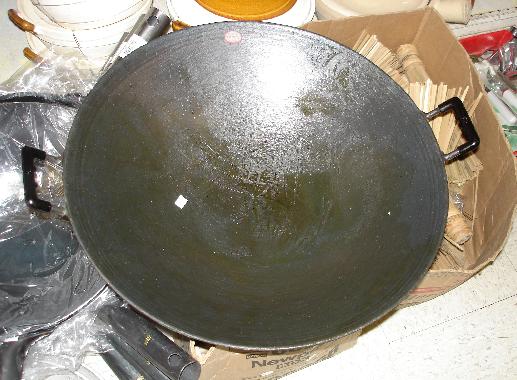 is a cast-iron wok, about 28 inches in diameter. I rejected this wok right away because:
1) It is very heavy. There is no way to pick up the wok and toss the food around.
2) It has 2 small "ears" but no handle. I like to use the handle to toss the food around when cooking, the same way I do with the frying pans.
The second model: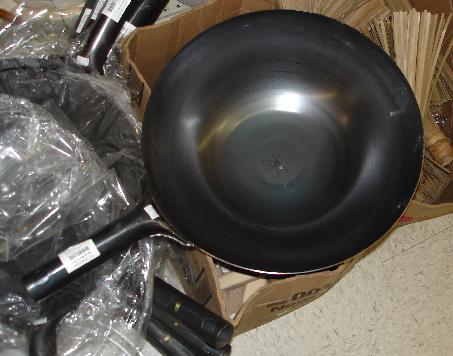 is a stainless-steel (I think - but it's all black in color) wok, about 18 inches in diameter. This looks promising. It is not too big, and not too small. It looks just about right. It has a round bottom, not flat. I picked it up with my left hand and practice the tossing motion and it felt about right.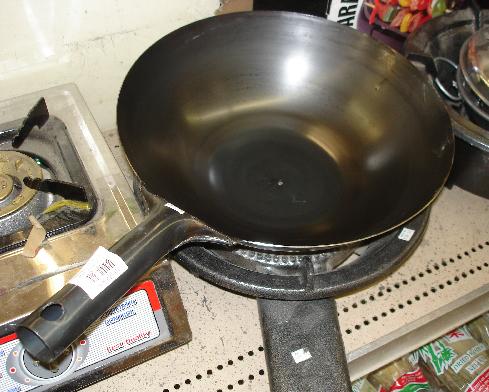 I took the second wok to placed it on top of the burner. It wasn't a perfect fit. The wok was too small to rest on the outer tripod. It was resting on the smaller, inner tripod. The wok could wobble a little bit. I am not sure if this would cause problems.
I haven't come to any conclusion yet. I need to shop around some more for different wok models and, possibly, burner models. I will make a trip to San Francisco to see better selections if I have too...
Any comments and idea sharings are appreciated!
Edited by hzrt8w, 01 April 2006 - 06:36 PM.