Pork Neck Bone Soup with Lotus Root (蓮藕豬骨湯)
Today is Chinese New Year. I would like to present a soup that is typical for the new year. Lotus roots and dried oysters are very common in dishes served around the new year. Lotus root symbolizes "continuous", while dried oyster symbolizes "prosperity". I wish everyone to have a prosperous year in the Year of the Dog.
Picture of the finished dish: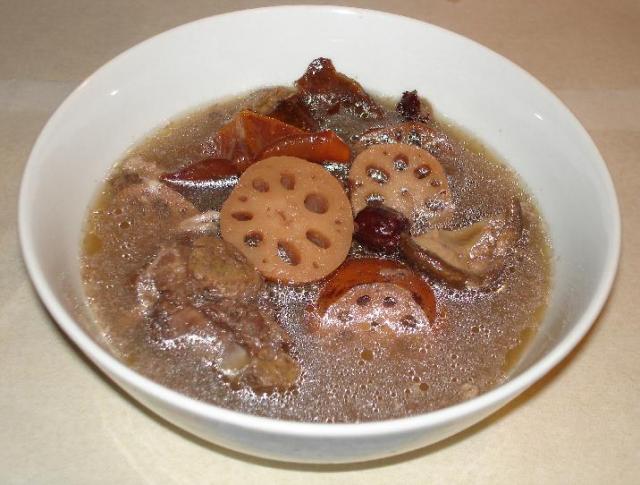 Serving Suggestion: 10Preparations: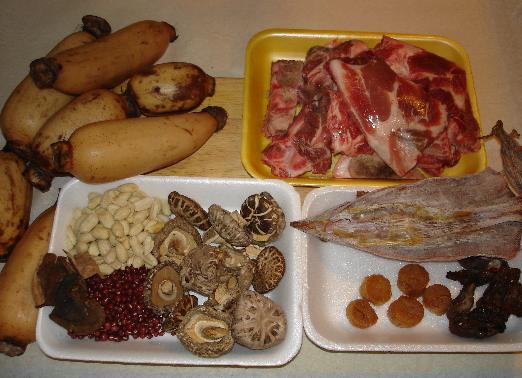 Main ingredients: (From left, clockwise)
- Lotus roots, about 3 to 4 lb
- Pork neck bone, about 2 lb
- 1 dried squid or dried octopus
- 6 to 7 dried oysters
- 5 dried conpoy (dried scallops)
- 12 dried black mushrooms
- A handful of raw peanuts (about 1/4 cup)
- A handful of red beans (about 1/8 to 1/4 cup)
- 3 pieces of dried tangerine peels (Chan Pei)
- (Not shown in picture) About 20 dried jujube dates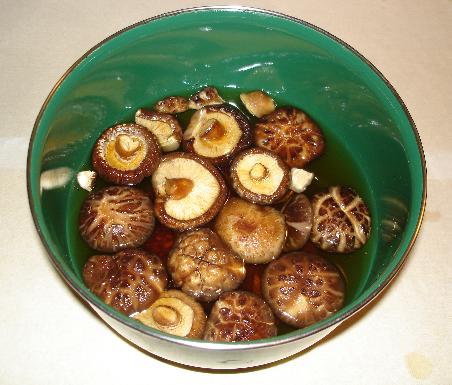 Use a mixing bowl, soak the red beans, dried tangerine peels and dried black mushrooms for at least 4 hours. (Drain before cooking.)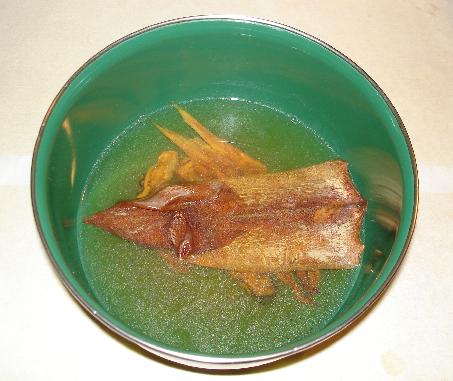 Soak the dried squid/octopus. (Drain before cooking.)
Use a small bowl, soak the dried conpoy (scallops) separately. (You can add the soaking liquid to the soup.)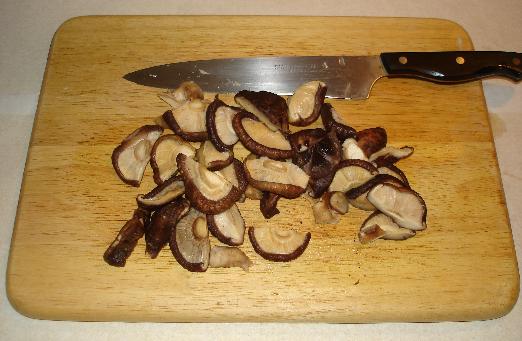 After the reconstituted black mushrooms turn soft, trim off the stems and cut into halves.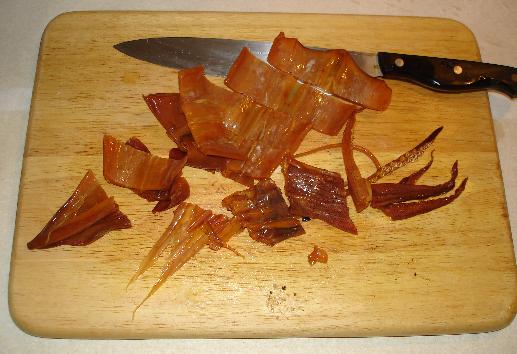 Cut the reconstituted squid into a few big pieces.
Trim and discard the connecting ends of the lotus roots. Cut into slices, about 3/4 inch thick.
Cooking Instructions: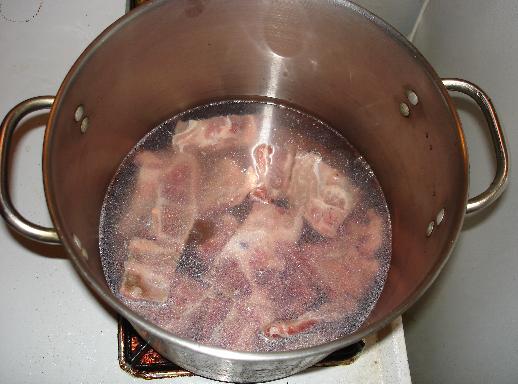 The following is to illustrate the "double boiling" technique in Cantonese soup making. First, place the pork neck bones in a pot. Fill with just enough water to cover all bones. Set for a boil.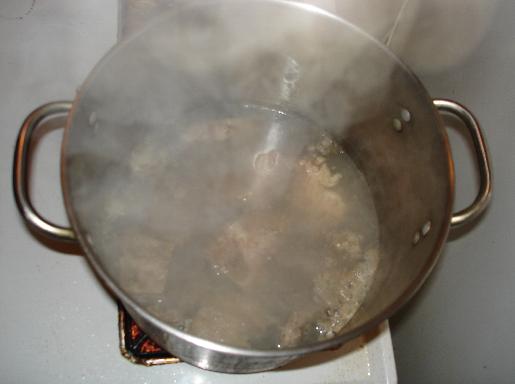 Boil the pork neck bones for about 3 minutes.
Use a strainer to drain off the hot water. Rinse the bones and cleanse off any suds.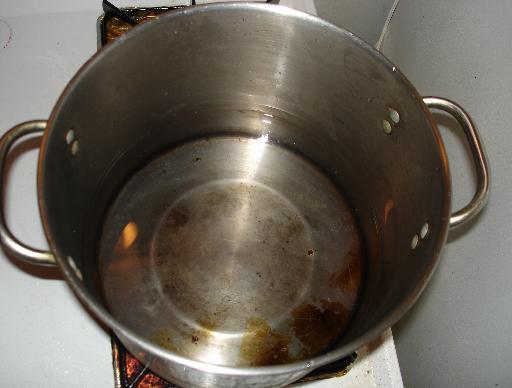 Clean the pot. Add about 15 cups of water (1/3 of this pot).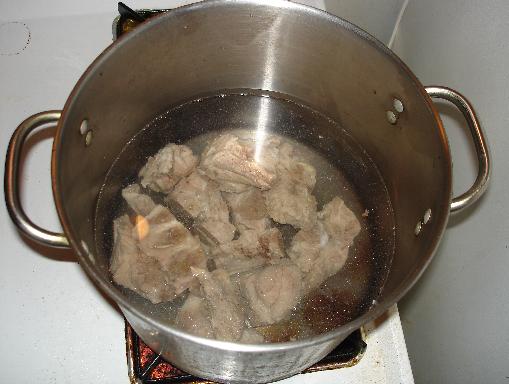 Return the pork neck bones to the pot. Bring to a boil. Then turn down the heat to a simmer. Simmer the bones for 1 to 1 1/2 hour.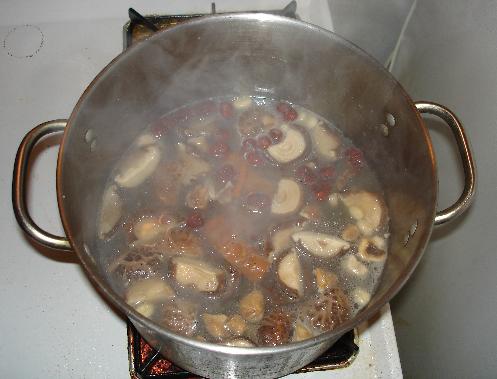 Add the soaked red beans, reconstituted black mushrooms, squid, dried conpoy, dried oysters, dried tangerine peels, raw peanuts and dried jujube dates. Continue to simmer for another hour.
This is what the soup looks like after 2 1/2 hour of simmering.
Finally, add the lotus root slices. Bring to a boil and reduce to simmer. Simmer for another 1 to 1.5 hour.
This is what the soup looks like when it's ready. Add 1 to 2 tsp of salt (or to taste). Stir well. Scoop onto serving bowls.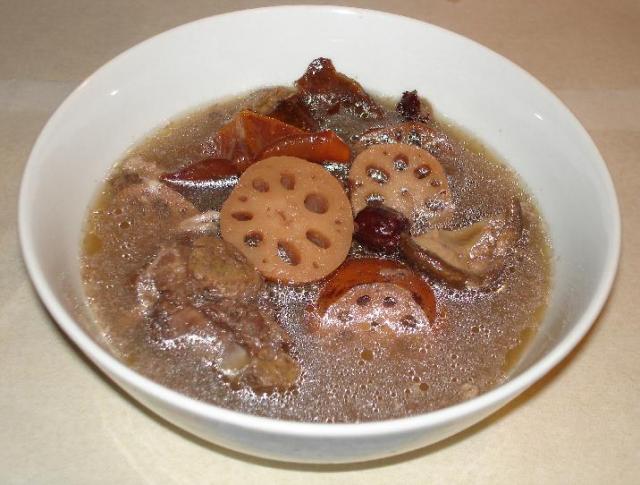 Picture of the finished soup.
Edited by hzrt8w, 29 January 2006 - 12:59 PM.