Hi everyone, How have you been. Sorry I've been gone so long. I began attending the CIA 6 weeks ago. I just finished my first block which is basically the generic start off. I've had 5 classes and have really been busy every second of the day. There is so much to do, especially extra curricular, everytime I sat down to put this intro into place I get distracted by something new and exciting.
So here it is. First I want to give everyone a look through my eyes. I took a lot of pictures the day I arrived and it was in the middle of a snow storm, so here are a few.
This is a picture of "Roth Hall"
Heres one of the "Conrad H. Hilton Library"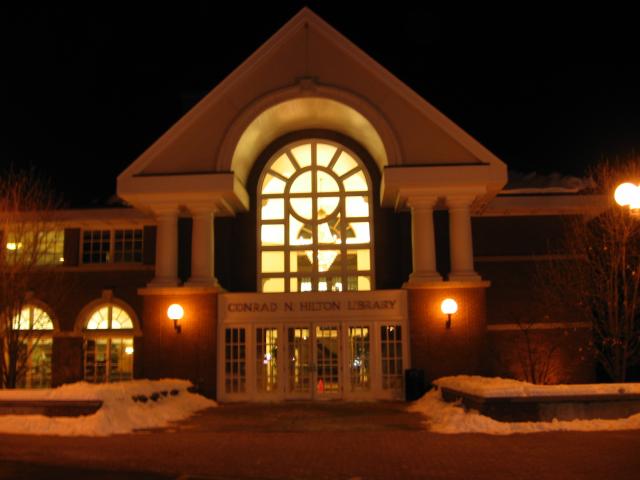 Heres a picture of the St. Andrews cafe, It may be a little difficult to see.
Heres a small view of the brand new "Anton Plaza". It is a garden and stone plaza that rests ontop of a nicely laid parking garage. I must say it is classy for a garage.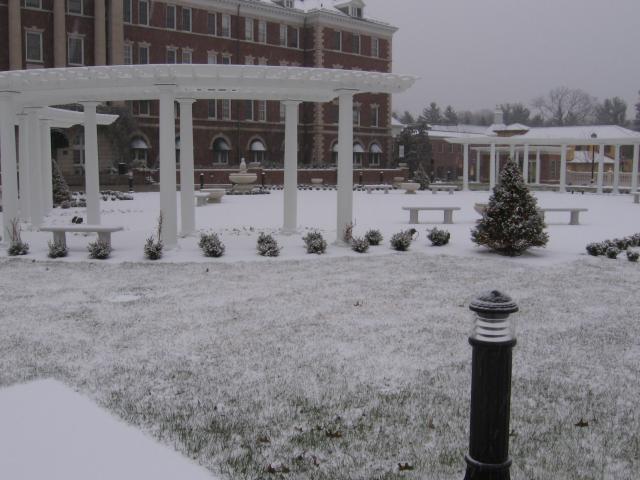 Heres a picture of the new Italian "colavita" education center with the Ristorante Catherine de Medici.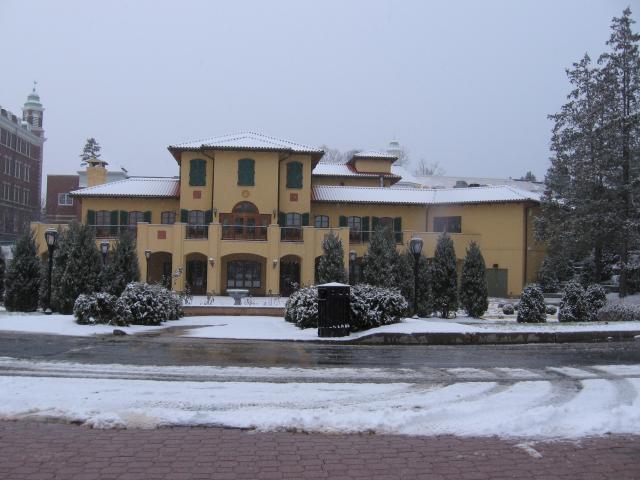 Here are a few specs from the inside, first being Farquharson. This is where we eat most of our meals. A lot of events are held here as well, like formals and bingo night.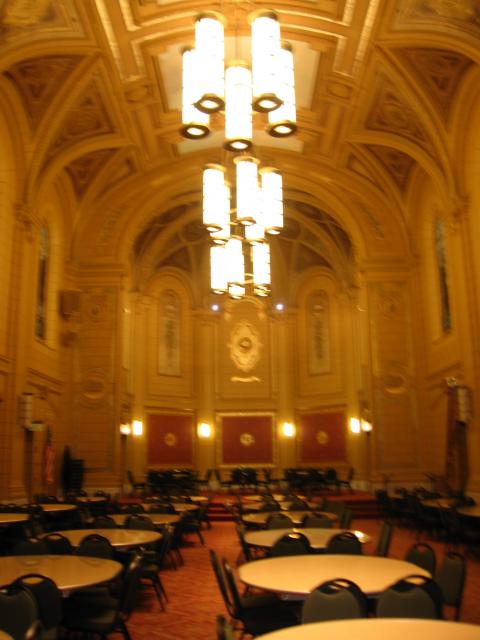 This second one is where two of my classes were recently held, gastronomy and product knowledge. It's the Annheuser Busch theatre.
Class has been very interesting. There was about 100 students starting with me during orientation, which lasted the first two days. The students ran the gamut of size, shape, age, sex, race, place or origin, and skill level. I actually could not sit still for the first few days, there was just so much to see and so many people to meet. Overnight I went from very good with names, to quite poor.
On the third day we split up into 2 classes, both averageing about 48-50. AM class was from about 8 - 12 everyday while my class started at 2 and ended at 6 everyday. The AM class eats breakfast, and lunch on stage, served by the banquet class. PM eats lunch from kitchens and Dinner on stage from PM banquet class. We all have writing classes at various times, but those classes last a normal semester, like a normal college.
Monday, Wednesday, and Friday I have Math from 2-3:30 and Product Knowledge from 4 - 5:30
Tuesday and Thursday I have Gastronomy from 2 - 4 and Food Safety (Serv Safe) from 4:15 - 6:15
Math is pretty basic on food costs. The math itself is no calculus, its quite easy. To me the class seems more like a game, more like answering trick questions rather than doing actually math.
Product Knowledge is great. Anyone can learn a lot from that class and have a good time doing it. My professor J. Stein is a little wacked, but he knows his stuff. This guy is about as passionate about fruits and vegetables as I am pastry. Theres a lot of Identification as well as condition and quality explanation. The store room is immaculant. I love walking through it and just looking at all the different kinds of products all in one room.
Gastronomy is also a neat class. It's kind of hard to think back and remember what I learned because in all it feels some what irrelevant. But everytime I left class I felt smarter than when I went in, so I am sure I got way more out of it then I thought. There were a lot of corky things going on. We had several "surprise" tasting and smelling projects. Everytime I volunteered to help set up and assist just so I wouldn't have to participate in the "surprise". I'll just say everything my classmates ate was proven to be edible, and possibly only enjoyable to select few people on this planet.
Food Safety is pretty easy to figure out. It's Serv Safe, if you've ever had to take a sanitation class then you get the jist of this one. Pretty boring, pretty common sense, pretty easy. there was a little I got out of it so I would hardly say it was a waste. It's hard to push yourself to take a class like that, but I'm really happy I did because now I'm more confident in my decision making.
I just finsished my Finals and next week I will start C block which is Baking Ingredients and Equipment Technology + Principles of design. Should be interesting.
I wanted to say the last 6 weeks have been amazing. I've been getting involved with the SGA, the one at my highschool was useless but the one here seems to have a pretty big impact on the everyday cycle of the school. Soon I will be joining the Beer Club and hopefully bringing the brew master from a micro brewery I work at up to hold a seminar. Also the eating has been fantastic. When I say "on stage" I'm referring to "B block" who seats up on stage in Farq. hall and is served a 3 course meal plus an amuse usually, during lunch or dinner. it's really a great way to get to know your class mates, especially the ones your not in class with. On tuesday I start eating at the kitchens. There are 6 kitchens I believe you can get food from. They all have there own menus, being Asian, Cuisines of the Americas, Cuisine of Europe, etc, and the menu changes constantly so theres always 5 or 6 new things to pick from. Not to mention when you get that you usually have a selction of appetizer the class prepares such as salads. Once you get in Farq hall there is one table set up with baskets holding large amounts of fresh breads from, you guessed it, bread class. There is another 3 tables set up soley for plated desserts and cakes you can take at random. You can see I definately don't complain about the food situation.
Hopefully soon I will have my report from our "Grand Buffet" held once at the end of each block (3 weeks), which is outstanding. I hope you enjoy this and please feel free to ask and questions, there is so much to say I can't remember it all.
Edited by chiantiglace, 21 January 2006 - 01:53 AM.