My favorite things to eat then were blueberry pie, fried oysters and fried eels--but I also used to love corn sandwiches: white bread and mashed potatoes with canned corn dumped on it. (Every once in a while, we'll come back to this fascinating topic, since it seems to matter so much to certain people in the audience.)
--Frank Zappa, The Real Frank Zappa Book
Greetings and salutations from sunny San Diego!
Any of my closest friends will tell you I am not one to be easily intimidated, but I admit it is a bit unnerving to be directly following such exemplary bloggers as John Whiting. But don't worry, I'll get over myself fairly quickly.

I was originally going to subtitle this blog something like "Beggars Banquet," or maybe "The Tightwad Gourmand" (as in "you've heard of the Frugal Gourmet, now meet ... " et cetera and so forth). These titles were attempts to address the fact that, for various reasons, I live a pretty low-budget lifestyle, but still manage to have a damn good time enjoying food. In fact, I kind of revel in finding and enjoying good cheap eats, and this blog would be a chance to go on at length about that revelry with folks of like mind. For one of the many things about eGullet that has really turned me on is the great egalitarianism of food tastes here--I've noticed that many of the same people who contribute passionately to topics on five-star restaurants and rarified vintages also weigh in with equal vigor about sliders, barbeque, chili, and other "just plain folks" food.
But as to the blog title I wound up with: by the serendipity of scheduling, it turns out that I will be moving at the end of this month to a neighborhood a few miles away from the one I currently live in. That means not only a whole different kitchen, and a whole different household with different tolerances about cooking, but also a whole new neighborhood of food resources to explore. So--one of the themes of my blog this week will be taking you all along with me as I get ready to move my personal food act across town. If I'm lucky and the fellow currently occupying my new digs vacates in time, you'll actually get to see my new kitchen and what I'll soon have to work with; but at the very least I'll take you with me as I start exploring the shops and eateries around my new neighborhood. There might even be an IKEA run in there somewhere--meatballs ahoy!
I don't get to do big cooking projects in my current living situation nearly as often as I'd like, partly because my current household companion (who I've immortalized in various posts as Fearless Housemate) is really sensitive to food smells, and partly because this wacky house has a substandard kitchen exhaust fan that vents directly into FH's bedroom--YIKES! So I do try to spare the poor guy from being stanked out of his own room as much as possible. HOWEVER, Fearless Housemate will be out with his band on a gig this Saturday evening, so I plan to execute some kind of minor cooking extravaganza in his absence--the exact nature of which will be determined by what looks good in the markets, what feels good to me, my energy level by the time we get to Saturday, PLUS your input and suggestions.
As for the bulk of this week's meals: I'm taking inspiration from
Pan's foodblog
, in which he demonstrated the dining, take-out, and delivery food wonders of his immediate neighborhood. Only I'll have *two* neighborhoods full of dining and take-out opportunities to draw upon--my new one as well as my current one, both of which feature a fabulous array of inexpensive ethnic eateries. In fact, the teaser photos for my blog demonstrated just a small sampling of the local riches in my current neighborhood: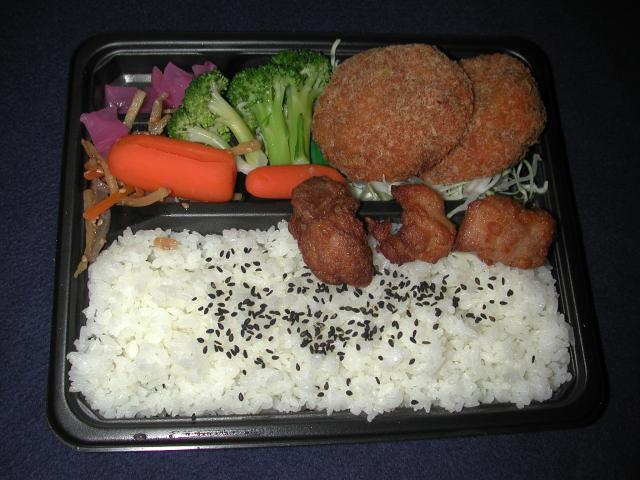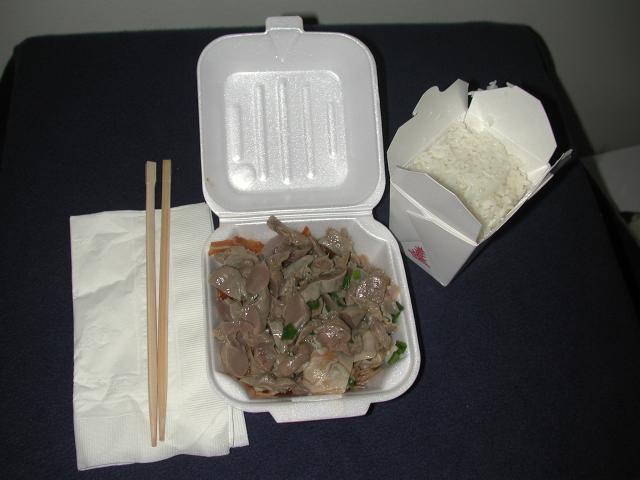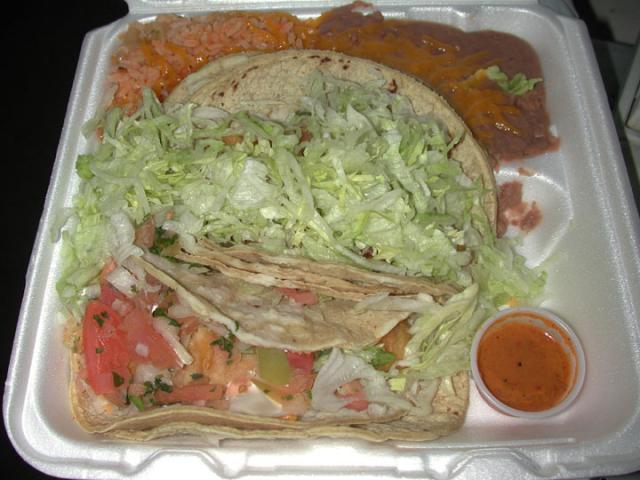 The above, in order of appearance: a bento box from
Nijiya Market
; a medley of cold Szechuan-style appetizers from my beloved
Ba Ren
; and the iconic San Diego takeout meal, a fish taco combo, this one from El Cotixan, the nearest 24-hour taqueria to my current abode. And that's just for starters; within a five-mile radius of where I'm sitting right now, I can also sample such cuisines as Vietnamese, Korean, Thai, Middle Eastern, Filipino, Indian, South American, Greek, Hawaiian, Jewish-style deli, several different styles of hamburger from national chains to one-of-a-kind monsters, and others cuisines that I'm still only just discovering after three-and-a-half years in this town.
Oh, and one other little adventure: on Sunday evening, I'm going to be playing Mistress of the Church Coffee Reception. The congregation of which I am a member is going to be hosting a distinguished lecturer, and I volunteered to do battle with the social hall's brand-new high-volume high-speed high-falutin' coffeemaker. I'm told it's supposed to be easy, all the instructions are written out and taped to the beast. Ooooo-kay ... so how come nobody else volunteered for this task?

I sense a potential for this to turn into something right out of an "I Love Lucy" episode, so I'll be sure to bring my camera along in order to record any coffee carnage.
There will be other neighborhood adventures as well, depending on time, schedule, whim, energy level, and audience suggestion.
About those audience suggestions: I do hope folks will chime in early and often with questions and comments as well as suggestions. As you may have noticed, I like to have a lot of fun while hanging on the board here, and it's so much more fun when I have accomplices to help bat the conversational shuttlecock around.
P.S. Oh yeah--despite my fondness for Frank Zappa, there will be no corn sandwiches in this blog (shudder). However, there may well be some fried seafood of some sort, though perhaps neither oysters nor eels (not that I wouldn't mind that...)
Edited by mizducky, 17 January 2006 - 11:09 AM.