This is a basic sourdough wholemeal boule, but it allows many variations. It is an adaption of my baguette method. I'm making this one from Spelt flour. As it says on the pack, its an ancient low yield wheat variety, that some people find who are intolerant to modern wheats can eat.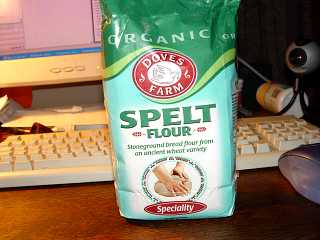 Many commercial breads are made using a "no time" method (high intensity mixing, short proof times), and the method has fallen into disrepute among artisan bakers. However, as Dan Lepard points out, the original intentions were sound, even if commercial pressures have degraded the loaf.
Here the gluten is developed by high-intensity mixing of a low protein flour (with some Vitamin C), high levels of pre-ferment, allowing very short or no bulk fermentation. Flavour is developed with an overnight retardation, as well as a ripe preferement. The acid in the starter will also degrade the gluten, making it hard to handle unless cold. Its well suited for wholemeal loaves, since they tend to be low gluten.
Spelt Boule:
Total flour: 600g
Total water: 450g
Hydration: 75%
Preferment
100g Flour (I used white)
100g Water
Tbs starter (or 1/4 tsp yeast)
Ferment at 30C for 24 hours (very ripe)
Dough
All the pre-ferment
500g Flour (Spelt, but can be wholmeal) (84%)
350g water (58%)
10g salt (1.6%)
Whizz together in a powerful food processor for THREE MINUTES.
Turn out (a little oil helps), shape, put into bannetons and retard overnight.
Prove for 4 hours at 30C, then bake.