I made Karen Barnaby's "Fresh Ginger Buttermilk" cake today. She's a local chef and cookbook author. I was so excited when I read this recipe last night b/c it had the elements I was looking for (buttermilk, a not-too-sweet ratio of brown sugar+ molasses to dry ingredients, and crystallized ginger.) I made a few changes to Karen's recipe. I increased the amount of fresh grated fresh ginger to 4 tbsp., and added the following:
-1 tsp. cinnamon
-1/2 tsp. black pepper
-1/4 tsp. nutmeg
-1/4 tsp. ground five spice
(I will post the recipe later tonight but I have to go to work now! Sorry!)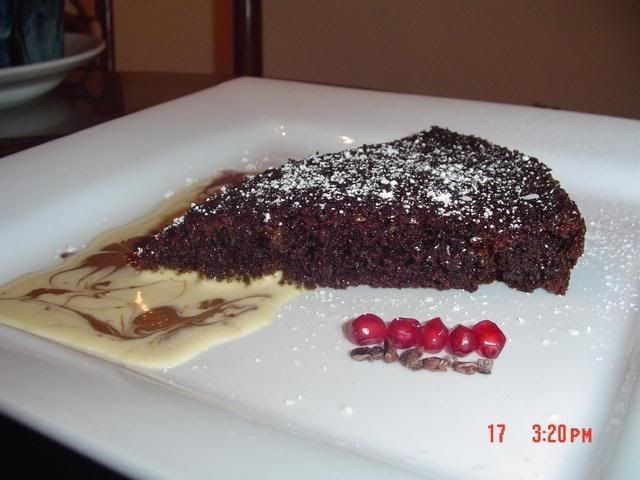 The resulting cake was quite complex in flavour, and really delicious! Next time, I think I might throw in some extra crystallized ginger, and increase the cinnamon to 2 tsp. The buttermilk in the recipe gives the cake a very moist and tender crumb. The cakes rose evenly in the oven without doming. They would make an awesome gingerbread torte!

I inhaled most of the entire cake in like 15 minutes...

I also defrosted a slice of David's 'Fresh Ginger' cake that I really like so I could taste them side-by-side, and I prefer Karen's version just by a little!