Steamed Egg Custard with Conpoy (瑤柱蒸金銀蛋)
We talk about home style cookings in this series. Nothing can be easier and more homey than Steamed Egg Custard. This is a Cantonese dish that virtually known to every family living in Hong Kong and Canton vicinity. Yet you cannot find this dish offered in over 90% of the restaurants. Perhaps steamed eggs are considered "not restaurant worthy" because they are cheap?
There are many variations on the filling to put in the steamed egg custard. I chose dried conpoy, dried shrimp, thousand year eggs and salty eggs this time. Some puts in marinated ground pork, or ground beef. I have seen pictures of steamed egg custard with fresh clams (with shells) from Golden Mountain Restaurant in San Francisco. You may put in whatever that fits your taste.
Picture of the finished dish: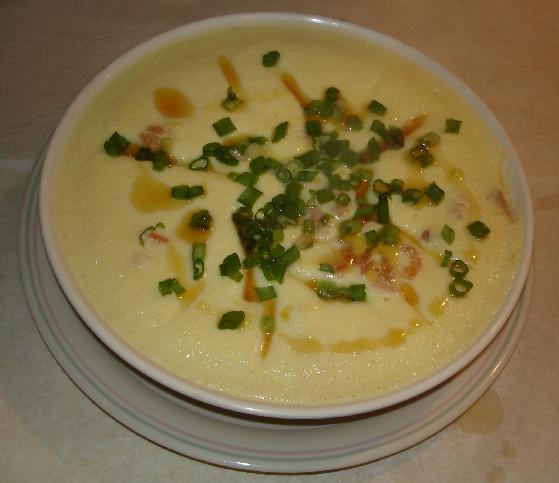 Serving Suggestion: 2 to 3Preparations: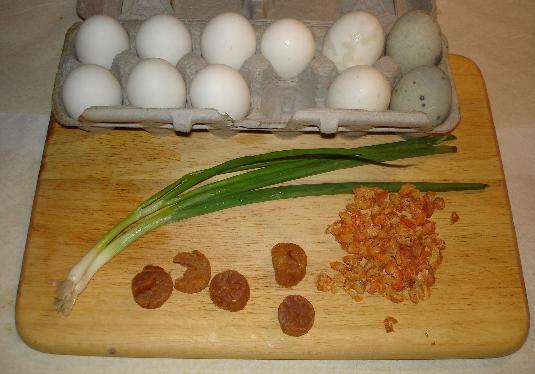 Main ingredients: (From top left, clockwise) 7 regular, large-size chicken eggs, 2 salty duck eggs, 2 to 3 thousand year eggs, 1 handful of dried shrimp (about 3 to 4 tblsp), 5 to 6 dried conpoy, 2 green onions.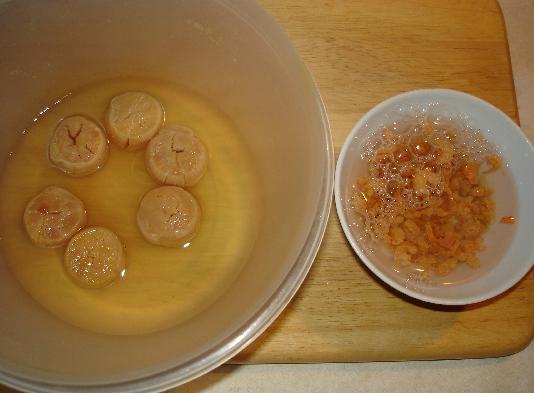 The best is to soak the dried conpoy overnight. They do require a lengthy soaking time to soften. (Add the soaking liquid to the egg custard, as shown later.) Soak the dried shrimp for only about an hour before cooking.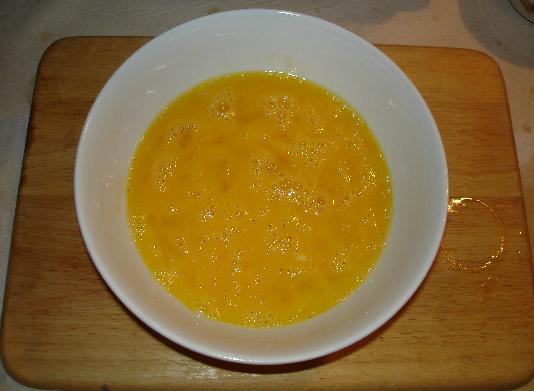 Use a big bowl, first break 7 eggs. Add to the bowl. Break 2 salty duck eggs. Seprate the egg white from egg yolk. Set the salty egg yolks aside. Add the salty egg white onto the bowl. Use an egg beater or a pair of chopsticks to whisk the eggs thoroughly. About 30 seconds.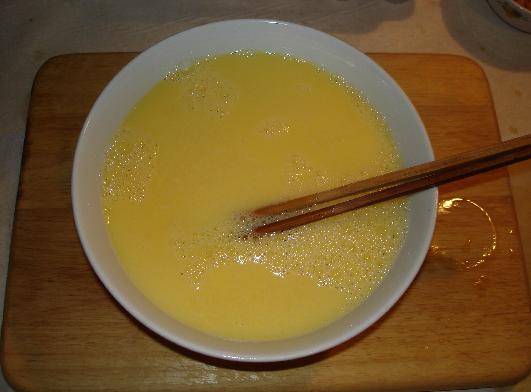 Carefully fold in some water to dilute the beaten eggs. I cannot tell you exactly how much water to use because it depends on the size of the eggs. Generally, use a 10:7 egg-to-water ratio by volume. The more diluted the egg custard is, the longer it takes to steam, and the softer the custard is. But don't make it too diluted where the custard will not solidify.
There is a trick I learned from some fellow posters: if you want the egg custard to turn out smooth as silk, don't use tap water. Use boiled water instead because it doesn't contain air bubbles. When you steam egg custard diluted with boiled water, the custard would not form air bubbles inside.
Gently mix the beaten eggs with water for about 30 seconds.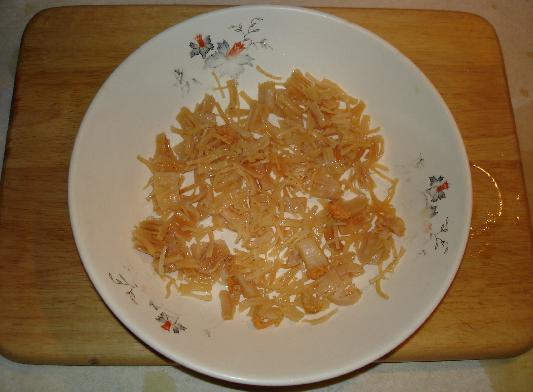 Use a deep steaming dish. First, hand-tear the soaked dried conpoy into shreds. Spread evenly on the steaming dish. Sprinkle on top with a pinch of salt (suggest: 1/4 tsp or to taste).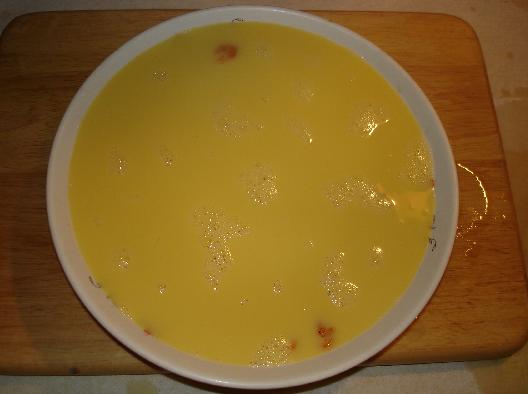 Gently fold in the egg custard mixture. Cut the 2 salty egg yolks previously set aside into 2 halves (or 4 quarters). Drop into the egg custard mixture. Spread them evenly.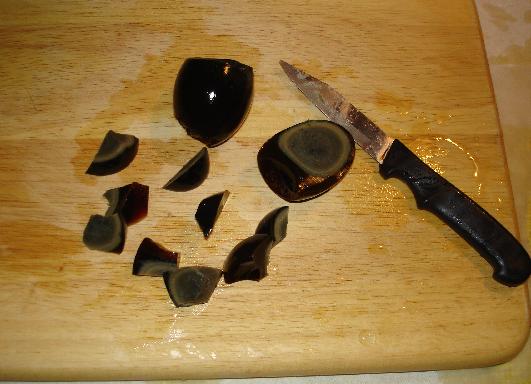 Shell the 2 thousand year eggs. Cut eggs into small, irregular wedges.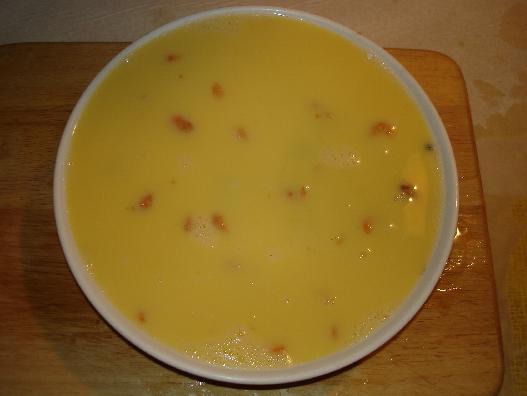 Add the wedged thousand year eggs and soaked dried shrimp (drain the soaking water first) into the egg custard mixture. Try to spread them evenly.
Also, trim ends and finely chop the 2 green onions.
Cooking Instructions: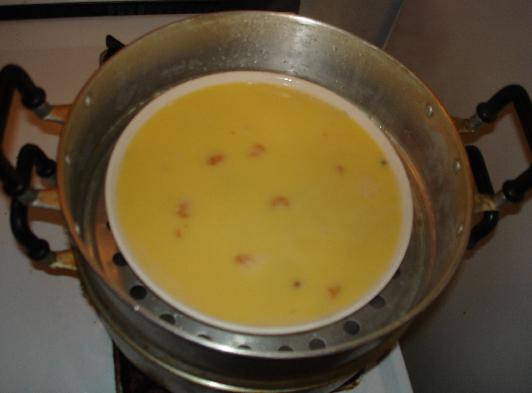 Place the dish of egg custard mixture in a steamer. Steam for about 25 to 30 minutes. Again: the more diluted the mixture is, the longer it takes to steam.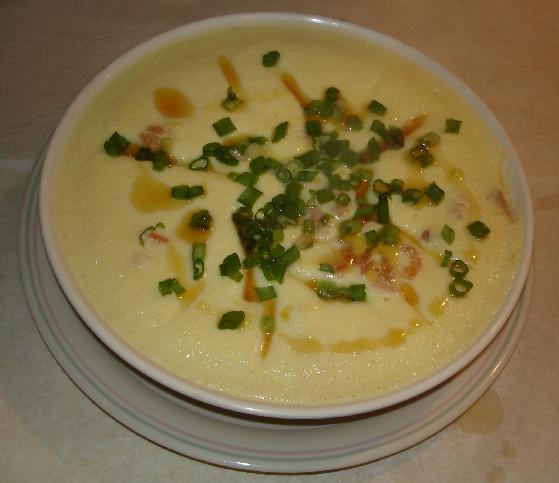 When cooked, sprinkle the finely chopped green onions on top. Drizzle about 2 tsp of sesame oil and 1 to 2 tsp of light soy sauce before serving. This is the picture of the finished dish.