Marlena and I decided to put our blogs up separately, because we want to see lots of questions, and would hate to miss any. We offer round-the-clock coverage for your every quibble, query, or latent culinary quest, so please don't disappoint us - ask away about the foodlife you see in our blogs, or whatever hidden aspects of food culture you think we might be trying to keep hidden in the shadows outside the blog world (that's right, isn't it, Marlena?

).
I was wondering what to call this blog, when I realized that my husband's belly was all but telling me - the end of New Year in Japan is a blessed relief from a surfeit of BEANS and SWEET POTATOES!
Talking of surfeit...while the third day of New Year started much the same as the breakfasts described way back in my first blog 18 months ago, lunch was very "oshougatsu" (New Year).
On our way to my father and mother in law's, we picked up two trays of sushi and a tray of mixed fried hors d'oeuvres (and certainly out of the reckoning of most people's culinary oeuvres, I wouldn't want care to be named as the creator of a platter of deepfried pork with onion sauce, deepfried green bean and meat rolls, deepfried prawns, deepfried potatoes and sweet potatoes, and something flat and squarish which remained unidentified and uneaten to the last.)
The sushi, however, was good. The expensive sushi was plump, glossy squid, sea urchin, salmon roe, schnapper, and tuna. The cheaper sushi focused more on things like cucumber rolls and omelet. Here's son1 forcefeeding son2 with a cucumber roll, just to set the tone of the blog...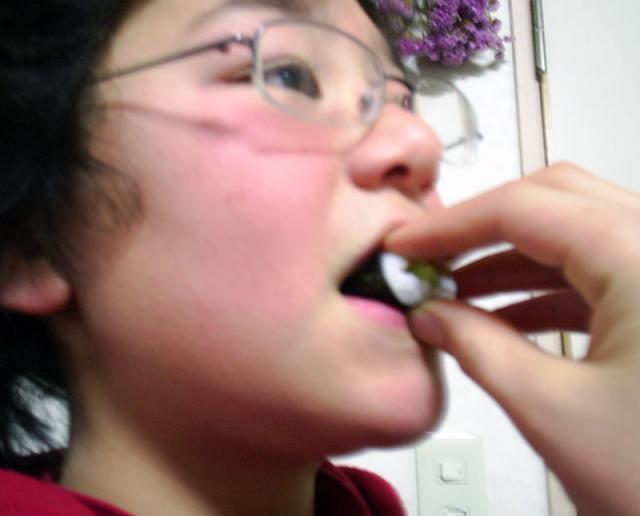 Here's what was left when we remembered the camera...the paper plates and cups are a nod to my mother in law, who is getting a little senile and gets terribly confused about laying the table - better for us to bring EVERYTHING, and take EVERYTHING home.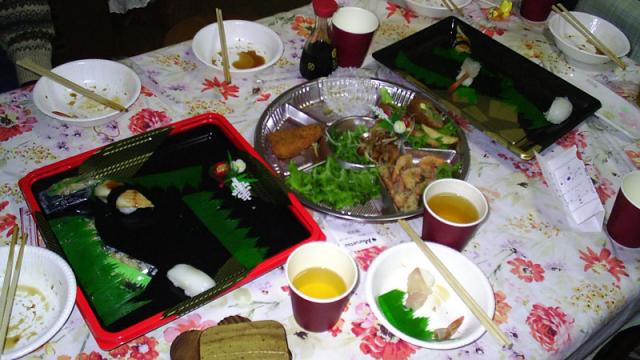 Here's my mother in law dishing up buta-jiru (a winter miso soup with root vegetables and pork in it). After some bad experiences, we never eat anything at her table that we haven't seen prepared - this soup was unaccountably sweet, but she was once an accomplished cook, and you can see how she reacted when asked to pose with her soup! She's standing by her 2-ring gas burner, the standard cooking equipment for any Japanese kitchen.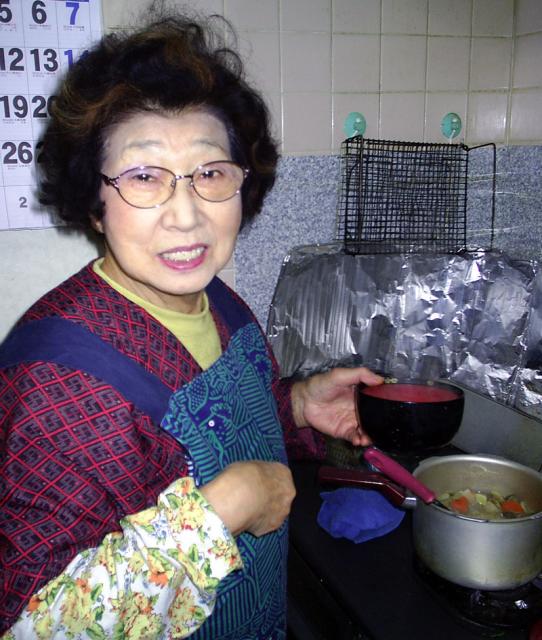 On the way home, we went back to the supermarket, and spent about USD73 or GBP42...with two big boys, I count our food supply in hours rather than days! Here it all is - the 10% off pork scraps, the NZ lamb, the wieners, the nori (seaweed) squares, the bean sprouts, the snacks, the tea, the udon noodles, the rice, the mochi rice cakes, the hot dog rolls...any questions?
Now here's the prep for tonight's dinner. Any idea what we're having?
Edited by helenjp, 03 January 2006 - 07:05 AM.