As a treat before the
eG Spotlight Conversation with Ruth Reichl
on Monday, November 28, we present an excerpt from her newest memoir.
Garlic and Sapphires
The Secret Life of a Critic in Disguise
Chapter 12: Food Warrior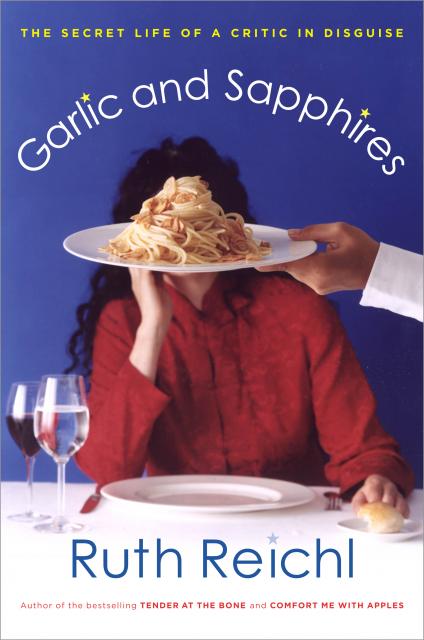 First there was the phone call. I was sitting on the floor, playing a math game Nicky had brought home from school, so relaxed that when the aggressive voice blared, I was surprised into holding the receiver away from my ear.
"Page Six?" I shouted back, bewildered. "The
New York Post
? Who?"
"Bryan Miller," said the voice. It was a woman. "Are you aware that he has been sending scathing letters about you to your bosses?"
"Excuse me?" I shook myself, trying to get into the right frame of mind. "Letters?"
"Yes," said the voice, "he's been writing them for years. Have you seen them?"
"No."
"Have you heard about them?"
"No," I said again, before I thought of a question of my own: "How did you get my number?"
"We're Page Six," said the woman, as if the answer were obvious. "So you don't know anything about these letters?"
"No," I said, "I don't."
"Let me read one to you," she said. "I'd like to get your comments."
"No thank you." I had finally come to my senses. "I don't want to hear it. And please don't call again." Then I did what I should have done the instant I heard that New York's best-read gossip column was on the line. I hung up.
I immediately called Carol. "Do you know anything about Bryan's letters?" I asked. The awkward pause was so eloquent that, even through the phone, I could sense the blood draining from her face. "How long has this been going on?" I asked. "Why didn't you tell me?"
"A long time," she said in a whisper. "They're really nasty. What good would telling you have done? Would you have wanted to
know?"
Would I? I wasn't sure. "Anyway," Carol, continued, "I tried to warn you. Don't you remember?"
I had a vague memory of Carol, before I really knew her, telling me to watch out for Bryan. Thinking hard, I was able to conjure up Carol saying that the former critic was bitter about giving up the job. "Watch your back," I remembered her saying, but I had thought she was speaking in a general way. Not once had it occurred to me that the warning was concrete. "Are there a lot of letters?' I asked now.
"A few." She was clearly uncomfortable.
"What do they say?"
"I'm sure you can figure that out. Basically that you've destroyed all his wonderful work and they should do something about it. "
"What?" I asked.
"I think," she said dryly, "the implication is that the something they should do is get rid of you."
"And bring him back?"
"He never said that. At least not in any letter I saw. But I haven't seen them all. I've just seen the ones they sent upstairs. There are probably more. Why don't you ask Warren?"
"He's in London," I said, reminding her that Warren Hoge was now London bureau chief. Depending on how much you liked him, Warren had been moved either because he was a good writer or because he was a bad manager, but whatever the reason, he was now on the far side of the ocean.
"They have phones in England," she said.
I looked at my watch. It was late afternoon. "What's the time difference?" I said.
"
Call
him," she said.
Warren picked up on the first ring. In a voice hoarse with fatigue, he said he'd just filed a story about six IRA terrorists who had been captured with ten tons of explosives. One of the Irishmen was dead.
Compared to Semtex my own concerns seemed silly, and I was sorry that I'd called. I hedged, asking about the bombing, reluctant to say that I wanted to ask about Bryan's letters. But he already knew.
"Page Six called me too," he said. "You have nothing to worry about."
"But why didn't you tell me about them?" I cried.
"You were new to the job," he said. "When the letters first came, we discussed whether to tell you or not. In the end we decided that it would not be useful knowledge."
"Were there others?' I asked. "From other people?"
"Of course there were," he said. "That happens when we get new critics. We expected it. But I didn't think you needed that kind of pressure. We all thought you were doing a good job, and that's what I told the people who wrote."
"Thank you." And then, because I didn't know what else to say, I said weakly, "Good night. Stay safe."
I put down the phone and sat down on the floor. "Are you okay, Mommy?" asked Nicky, stroking my hand.
"Yes, sweetie," I said, "I'm fine."
"Are you going out to dinner tonight?" he asked.
"No," I said, suddenly making up my mind. "No, I'm not going out to dinner tonight. I'm going to cancel my plans and have dinner with you."
"Yay!" he shouted. And then, "Can we have whatever I want?"
I nodded, knowing what was coming next. At the age of two my son had developed a passion for matzo brei, and for at least a year he ate it every night. He could not pronounce the words, so he gave it his own name. In our house "manna" was the ubiquitous comfort food, and now, with the unerring instinct of a child, he had zeroed in on exactly what I wanted. If ever there was a "manna" moment, this was it.
We went into the kitchen, and Nicky dragged a chair to the counter and climbed up. I got out the colander and handed him the box of matzos. With ceremonial solemnity, my son slowly broke the cracker into little pieces. With equal seriousness he ran water over them until they were damp, drained them, and put them into a bowl. Then, very carefully, he broke a couple of eggs into the matzos and gently mixed them with a fork. "See," he said, "each matzo has some of the egg." He held out the bowl for me to inspect.
I threw a lump of butter into a pan, and then threw in a little more. This was no time for restraint. Nicky slid over until he was next to the stove and picked up a long wooden spoon. "I can smell when it's time to put in the matzos," he said, sniffing the air. "Now!" I picked up the bowl and upended it over the pan. As Nicky stirred, the fine smell of butter and eggs slowly filled the kitchen.
Michael was still at the office, working on one of his more cheerful pieces; he had found an obscure rabbi in Brooklyn who seemed to be raising money for the man who assassinated Yitzhak Rabin. It was just as well, I thought, that he wasn't home; his conversation was now peppered with references to the Yigal Amir defense fund, which was not exactly soothing. I set the table for two and got out the good silver and my Aunt Birdie's gold-rimmed plates. I put candles into my grandmother's silver candlesticks and together Nicky and I lit them. I poured myself a glass of wine and filled Nicky's glass with orange juice. Solemnly we clinked them together.
"I wish," said Nicky wistfully as we ate our manna, "that we could have dinner together every night."
"Me too, sweetie."
Excerpted from Garlic and Sapphires by Ruth Reichl. Reprinted by
arrangement with The Penguin Press. Copyright © Ruth Reichl, 2005.