Hairy Melon Stir-fried with Mung Bean Threads (蝦米粉絲炒毛瓜)
This is a very simple recipe: stir-frying hairy melons with dried shrimp and mung bean threads, flavored with oyster sauce.
Picture of the finished dish: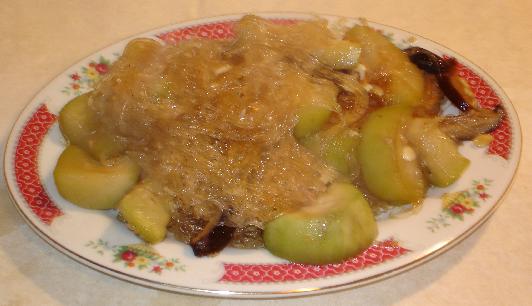 Serving Suggestion: 2 to 3Preparations:
Main ingredients: (from top left, clockwise) 2 hairy melons (about 1 1/2 lb), 2 bundles of mung bean threads, 3 to 4 cloves of garlic, a handful of dried shrimp, about 10 dry black mushrooms.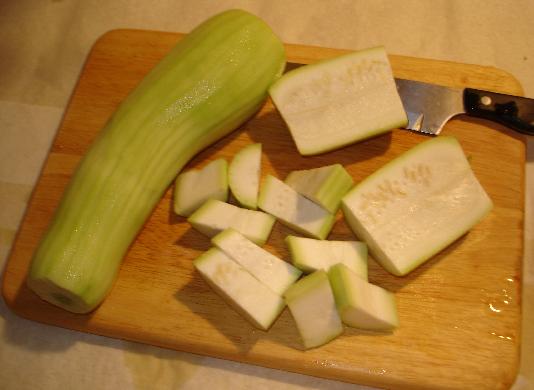 Hairy melons: peel, trim both ends, cut into roughly 1 inch by 2 inch pieces.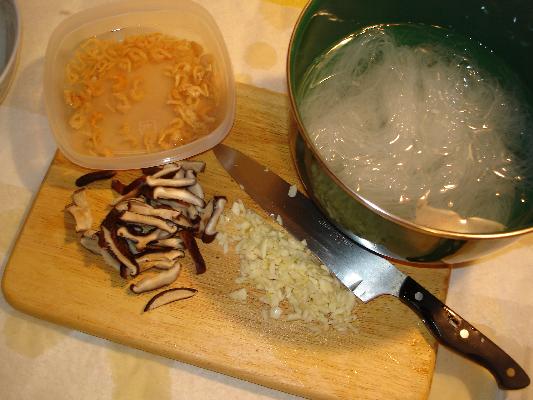 Soak the black mushrooms in warm water for about 1 to 2 hours. Trim off stems and cut into thin slices. Soak the mung bean threads in warm water for about 1 hour. Soak dry shrimp in warm water for about 15 minutes. Mince the garlic.
Cooking Instructions: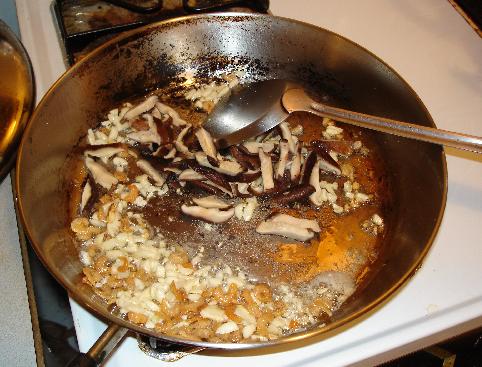 Use a pan/wok, set stove at high, add about 2 tblsp of cooking oil, wait until oil starts fuming. Add minced garlic, soaked dry shrimp and sliced mushrooms. Add a pinch of salt (suggest: 1/4 tsp). Stir-fry for 30 seconds and let the fragrance release from the dry shrimp and dry mushrooms. Dash in 1 tsp of ShaoHsing cooking wine. Stir well.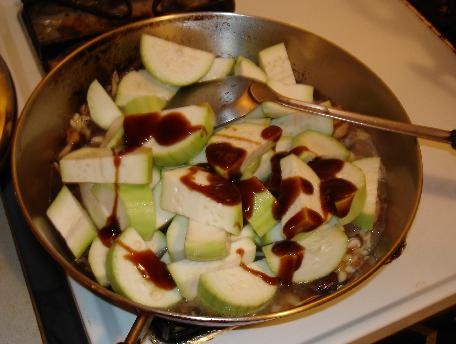 Add the hairy melon. Pour in about 3 tsp of oyster sauce, 1/4 cup of chicken broth and 1/4 cup of water. Stir well. Bring the mixture to a boil and continue to cook with the lid on. About 10 minutes. Stir occassionally. Add more water if the mixture becomes too dry.
When the hairy melon is about done, create an opening in the middle of the pan. Add the soaked mung bean thread. Continue to cook for a few minutes until the bean threads turn soft and soak up the liquid in the melon mixture.
Note: You may want to use a pair of scissors to cut the mung bean thread after it softens up. This makes serving this dish easier.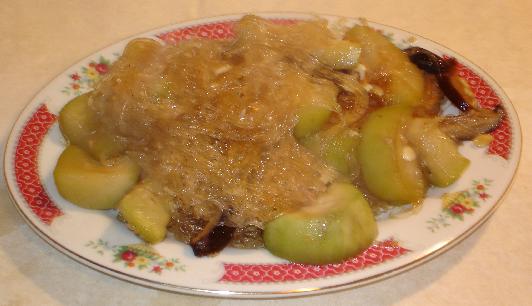 The finished dish. The quantity of food made in this recipe is about twice the portion shown in this picture.