Salted Fish and Chicken Fried Rice (咸魚雞粒炒飯)
Salted fish and diced chicken is a wonderful combination for making fried rice. The finished fried rice is full of fragrance from the salted fish.
Transparent:
This pictorial is dedicated to you. I hope you like fried rice as much as you like pan fried noodles.

Picture of the finished dish: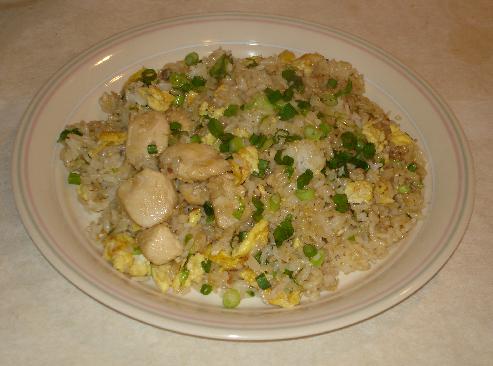 Serving Suggestion: 1 to 2Preparations: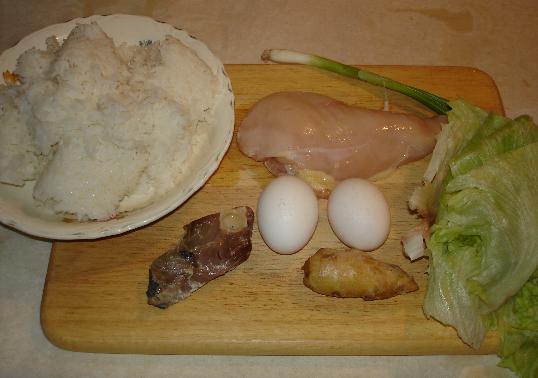 Main ingredients: (From top left, clockwise) About 2 to 3 bowls of cooked rice, 1 piece of chicken breast (about 1/2 to 3/4 lb), 1 to 2 stalks of green onions, about 2 leaves from a lettuce, ginger (about 1 inch in length), 2 small eggs, 1 small piece of salted fish (
haam yu
).
Note: it is best to use one day old rice. If you use fresh rice, the fried rice tends to be overly moist and soft.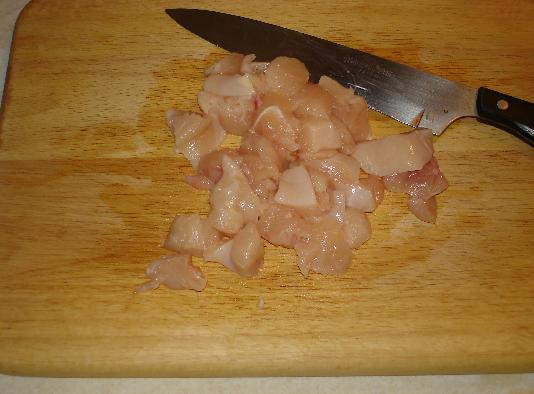 Trim the fat off the chicken breast. Dice into 1 inch by 1 inch cubes.
Marinating the chicken: Add the chicken cubes into a mixing bowl. Add 1 tsp of sesame oil, 1 tsp of ShaoHsing cooking wine, 1 tsp of light soy sauce, and 1 tsp of corn starch.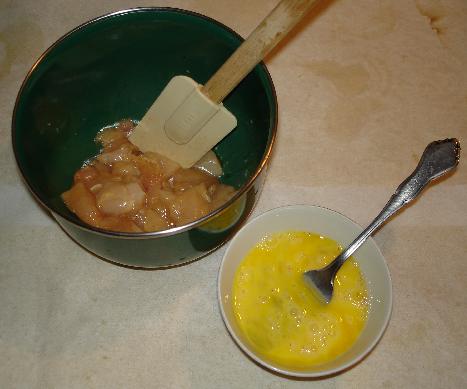 Mix all ingredients well. Set aside for 20 minutes before cooking. Break and scramble 2 eggs.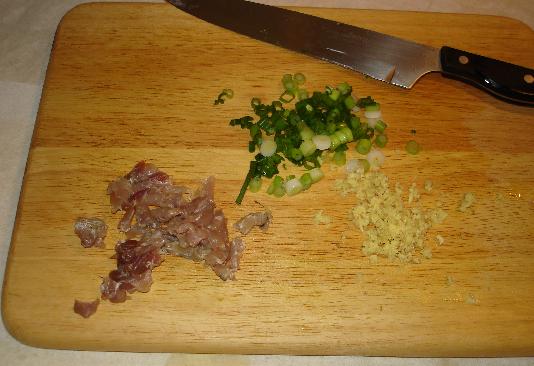 Trim the ends off the green onions. Finely chopped. Grate the ginger. Bone the salted fish and cut it into small pieces.
Cut the lettuce leaves into fine shreds.
Cooking Instructions: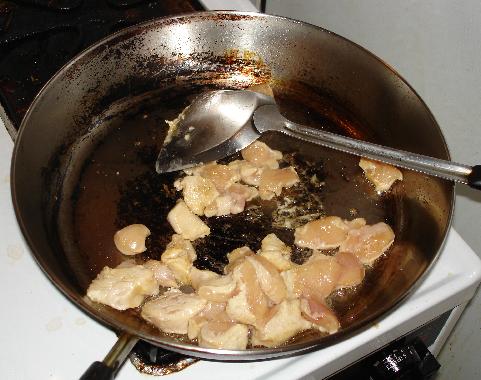 Use a pan/wok, set stove at high, add about 2 tblsp of cooking oil, velvet the chicken meat until the pink color just starts to disappear. About 3 to 4 minutes.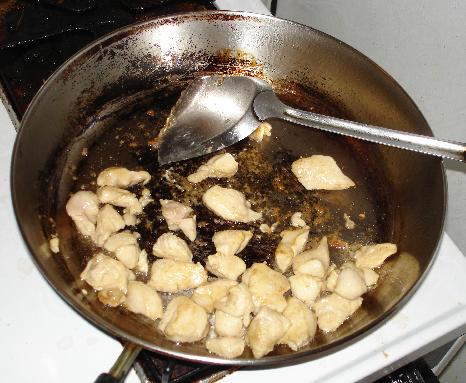 Remove chicken from pan when done. Drain the oil.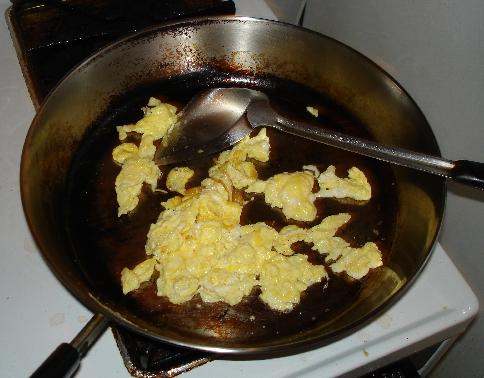 Add 1 tblsp of cooking oil to pan. Cook the scrambled eggs. Add a pinch of salt. Remove.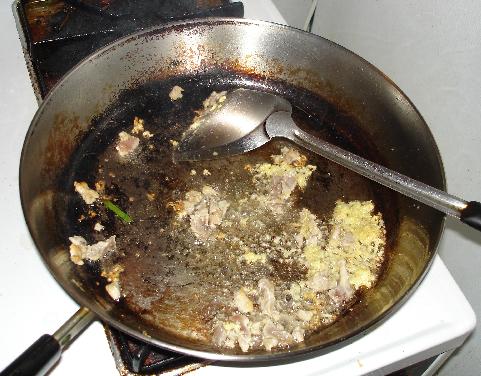 Add 3 tblsp of cooking oil. Keep stove setting at high. Add the chopped salted fish and grated ginger. Stir. Cook for 10 to 15 seconds and let the fragrance release.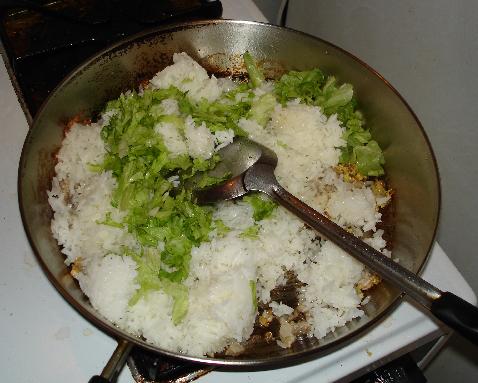 Note: one trick to speed up the cooking time is to pre-heat the day-old rice in the microwave. Add 3 tblsp of water to the rice. Set for high and heat for 3 minutes.
Add the rice and shredded lettuce on to the pan. Stir well.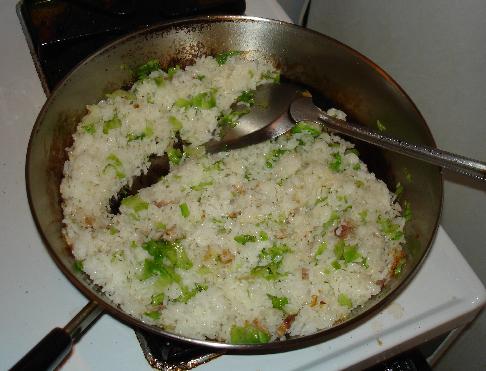 Stir and fry for a minute or two. Use the spatula and keep breaking up the rice lumps into smaller pieces.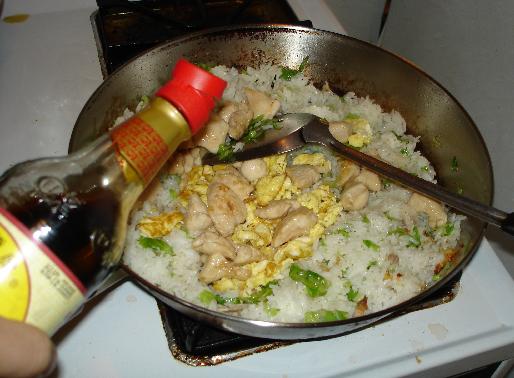 Re-add the chicken and eggs. Add 2 tsp of light soy sauce to darken the color of the fried rice a little bit. Stir and fry for another 2 to 3 minutes. Finished.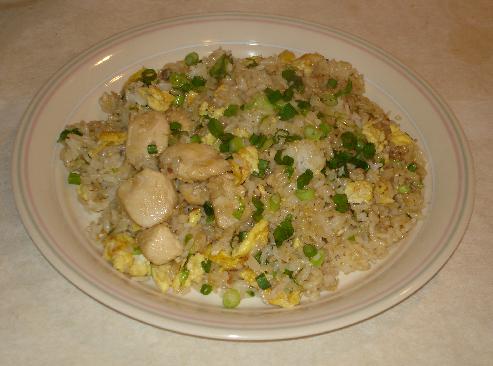 The finished dish.
Edited by hzrt8w, 17 November 2005 - 05:20 PM.