Years ago, I had dinner at the home of a friend. Her mother served truffles for dessert and I was amazed. They were delicious and this woman had actually made them herself. Now I know how easy it was to make those truffles and what it feels like when your friends think you must be made of magic to be able to produce something so luxurious for a simple midday dessert. With the Holidays coming up I thought maybe some of you might like a little "magic".....
1 recipe of ganache makes around 40 truffles
4 oz. of heavy cream
8 oz. of Dark or Bittersweet chocolate plus more for coating
.5 oz of Butter
1 small package of Cocoa powder
With only 4 ingredients, get the best you can.
Use the ganache method you prefer. I bring the cream to a simmer, add chopped chocolate, whirl with the stick blender and then add room temp butter. Sometimes I just stir with a spatula because I don't wanna wash the stick blender. Feel free to replace some of the cream with flavorings, booze, etc.
Pour into a pan lined with parchment and leave to set. Overnight is easiest. Slice into squares and either leave them as is or squish them into fungus shapes or roll them into balls. Again, leave overnight under cover. The ganache should dry out a bit and develop a nice crust.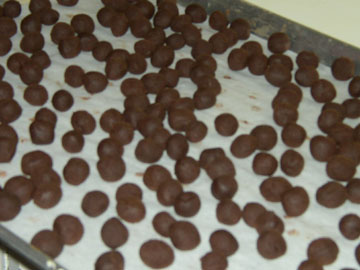 Temper some chocolate and drop in one ball at a time.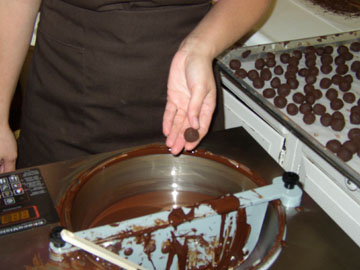 Fish it out with two fingers (or a dipping tool if you must) and roll it around and bounce it over the surface of the bowl of chocolate to allow the tension to remove any excess chocolate.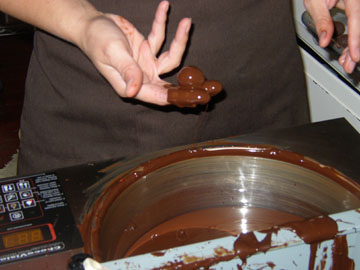 Drop that baby into a bowl full of cocoa or nuts or sugar or nibs or shavings....you get the point....and cover with your dusting medium. Set the entire bowl aside for an hour or so.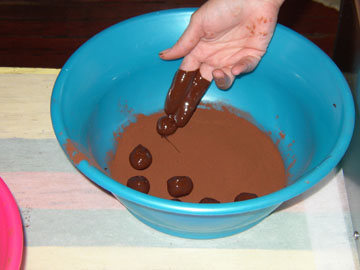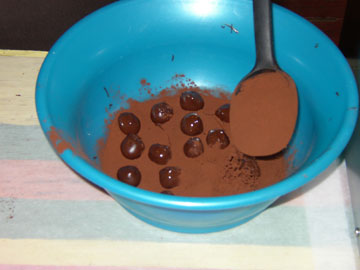 Once set, give your truffles a quick sift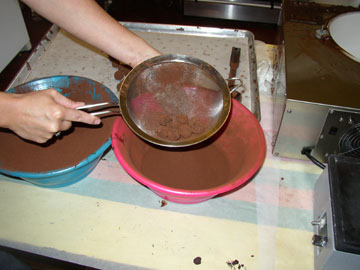 and place them on a serving dish. Stored in a cool dry place (not the fridge) they will keep for a good 2 weeks.