I meant to get to this weeks ago and got sidetracked. I apologize and hope that this demo, in conjunction with John's fab demo, will completely demystify molded chocolates. Because I needed Honey to take the photos this was done at home. So, please also accept my apologies for the dog bowls, etc.
It's usually too cold in the kitchen in the morning to make happy chocolates so instead of wasting precious gas on the heater, I cranked on the oven and made these. Not only do they warm the kitchen to a chocolate favorable 68 degrees but they also make for a nice afternoon snack!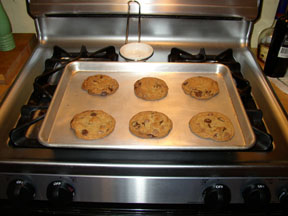 So, here's the stuff: Baby tempering machine, Mommy tempering machine, Vibrating table, gold leaf, luster dusts, PCB colors, Polycarb mold (I get mine from Tomric), natural cotton batting, offset spatula, some paintbrushes, and a rubber scraper all on top of plenty of parchment for easier clean-up. Oh, and a pastry bag and some scissors for the ganache.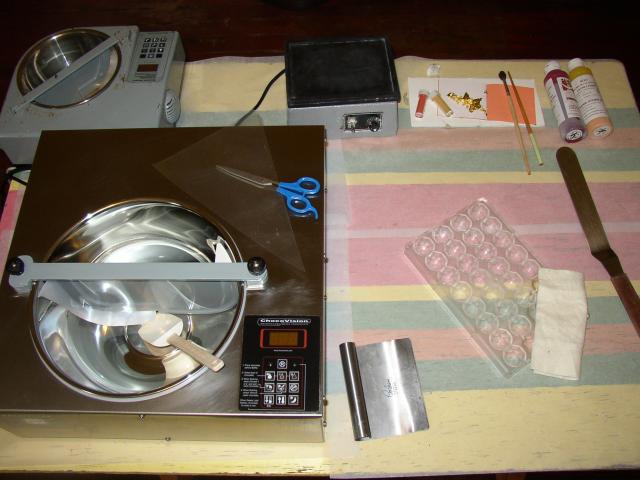 Make yourself a nice ganache so it has time to cool while you get things ready and temper your chocolate. If you're using a machine you will start the tempering process now.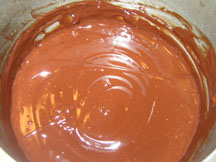 Polish your mold well with the natural cotton batting (found at most fabric stores). It can be washed and used again and again.
If you're not using a tempering machine you may want to create a set-up like this. Grab a big bowl, put a heating pad in it and set it to low. Add a few towels and a probe thermometer followed by your bowl of tempered chocolate. You can monitor the temp of the bowls and add or subtract towels as needed to maintain a good working temperature.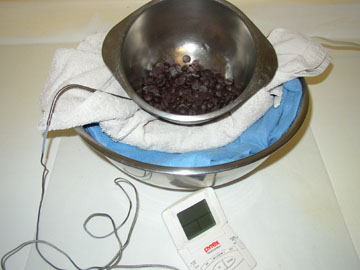 Just before filling, I hit my molds with a blow dryer just enough to ensure the poly is the same temperature as the chocolate. I find that although the ambient temperature is just right, sometimes the various objects haven't quite warmed up enough. This step will secure a glossy bonbon.
Fun time! Warm some colored cocoa butter in the micro and drop it on your finger or directly into the cavity....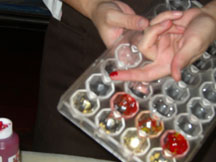 Swirl it around the inside of each cavity. Get creative. Use as many colors as you like and have fun, it's not that serious. You'll notice I smeared some gold leaf into one row of cavities in this same fashion.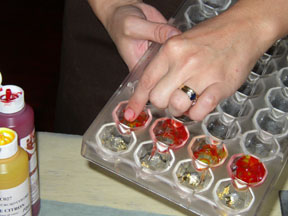 For more complete coverage and that super-trendy, high-color look, use a fluffy brush to coat the entire cavity.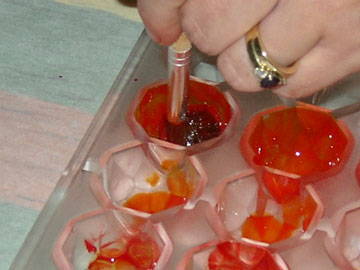 Tap in some luster dust for a little more drama and texture.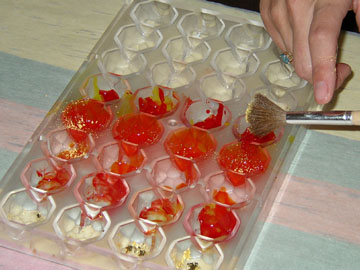 You may prefer to create definition with a different shade of chocolate. I used my favorite tool, my finger, and swirled in some milk chocolate. On the next row I used a spoon to pool some milk chocolate in the bottom of the mold. One could use an airbrush with some white chocolate here too (if one could make friends with her airbrush).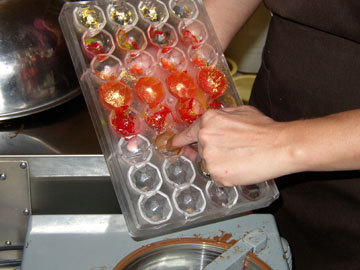 Let these set a bit and fill the entire mold with dark chocolate. I like to use a deep silicone spatula because I can use it again later when cleaning out the bowl. Many chocolatiers prefer a ladle.
Give it a quick scrape with your offset spatula (just so things don't get TOO messy).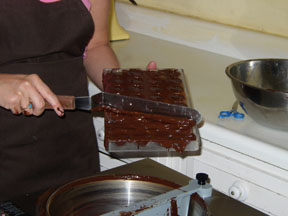 Set the mold on your spiffy "new" vibrating table for a few seconds. OR smack it around violently on the counter, bouncing it from side to side while doing a little dance to release bubbles and get some exercise.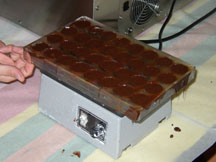 Turn 'er over and dump out the extra. I do this over a sheet of parchment and use the chocolate another day. I worry that pouring it back into my tempered chocolate may upset things. It probably wouldn't but we all have our neurosis.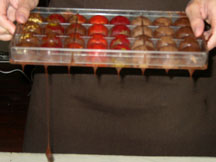 Swirl that baby around to get out all the extra and make a nice thin shell.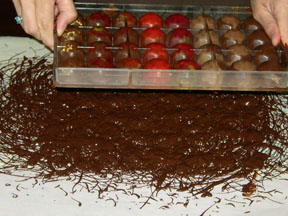 Give it another scrape and set it aside to dry.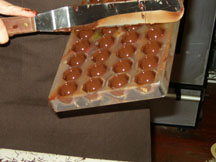 Now the shells have that velvety sheen which means they're dry and are ready to be filled. Fill a pastry bag or a squirt bottle (if you don't mind washing it) with ganache and pipe into the shells. Be sure to leave 1/8 inch of space for the bottom and don't allow the ganache to touch the rim of the shell or the bottom may not adhere properly. In this batch I have piped a drop of ganache, added a glaced cherry and covered it with ganache. Now you want to give your ganache an hour or two to develop a slight crust. If you're working with caramel you may have to wait a day before bottoming.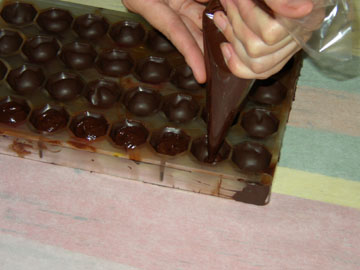 Use your silicone spatula to add chocolate with the same technique you used to fill the shells. Give it a couple of taps and swiftly scrape of the excess. Don't muck about here. The more you mess with it, the less successful your bottoms will be.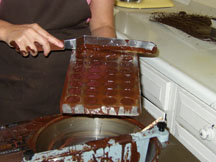 Leave the mold in a cool spot for an hour or so and them turn the bonbons out onto a sheet of parchment. You may have to give it a little whack to get every last one out. Use a gloved hand to place them on a pretty platter or into a gift box.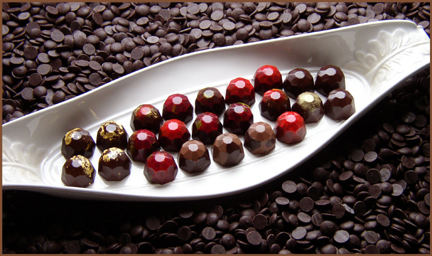 and here's the final presentation! Notice the gold leaf; the colors; the colors with gold dust; the two toned; and even one that got a last minute dusting of lustre. Honey liked the photo so well, he put it on the website!
There are so many options. Have fun, be creative, be silly, and remember, it's all edible.