Imperial Shrimp (Shrimp with Chili, Garlic and Tomato Sauce) (乾燒蝦)
This is a "Mandarin" style (Beijing/Sichuan) dish using hot chili, chili bean sauce, garlic and tomato sauce to stir-fry shrimp. The recipe was learned from the same reputable chef. The dish was another best seller in his restaurant. This dish may carry many names: Imperial Shrimp, Mandarin Shrimp, Peking Shrimp or other non-descriptive English names. The Chinese name: 乾燒蝦, which means dry-cooked shrimp, may be more meaningful.
Serving suggestion: 2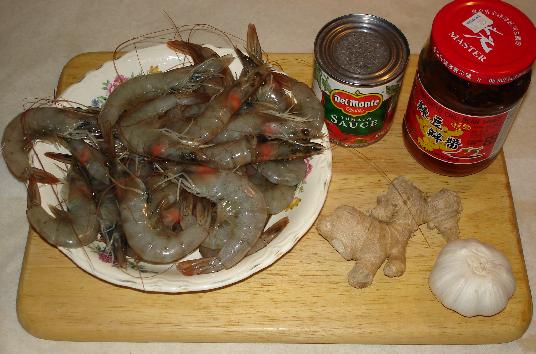 Main ingredients: Medium size shrimp (with shell), about 1 1/4 lb. Other ingredients include garlic, ginger, chili bean sauce, tomato sauce, chicken broth (not shown) and some seasonings (not shown).
Shell each shrimp: trim off the head. Use your fingers to peel off the shell. Use a chef knief or utility knief to make a cut about half-way through along the back of the shrimp. Devein. Rinse under running water.
It is much easier to shell and devein the shrimp with a small utility knief under the running water with a bin underneath.
You may save the shrimp heads and shells to make stock. I usually use them to make a stock, and add some miso paste and cubed tofu to make miso soup. Or add some Thai Tom Yum soup paste, a few pieces of shrimp and some sliced button mushrooms to make Thai style soup.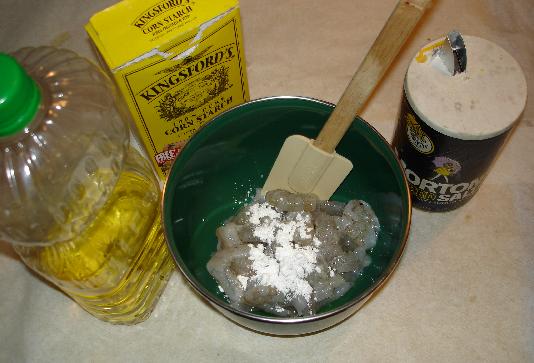 Marinate the shrimp: In general, seafood is very delicate. Do not use heavy sauces (such as soy sauce and oyster sauce) to marinate seafood.
Add deshelled/deveined shrimp to a small mixing bowl. Add 1/4 tsp of salt, 2 tsp of cooking oil and 2 tsp of corn starch.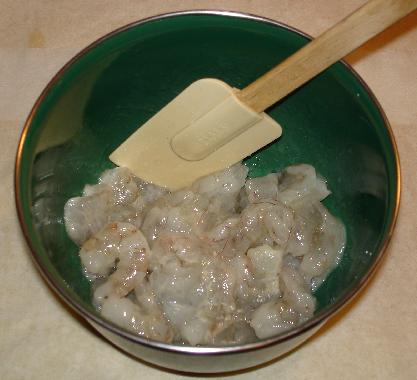 Mix all ingredients well. Set aside for about 20 minutes before cooking.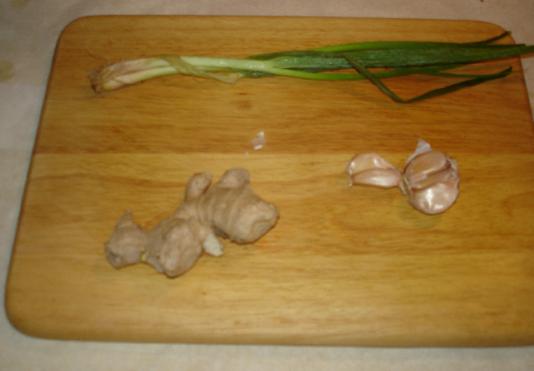 Meanwhile, prepare the aromatics. Use about a 1-inch cut of ginger, 4 to 5 cloves of garlic, and 1 to 2 stalks of green onion.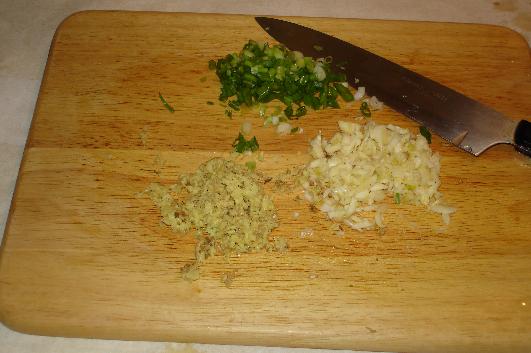 Use a grater to grate the ginger. Peel and mince the garlic. Trim the ends of the green onions and finely chop.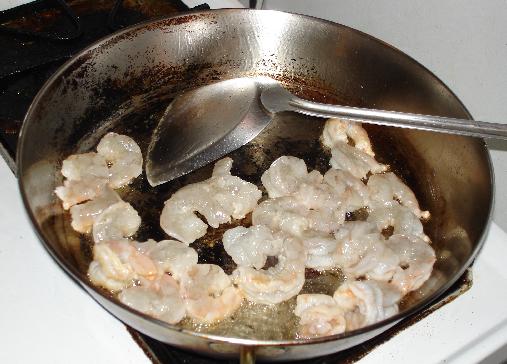 When ready to cook: use a wok/pan, set stove to high setting, add 3 tblsp of cooking oil. Wait until oil is hot, add the marinated shrimp. Cook until the color of shrimp turns from light grey to white and orange red, about 3 to 5 minutes. Remove from pan and drain. Discard the oil.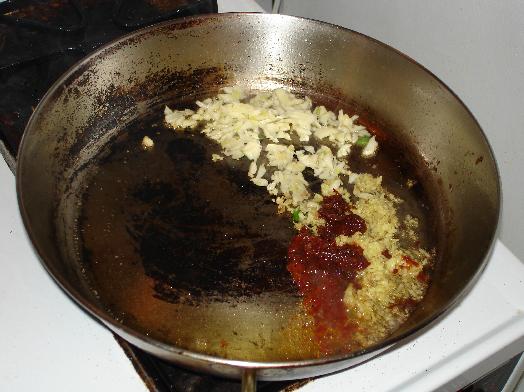 Use the same pan, maintain stove setting at high, add 2 tblsp of cooking oil. Wait until oil heats up and just starts fuming. Add the shredded ginger and minced garlic. Add 1 to 1.5 tsp of chili bean sauce. Add 1 tsp of chili sauce. (Note: if you like hot and spicy food, you may add more chili sauce to taste.) No need to add extra salt because the chili bean sauce is very salty and the shrimp has already been salted.
Stir well. Cook for about 15 seconds. Dash in 2 tsp of white vinegar and 1 tsp of Shao Hsing cooking wine.
Add 1/4 cup of chicken broth, 1/2 can (small 8-oz can) of tomato sauce, and 3 tsp of sugar. Stir well. Bring the mixture to a boil. Use a small amount of corn starch slurry (suggest: 1/2 tsp corn starch dissolved in 2 tsp of water) to thicken the sauce to the right consistency.
Re-add the pre-cooked shrimp. Stir well.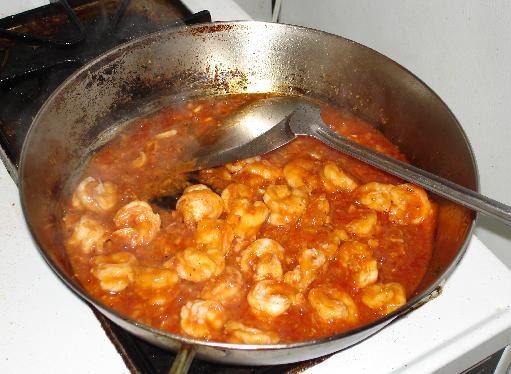 Continue to cook for 1 to 2 minutes until shrimp is reheated. Finished.
Transfer to the dinner plate. Add the chopped green onions on top to add flavor and to serve as a garnish.
The finished dish.
Edited by hzrt8w, 27 October 2005 - 11:12 AM.