Beef Shank Braised with Five Spice and Soy Sauce (五香牛腱)
mudbug: This pictorial is for you.
Have you ever tried the sliced beef shank served as one of the cold-appertizers in a Chinese banquet? The strong flavor of five spice and soy sauce is unmistakable. They are easier to make at home than you might think. Beef shank is usually eaten as appertizers or snacks.
Serving suggestion: 5 to 6 (as appertizer)
Use one piece of beef shank, about 2 lb. Rinse and clean.
Boil half a pot of water. Add beef shank and boil it for about 5 minutes. Flip a few times.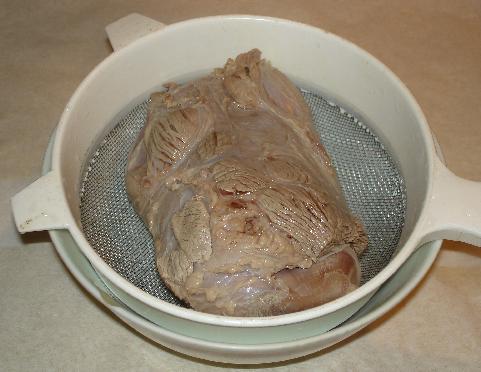 Remove from pot. Rinse under cold water to cleanse it a little bit. Drain.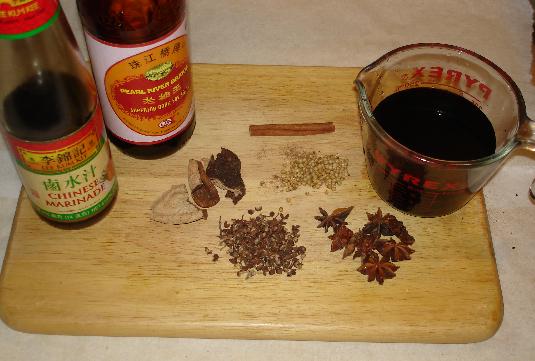 Prepare the braising liquid. I used the ready-made "Chinese Marinade"
Lo Shui
[Cantonese] 滷水 by Lee Kum Kee. It is a pre-mixed soy sauce based liquid with five spices added. If you don't have Chinese Marinade, simply substitute its portion with dark soy sauce. Besides Chinese Marinade, I used dark soy sauce, and added the following spices (clockwise from the bottle of dark soy sauce):
3 small pieces of
chan pei
[Cantonese] (dried mandarin peels), 1 stick of cinnamon, about 1 tsp of coriander, about 6 to 7 star anises, and 2 tsp of sichuan peppercorn. I would have also used 2 tsp of cloves but I ran out of them.
Use a pot big enough to hold the beef shank, add 1/2 cup of Chinese Marinade, 1/2 cup of dark soy sauce, 2 cups of water, add all the spices listed above, add 3 tsp of Shao Hsing cooking wine, 2 pieces of medium-size rock sugar, and ginger slices (about 1 inch in length).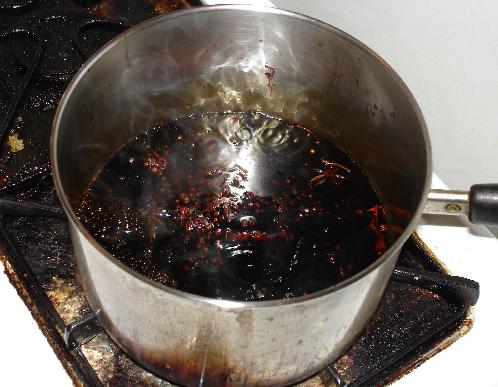 Boil the braising solution for 5 to 10 minutes.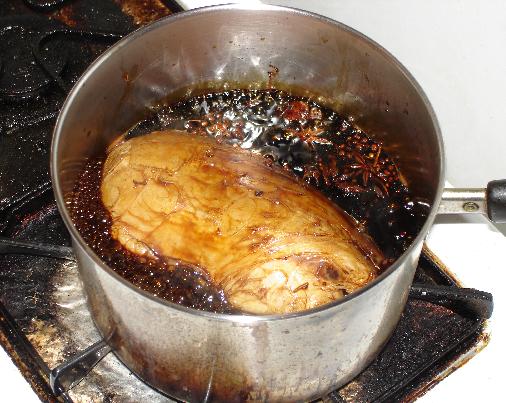 Add the beef shank to the pot. Wait until the braising liquid comes to a boil again with the beef shank. Boil for about 5 minutes. Reduce the stove setting to a simmer. Simmer for 3 hours. Turn the beef shank about every 30 minutes.
This is how the beef shank looked after 3 hours of simmering. Turn off the stove. Remove the beef shank and wait until it cools down to room temperature (or put it in the refrigerator for overnight storage).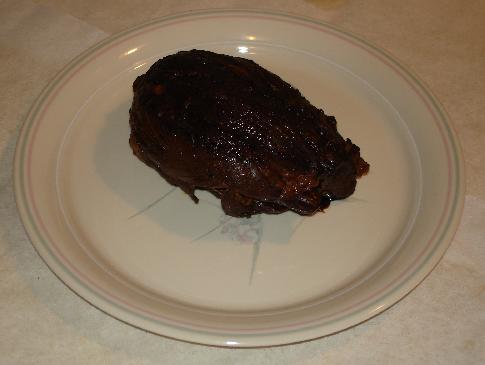 This is how the beef shank looked before slicing.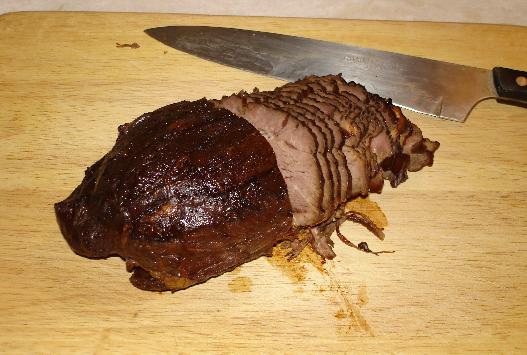 Cut the beef shank into very thin (about 1/8 inch thick or thinner) slices.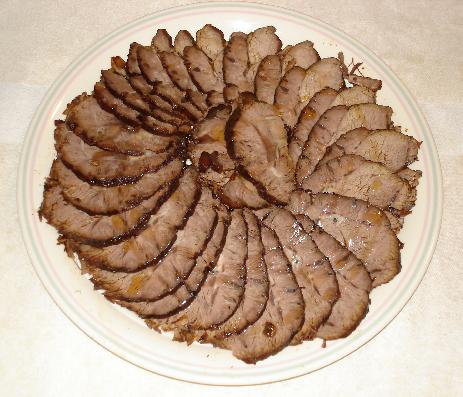 For presentation: lay the beef shank slices on the serving plate in a circular fashion. Put all the odd end pieces in the center.
Drizzle about 2 tsp of sesame oil on top. Read to serve.
The finished dish.
Note: You may save the braising liquid - filter and discard all the fat, spices and residue. Store the braising liquid in a plastic container in the freezer. You may start with this braising liquid next time. Just replenish with a small amount of Chinese Marinade, dark soy sauce, and water. Use the same amount of rock sugar, ginger and other spices.