I am starting this thread to share some of my country's traditional dishes.
Dutch cooking today is ofcourse very much influenced by cuisines from abroad, but there are still many homes where traditional cooking is the daily fare and where people still eat the way we all did 50 years ago. My mother only has salt and pepper by her stove, and I'm pretty sure she never used a single sprig of thyme or rosemary in her stews. I grew up on that kind of cooking – meat, boiled potatoes and boiled vegetables every single night – and I could not wait to start exploring the wonderful world of food when I moved out of my parents house.
By now, my mother thinks my cooking is quite eccentric, but at the same time I find that I have a new appreciation for the dishes and traditions that I grew up with. It's time to collect the family recipes and to think about the culinary heritage that my country has to offer me.
Fall seems the perfect season to start this project. I feel Dutch cooking is at its best in fall and winter. The sweet and spicy pastries that accompany the celebrations of December, warming soups and nourishing stews, boozy drinks to keep you warm in the icy wintermonths.
I don't want to romanticize – the winters are no longer as icy as they appear in 17th century paintings, almost everybody buys their liquers instead of making them at home, and even the great Dutch soup, splitpea soup, is more often bought in a tin than made from scratch. But this is Egullet and I'm going to do it my way.

I'll start with a Dutch pastry,
boterkoek
(buttertart). This is a very rich, thin, buttery pastry. While I agree that the rich buttery taste is essential to this pastry, most
boterkoek
you can buy (and most recipes) has too much butter for my taste. Some are so rich that the pastry almost becomes translucent from all the fat.
This is my mother's recipe for
boterkoek
. Technically it should be called
gemberkoek
(ginger pastry) because it is flavored with crystallized ginger. Her recipe has an unusual method which creates a final product that is rich but light, and deliciously chewy.
ingredients: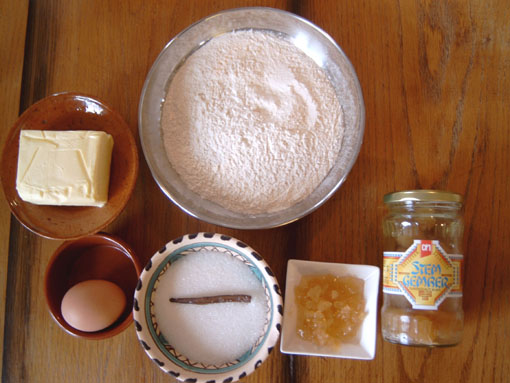 150 grams of butter
150 grams of sugar (in this case, taken from the vanilla jar)
200 grams of selfraising flour
1 egg
3-5 knobs of crystallized ginger (to taste) and a little bit of syrup from the jar
not in the pic is the pinch of salt that I forgot to put in

Method:
Preheat the oven to 175 C / 350 F
Melt the butter. Mix melted butter, sugar, flour and ginger + syrup together. Beat the egg and add almost all of it to the batter. Mix well.
The dough looks like this: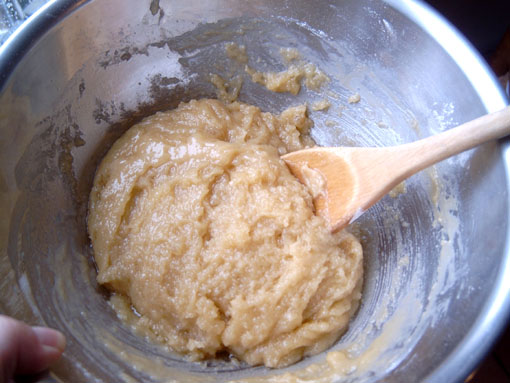 Have ready a round, 20-22 cm tart tin (buttered and floured). Press the dough into the tin with a fork. Brush with the leftover beaten egg.
[note: if you use the smaller tin the pastry will be a bit thicker and will have to bake a little longer].
Put it in the oven. It will have to bake for about 30 minutes, but during that time you will have to knock it down a couple of times like this: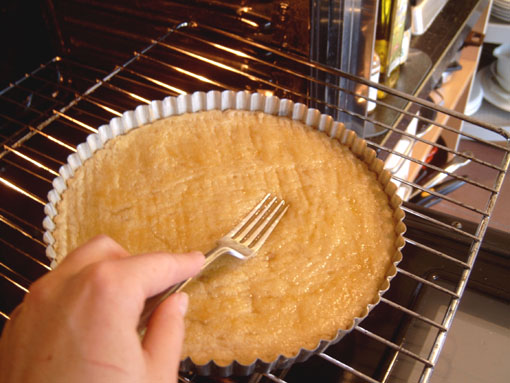 Because you have used selfraising flour the pastry will start to rise. Knocking it down produces a pastry that is soft and slightly chewy. According to my mother, using ordinary flour just does not give the same result. I've never tried.
It's ready when its firm and golden brown. Don't overbake or it will be dry.
End results:
The more common version is made without the ginger and often has a pattern of halved almonds on top.