Soy Sauce Chow Mein with Chicken (豉油王鸡丝抄麺 )
There was a question about "Soy Sauce Chow Mein" brought up on this board. I have decided to show you my way of making this dish. I also have decided to cook it with some shredded chicken meats. You may use sliced beef, peeled shrimp, sliced BBQ pork or other meats of your choice. The process is very similar. Or leave it as plain soy sauce chow mein. They all taste wonderful.
CAUTION: The sequences shown illustrated using cooking wine over a pan of hot oil to induce a flame. If you have poor ventilation or do not want to risk fire hazards, skip the part of using cooking wine.
Serving Suggestion: 2 to 3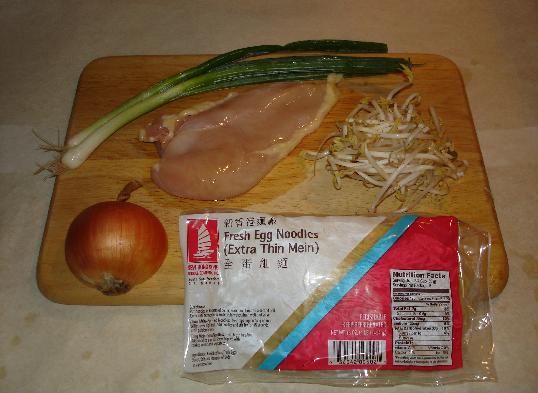 Main ingredients:
Cantonese egg noodles, 1 piece of boneless chicken breast (about 1/2 to 3/4 lb), 1/2 of a small onion, 2 green onions, bean sprouts (only a handful).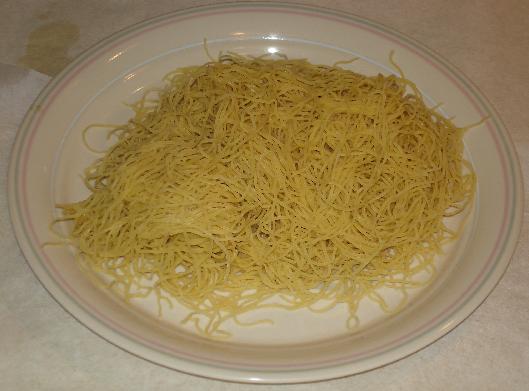 If the noodles are curled up into fist-size balls, use about 4 to 5 of them (about 1/2 to 3/4 lb). Uncoil and shake the noodles with your fingers. Make them a little bit fluffy.
Take the chicken breast. Trim off the fat. Cut up the meat into long and narrow strips.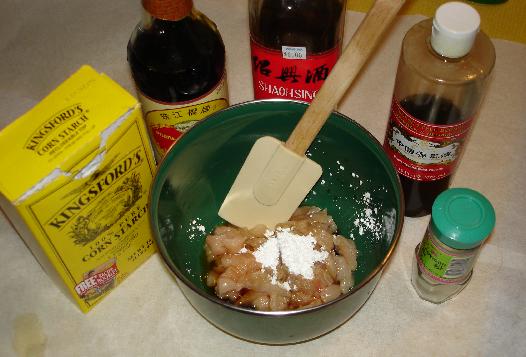 Use a small mixing bowl to marinate the chicken meat.
Use 1 tsp of ground white pepper, 2 tsp of sesame oil, 1 tsp of ShaoHsing cooking wine, 2 tsp of light soy sauce, and 1 tsp of corn starch. Mix well. Set aside to marinate for at least 20 minutes.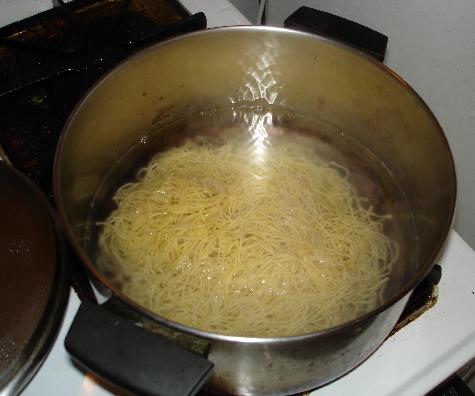 Meanwhile, boil a small pot of water. When the water is boiling, add the noodles to the pot. Cook the noodles until el dante. Cooking time depends on the types of noodles used. If those are fresh noodles, which cook very fast, only 1 to 2 minutes. If those are dried noodles, it may take up to between 5 to 10 minutes. Adjust your cooking time accordingly. Do not overcook the noodles. Immediately remove the noodles and put them on a strainer. Run them under cold water and drain.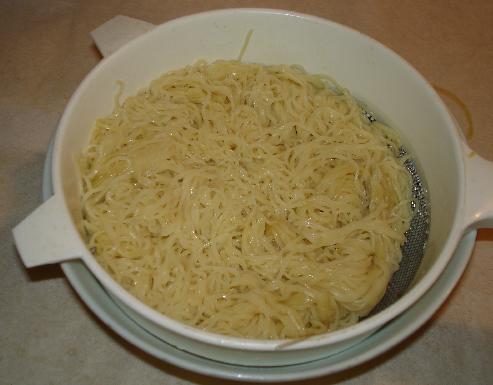 (Set noodles on a strainer and drain well.)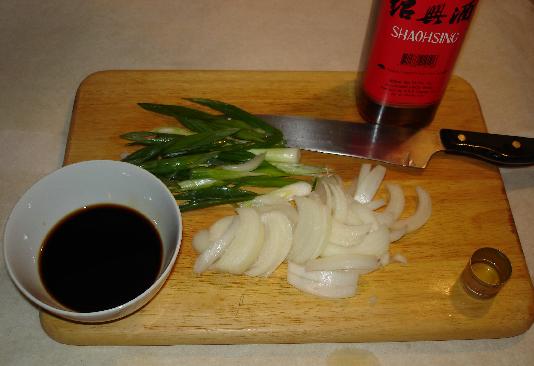 Prepare the other ingredients: Cut 1/2 onion into small wedges. Cut the green onions diagonally (trim the ends). (Not shown: wash and drain the bean sprouts). Use a small bowl, mix 3 tsp of light soy sauce (for saltiness) and 3 tsp of dark soy sauce (for rich flavor). Prepare about 1 to 2 tsp (no more) of ShaoHsing cooking wine (shown contained in the bottle cap).
Use a pan/wok, set for high heat over the stove. Use about 2 tblsp of cooking oil to velvet the marinated chicken. Cooking until the meats show no more pink color. Remove.
Note: The following sequences of photos occurred during a very short time frame. The technique is important. So I have slowed down the process for you, frame by frame.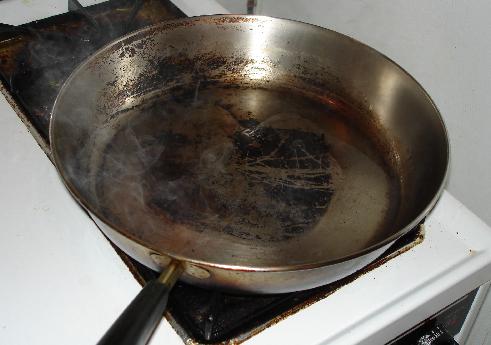 Start with a clean pan/wok. Set for high heat over the stove. Add a generous amount of cooking oil, about 3 to 4 tblsp. Keep heating up the pan/wok until the oil start fuming. Don't start prematurely or else you won't achieve the desired taste. You have to do the following 5 steps very quickly.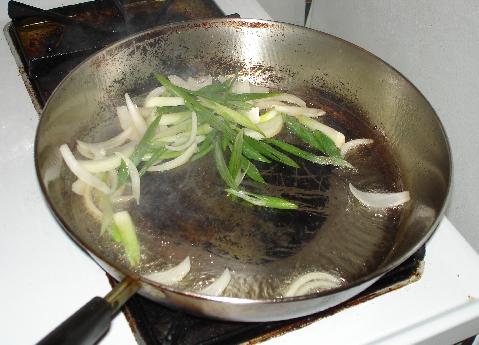 First: add the wedged onions and sliced green onions onto the pan. Stir for about 3 seconds. Immediate add the capful of cooking wine. CAUTION: This will induce a big flame. If you don't have good ventilation or do not want to risk fire hazards, skip the cooking wine.
I tried to take a picture of the flame. But during the half a second that it flared up, the flame overexposed the image. I ended up with a picture where every looked dark.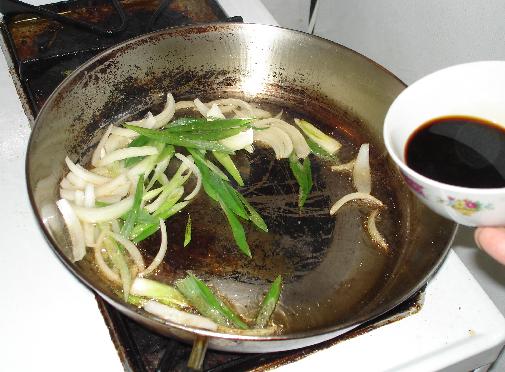 Second: The flame will last for only about half a second. When it has subsided, immediately add the bowl of light soy and dark soy sauce mixture.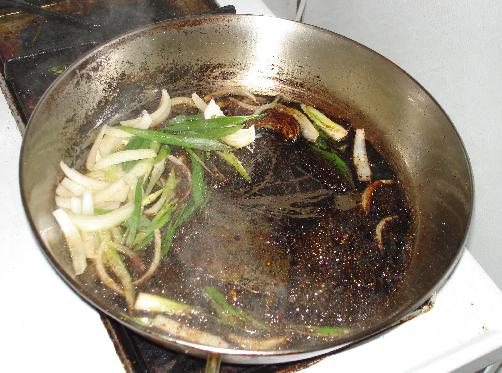 Third: The mixed soy sauce will boil almost instantly. That's a desireable effect. Stir once very quickly.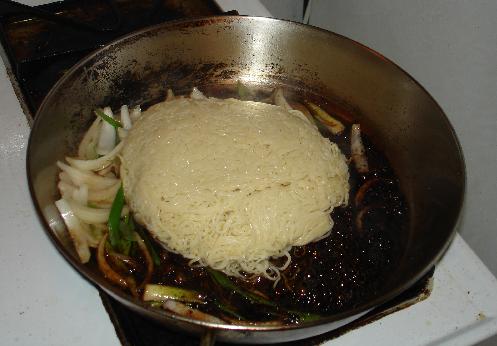 Fourth: Immediately, add the noodles to the pan.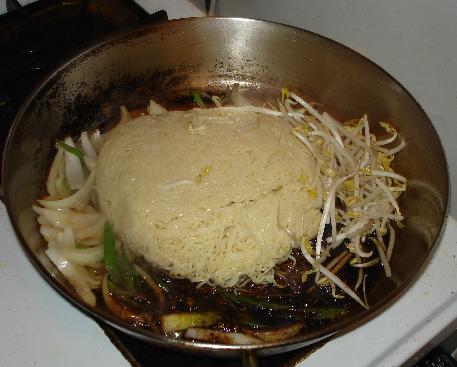 Fifth: Also add the bean sprouts.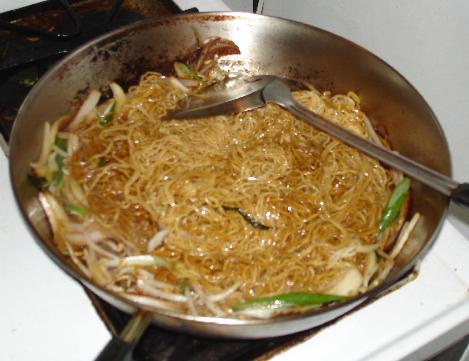 Stir the noodles and bean sprouts and toss. Make sure that the soy sauce is evenly distributed in the noodles. Cook for about 1 to 2 minutes.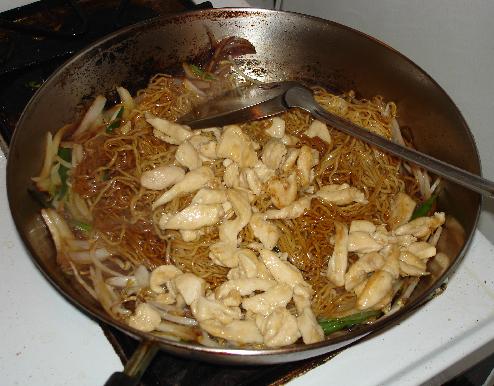 Re-add the chicken shreds to the pan. Stir-fry for another minute or 2.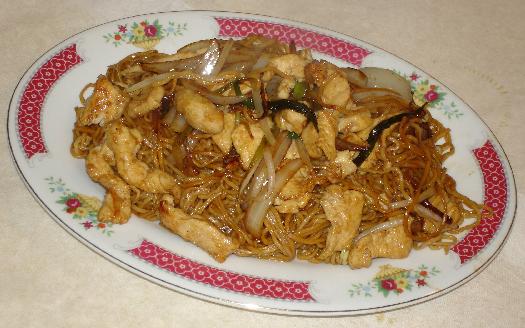 Finished. (Note: the quantity shown here is about half of the quantity made.)
Edited by hzrt8w, 16 October 2005 - 11:42 PM.