This is a simple Asian puff pastry that can be used in savory as well as sweet dishes. The technique is extremelly easy, and you can achieve the effect of a layered pastry without the complixity of its French counterparts. The puff pastries are normally made into Thai Curry Puffs, which is a savory pastry filled with meats or potatoes and vegetables. However, it can also be made with butter and used as a shell for a sweet filling such as ground peanuts mixed with honey and cinnamon, fruit purees, or stuffed Asian style with red bean paste or shredded coconuts, chopped bananas and palm sugar. The puff pastry here is demonstrated by Pichet Ong, who will answer any question you have himself. Apologies for the blurry pictures.
You will need:
Ingredients
11/2 cup of flour
5 tablespoon of vegetable oil (or butter if making sweet pastry)
1 tablespoon of sugar
1 teaspoon of salt
3 tablespoon of water plus more for sealing the edges
Equipments
A rolling pin
A large metal bowl
A mixer if using one
Take 1/2 cup of flour and mix it with 2 tablespoon of vegetable oil either by hand or with a mixer until it forms a smooth ball.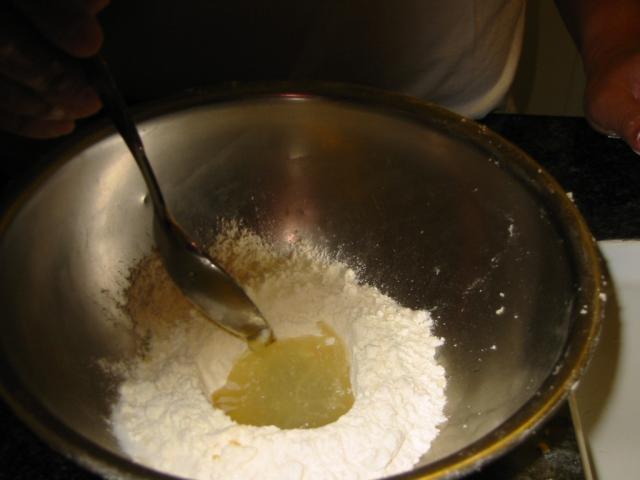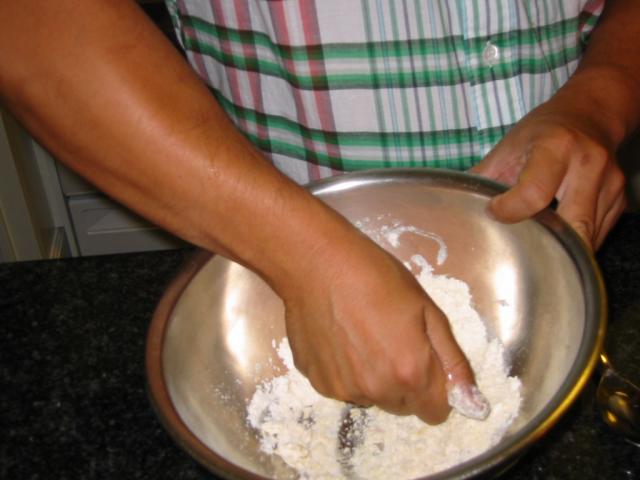 Cover with plastic wrap and chill in the refrigerator.
Meanwhile, mix the remaining ingredients together until it forms a smooth ball.
Flattened it out with your palm into a flat disk, take the chilled dough out and put the chilled small ball of dough on the large disk.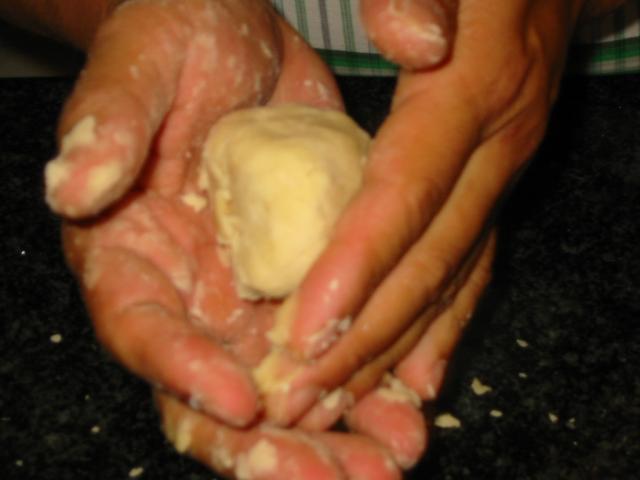 Pat it into a long shape and roll it out with a rolling pin into a rectangular sheet.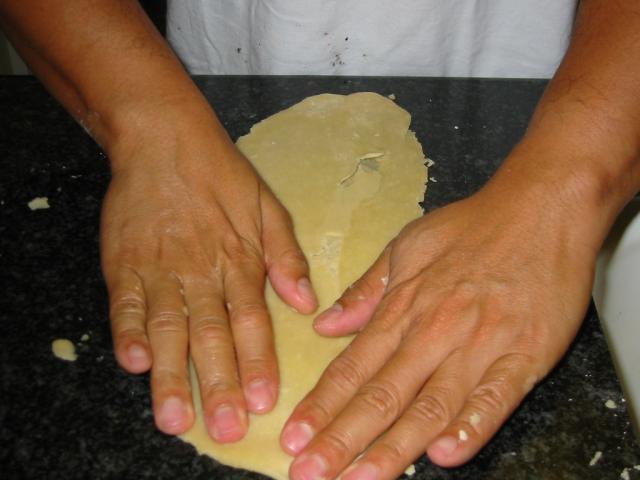 Roll the sheets away from you into a jellyroll shape. Lightly squeeze it with your hands to make it tighter.
Put it back in the refrigeratpor and let it rest for 10 minutes.
Slice the roll crosswise into 1/2 inch to 3/4 inch pieces.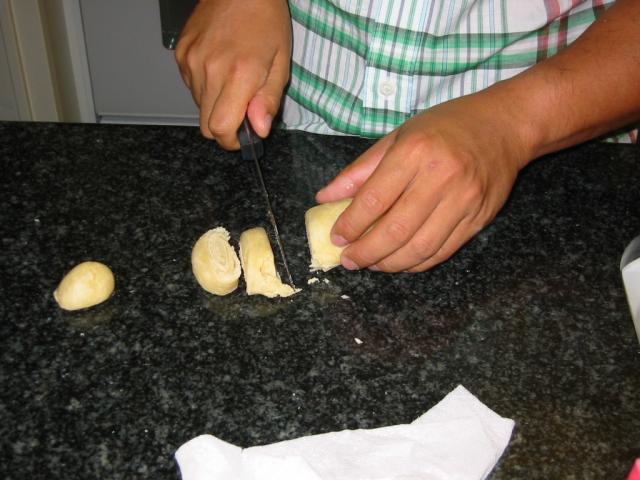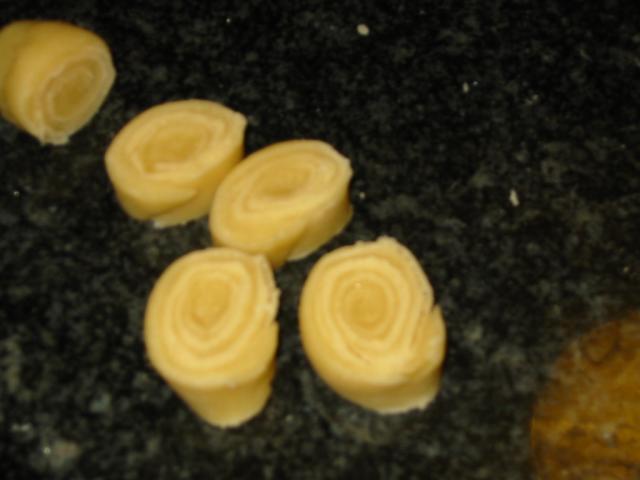 Take each round and turn it out with your thumbs to make it into the shape of a bowl.
Spoon in your fillings.
Dab some water along the edges, bring them together and crimp.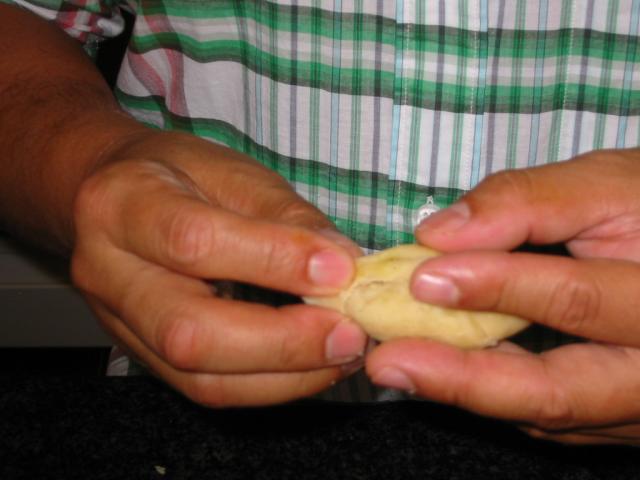 The pastries can be baked or deep fried and the ingredients should make enough to serve four.
A classic example of use of this pastry is the Curry Puff, popular iin Thai restaurants.
you will first need:
For the
Sauce
(4 servings):
1 tablespoon finely chopped shallots
1 1/2 inches diced cucumber
4 tablespoon rice vinegar
2 teaspoon sugar
Stir all the ingredients together and let it stand for at least 10 minutes. This part could be made a day ahead.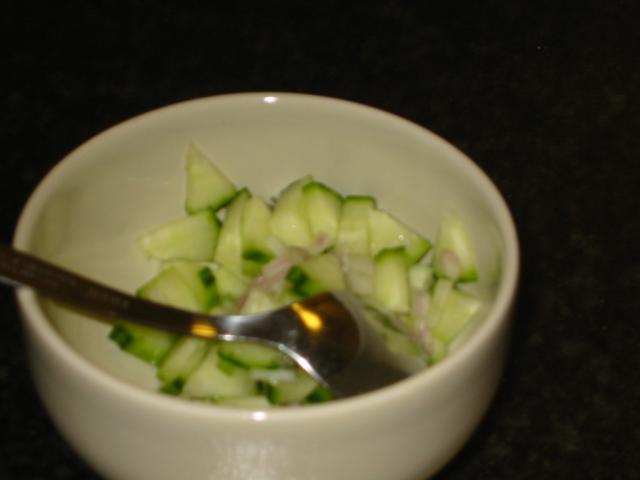 Curry Chicken Filling
(4 servings)
3/4 cup of diced chicken pieces
1 tablespoon of soy sauce
1 tablespoon Maggi sauce or use sweet soy sauce
1 tablespoon of Madras curry powder
White pepper to taste
Marinade the chicken in all the sauce and stir in the curry powder and the white peppers.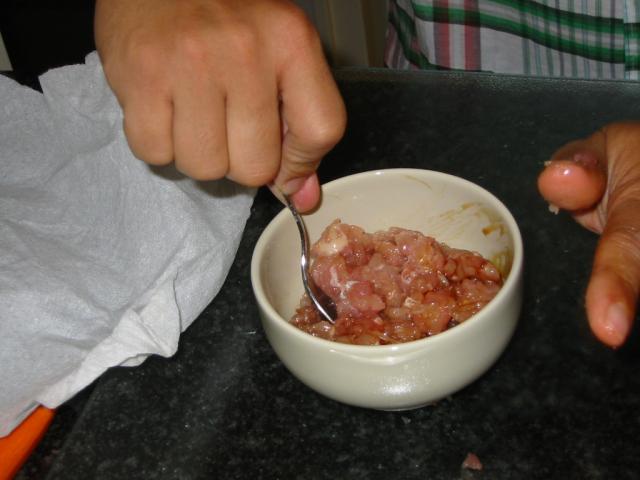 Meanwhile chopped the aromatics
2 tablespoon vegetable oil.
1/4 cup minced shallot
2 cloves of garlic
1/2 cup of small diced carrots
1/4 cup of chopped cilantro (you want to use stems first, which is more flavorful)
1 tablespoon of Madras curry powder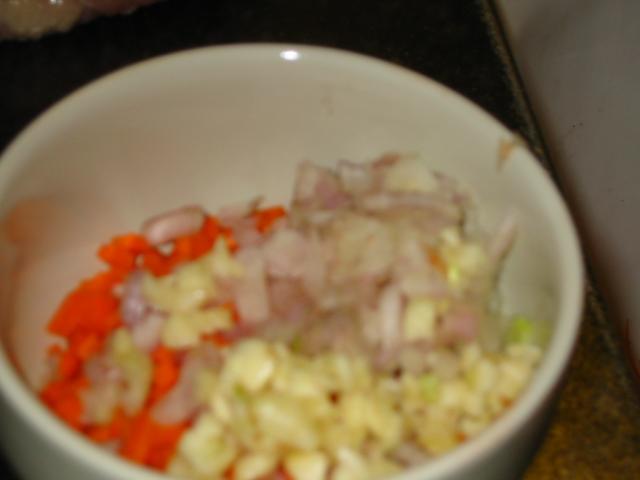 Heats up 2 tablespoon of vegetable oil until hot, sauté the shallots garlic and carrots until it release the flavors. Add the marinaded chicken. saute for another two minutes.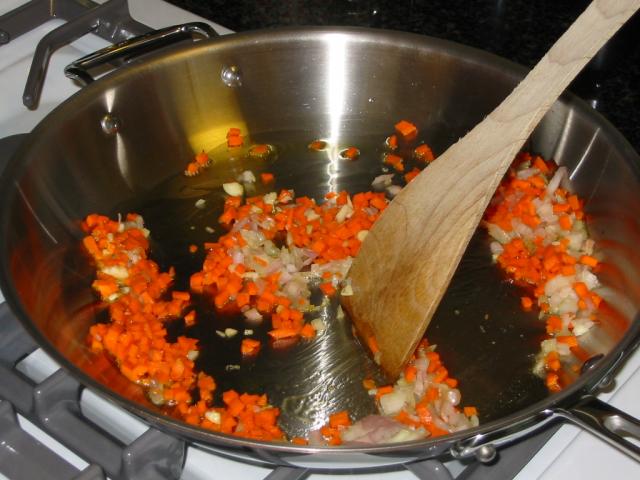 Stir in Cilanto.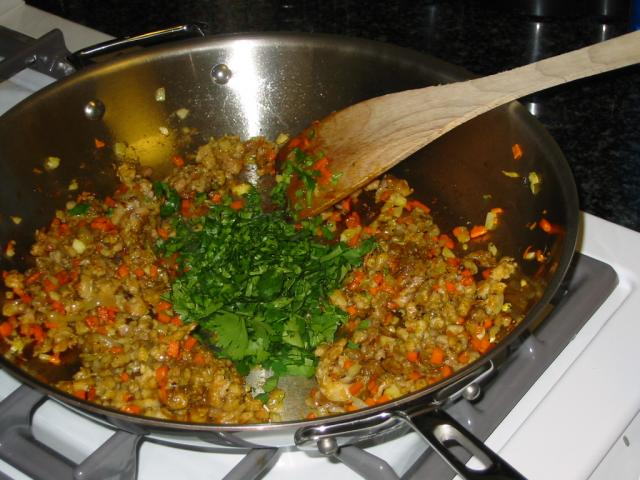 When it cools, this could be filled into the puff pastry to make little appetizers.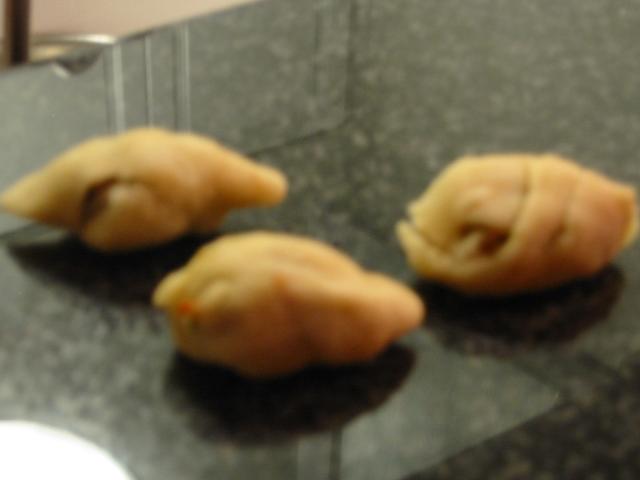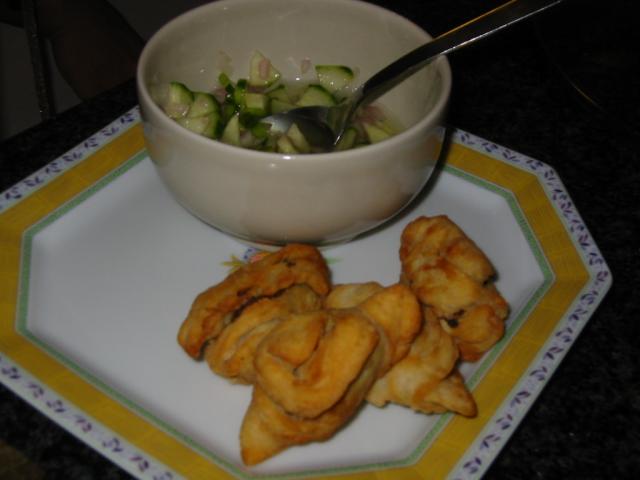 Pichet Ong will be a guest on the pastry and baking board. He hopes to change the perception of pastry to show that it's not just about desserts.