Today's supposed to be Western but I thought I'd better cook the pomfrets recommended by the fishmonger to steam since they were very fresh.
Here's the mis en place. From the top left to down: finely-sliced ginger, soaked, rinsed and sliced salted veg, microwaved mushroom (tks, muichoi!), top again: spring onion, tomatoes (ugh, they look so pale skinless...I stole the skin to do a garnish rose) and sour plum. At the back: organic soy sauce, himalayan salt, sarawak white pepper, and 2 lovely pomfrets slit and rubbed with salt, pepper and a pinch of sugar.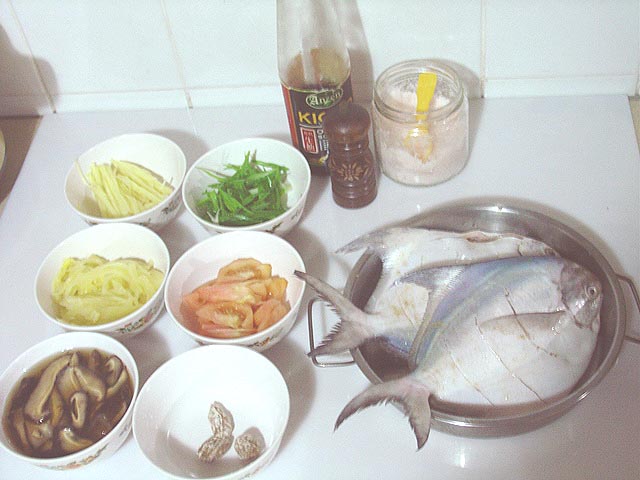 Rub sesame oil inside the dish. Fill tummy (the fishs') with ginger and one plum each. Loosely place other ingredients (except the spring onions) all around the fish. And drizzle in some soy sauce. Have the wok steaming hot before placing the dish on the rack. Another shot for Jo-mel since she appreciates my gas stove so much. Cover. Steam for 13 minutes.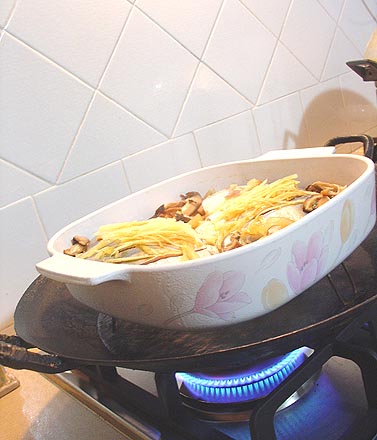 Garnish with the sliced spring onion, tomato rose and curly spring onion.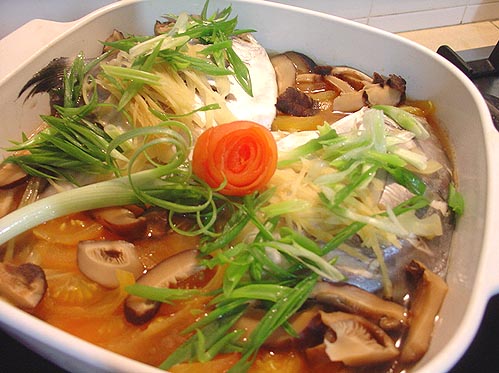 The fishmonger was right...the fish was sweet and firm, a waste if I hadn't had it steamed.
Did I miss anything? Pls excuse me, I've a habit of coming back to edit things I missed earlier....
Edited by Tepee, 29 September 2005 - 08:52 AM.