OK, Susan wins !! Not only did she precede this blog with a great installment of her own, but she also guessed the identity of this humble blogger, based on Soba's teaser. Good job Susan...have a beer on me

Being a first time blogger, I studied the masters who blogged before me. So who am I to give tradition a cold shoulder? From what I gather, we are all supposed to
Hail to the temple of caffeine....
And keeping with tradition...a little about your blogger for the week (the foodblog Czars must really be scraping the barrel if they asked me to blog)...
I belong to a small (approx 100K worldwide) religion/community called Zoroastrian or Parsi, who's origins date back to 1500 BC. This community originated in Persia and settled in India around 700 AD. Throughout this time, they have maintained their unique culture and cuisine. (The only reason for me mentioning this is to share some of the hard to find recipes from this community....see list of topics below).
Having spent my formative years on 3 different continents with very different culinary outlooks put my taste buds through the wringer and frazzled my poor little mind.
WARNING:
what you may be exposed to in this blog will be from my own twisted perception of "good eats", so proceed at your own risk !!
Seriously though, while I enjoyed "good food" for as long as I can remember, my interest in cooking only peeked when I was in college, where I did not have my mom or the private chef who helped her to cook family meals. It was at this point that I decided to get an off-campus apartment and start making my own meals. I soon realized that I could not do much worse than the so-called chef in the college cafeteria, though I did come close a few initial occasions. Soon friends and friends of friends showed up for weekend dinners (that's college weekends, which start on Thursday and end on Monday), many of which we would start cooking around 3am after a few rounds of "social drinks" at the local bars.
Anyway, having spent most of my life in big cities, I currently reside in a suburban area, bordered on the East by Philadelphia and Lancaster (Amish country) on the West. Over the next week, I hope to bring you a glimpse of each (city dining as well as Country/Amish dining). I would like to make this blog as interactive as possible and I plan to answer each question, but I do ask for your patience, as I have a busy work week and a sick family member.
Speaking of family, there are 3 of us, my wife, myself and our cat Peanut, aka "little miss foodie" (she prefers foie gras and caviar over almost anything else). Wendy, you may have that alias on eGullet, but in this household, it is already taken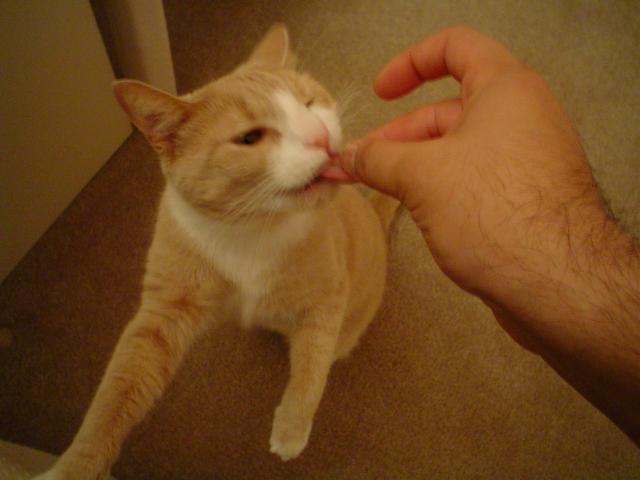 You may see some posts of what I have for lunch while at work, but for legal reasons, I prefer not to go into details or identify of my employer (remember the Google and American Airline incidents?). All I can say is that it is a large multinational company, for which I get to do a little overseas travel and enjoy the local customs and cusine.
This is where I need some
audience participation
...... I already have a few special events planned (on Wed and Sat evening) and given the limited amount of time we have,
I need your help in prioritizing a list of topics you would like me to feature on the blog
. Please post or PM me your top 3 choices:
* Lunch at an Amish restaurant
* Visit to an Amish farm
* Tour of Philadelphia's Reading Terminal Market
* Philly Cheesesteak Kings
* Breakfast Bonanza
* Special "Parsi dishes" like Dhansak or Sali Gosht or Machi (Fish) nu Sauce
* Typical Indian dishes like Tandoori or Goan Curry Rice
* Other food topics of your choice (please specify)
While it is with some trepidation that I embark on this journey, I hope you are as excited as I am about this blog.
Cheers
Percy