Soy Sauce Chicken
Soy sauce chicken is a very common dish: both home-made or bought in restaurants. There are hundreds of recipes. The key to making it is the sauce ingredients and the timing.
The sauce ingredients
Dark soy sauce,
lo shui
(Chinese Marinade), 1/2 onion, chicken meat, garlic, and some brown sugar. Ginger and star anise - (not shown in picture)
Chinese Marinade
I like to use this ready-for-use mix from Lee Kum Kee. In Cantonese, it is called
lo shui
(master sauce). They translated it as "Chinese Marinade". It is a mix made of soy sauce and five spices and such. It is very flavorful. If you taste it, you will notice that it is very salty. You dilute it with water for use.
If you cannot find this ready-for-use mix, you can also use the whole spice:
Cinnamon, star anise, funnel, clove and corriander?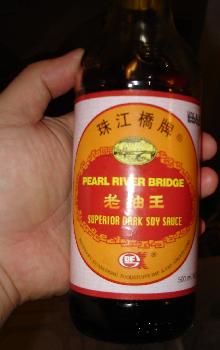 Dark soy sauce
Here is the dark soy sauce I use. I like the Peal River Bridge brand. You may use your favorite brand but I think this brand has the best flavor.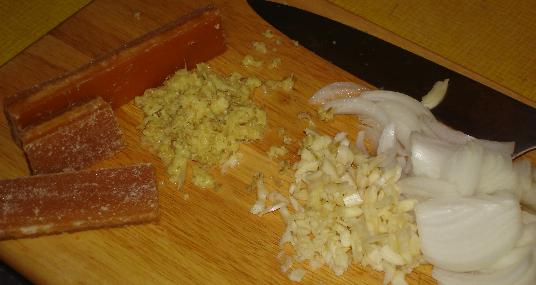 Onion, garlic, ginger, pein tong:
I like the taste of onion and garlic in my soy sauce chicken so I use them to prepare my braising soy sauce. Some recipes don't call for them and you don't need to use them if you don't care for them. But the ginger and brown sugar is absolutely essential for making soy sauce chicken. I normally use rock sugar (
bing tong
) but I ran out the other night. So I used
pein tong
(sugarcane sugar?), which is an acceptable substitute. White sugar is a bit too plain for the flavor.
Wedge half an onion, mince the garlic, grate the ginger (I like it grated so the flavor is absorbed by the sauce, you can just slice it if you like.)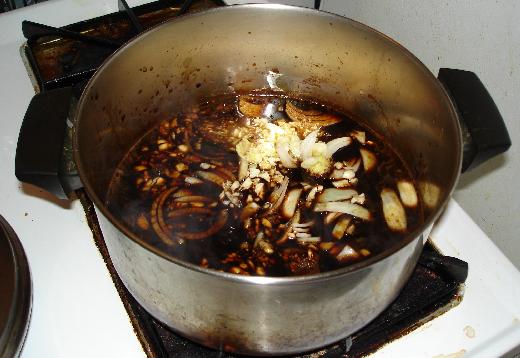 Boil the sauce with all ingredients
If you make the "master soy sauce" for the first time, add "lo shui", dark soy sauce and water in a 1 to 1 ratio on all three. If you re-use the master sauce from previous cooking sessions, you should replenish the "lo shui" and dark soy sauce but have no need to add water because each time you cook, the sauce will be diluted from the water content extracted from the chicken meat. Bring the sauce mix to a boil, add the wedged onion, minced garlic, grated ginger, brown sugar and add about 10 star anises. Boil the mixture for a good 15 minutes with the lid on.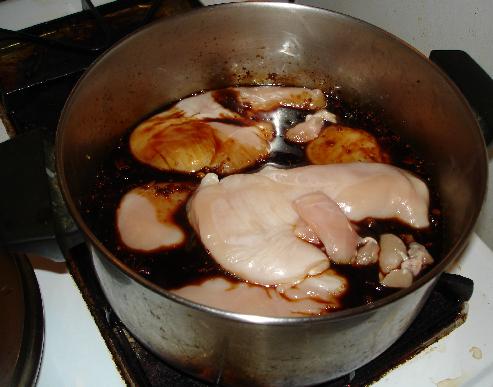 Put the chicken in and simmer.
Add the chicken in the boiling sauce. I use a whole chicken sometimes, but this time I used boneless chicken breasts. Whole chicken (with bones and skins) is the best in flavor because the chicken skin protects the meat from overcooking (meat turns rough), and dark meat can tolerate overcooking more than white meat. Once the chicken meat is in, turn down the fire immediately to slow/medium. Put the lid on and simmer it. If you use boneless chicken breast like I do, be very careful with your timing. Breast meat can be overcooked easily (if you forget to turn down the fire). Dark meat is more forgiving. Chicken breast can be ready in just 15 minutes. Give or take. Just check the meat. The simple rule to tell is: NO MORE PINK. When chicken meat turns from pink to white, it's done.
If you cook with a whole chicken, the sauce should cover at least half a chicken. You just simmer/braise the chicken on one side, then turn it and cook the other side. (The second side doesn't take as long). Maybe 15-20 minute for the first side and 10-15 for second?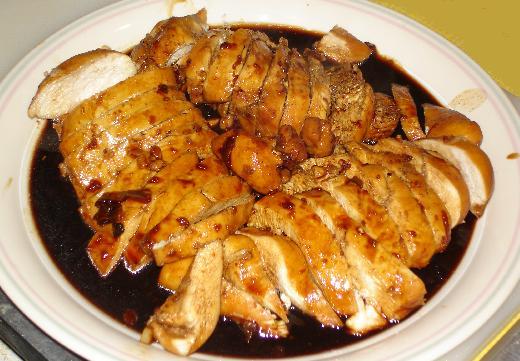 Finished dish.
When the meat is cooked, take it out and slice it (or chop it with a cleaver). Use a strainer to filter out the onion/garlic/ginger/star-anise/etc. Discard them. Scoop some soy sauce and pour on top of your chicken. If you have left-overs, it's best to keep the chicken breast whole and only slice it up when you serve.
I usually save the master soy sauce. When it cools down, drain all grease and other pulps. Keep in a plastic container in the freezer. Use it again for your next round.
Edited by hzrt8w, 15 September 2005 - 07:00 PM.