Last September, my best girlfriend was up here in Vancouver to suss out some things, go up to Whistler with me to check out locations and chalets for her wedding.
For some reason, I had offered to make her wedding cake for her. I had gotten a bunch of books: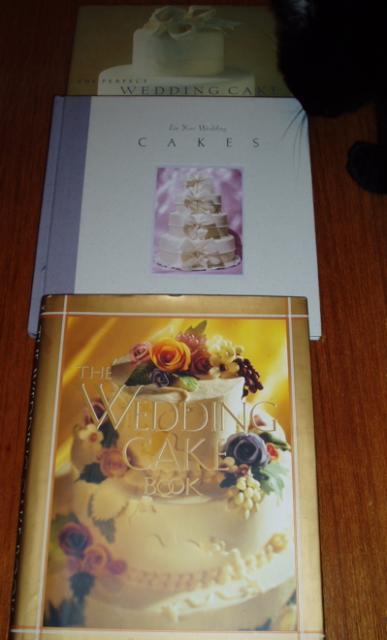 (excuse my curious kitty, Ilya Kovalchuk)
including Rose Levy Beranbaum's
The Cake Bible
(1988, there seems to be only the one edition).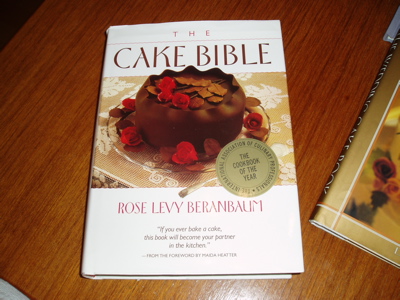 We went through the books, looking at all the gorgeous pictures. There's one important thing I haven't mentioned: I bake quite a few cakes, and they're pretty tasty, but I am not a professional, and I know basically nothing about decoration. So we were extremely limited by my skill level, as what I would have liked to do for her and what I was comfortable promising to do for her were two different things. Luckily for me, this was her second wedding, and she had already had the enormous brouhaha and fancy expensive cake the first time round. This time she wanted something that was more about her than some princess fantasy.
She was also
very
interested in having something rich and dark and chocolate.

We came to RLB's
Art Deco Cake
: (picture, p. 29, description/assembly p. 204, recipe, p. 84).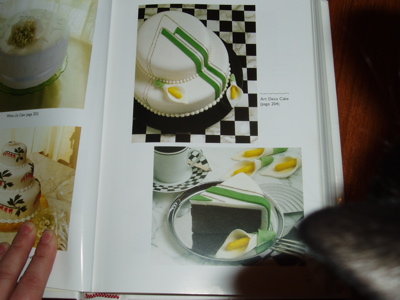 It wasn't exactly what we wanted to do, but conceptually, it was a starting off point for a white cake with green accents, simple but (hopefully) delicious.
I kept reading my books. I booked vacation time before the wedding so that I could bake and decorate (oh, yes, and see to my Maid of Honour duties).
I came to eGullet, and these wonderful people helped me find my way!
I had figured out that I needed fondant. K8memphis shared a recipe, but I was scared to get it wrong since I'd never worked with it before. I bought some Wilton, and tried to find some Pettinice or other better-quality fondant...hard to source where I am in Vancouver. I ended up ordering McCall's White Chocolate Fondant from Toronto, which cost a dollar or two in shipping. It was really good though, so I think it was worth it.
Before I got started, I assembled a pile of...stuff.
From top left, roughly: Green fondant decorations; a few kg of white chocolate fondant; an oversized keeper; cardboard bases for the layers; more fondant and assorted items for decorating and shaping same; two dozen fresh eggs; two pints of 36% whipping cream; three pounds of the most expensive butter I could afford (around $5/lb); parchment rounds; foam bases; Wilton aluminum pans, 6 in, 10 in, 14 in; a couple of pounds of Callebaut semisweet; 26 oz. of Chambord Royale liqueur; raspberry dessert sauce; more Callebaut

; some lovely Scharffen Berger 70% cocoa solids bittersweet; a squeezy bottle for raspberry sauce. At some point I tried to add it all up and it was decidedly north of $500, but of course many of these items I still have.
I can't "demo" the fondant decorations, as I am not very good at it, and I didn't take any photos in progress. What I did was turn some of the Wilton white fondant green (used leaf green (oops) and green and black as they had no moss green at the shop I went to; added some icing sugar to make up for all the gel colour wetting it down; rolled out my fondant, rolled it as heavy as I could with a stencil on top that had different sized ivy leaves; sliced the leaves out of the sheet of fondant with a paring knife following the stenciled outline; smoothed/pinched down the edges of the leaves and added veins with that nifty Wilton vein-maker; let them dry on a curved plastic tube to add some more realism; and then some antique gold lustre dust brushed over top for a little magic. I am blessed with beginner's luck, and they turned out better than I had any right to expect, although you're not likely to see anything quite so amateur on a professional cake: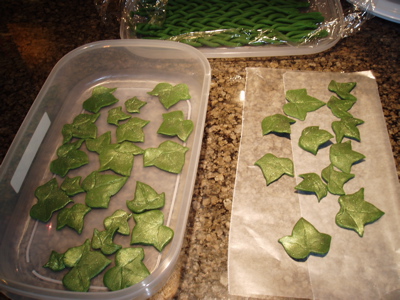 Next up: the actual cake.