During hawker food brunch at Tepee's cum meet-up with Krista G a couple of weeks ago, the topic of an outing to buy seafood fresh off the fishing boats at Kuala Selangor (means at the mouth of the Selangor River) had cropped up. After some humming and haaing about when to go ecr and maukitten decided that the past Saturday was as good a time as any to go

.
So off we went (ecr, "Mr. ecr", maukitten, boo_licious and me. Tepee had to pull out of the trip

as she had a 8th moon 15th day family dinner.). The game plan was to get there around 3pm when the dishing boats pull in with their day's catch, make our purchases and go back to cook our bounty at ecr's.
The drive to Pasir Penambang, a sleepy fishing village at Kuala Selangor, is about 1 1/2 hours away from KL - we forgot to take a shot of the picturesque scene of wooden houses on the banks of the river ... so guess we'll need to go again yah

.
There was a wide variety of seafood there, fresh and cheap compared to KL prices. maukitten was seen buying up half the market ... guess that's what happens when you let a cat (maukitten) loose at a fish market

... anyway, we filled two coolers (one was huge) to the brim.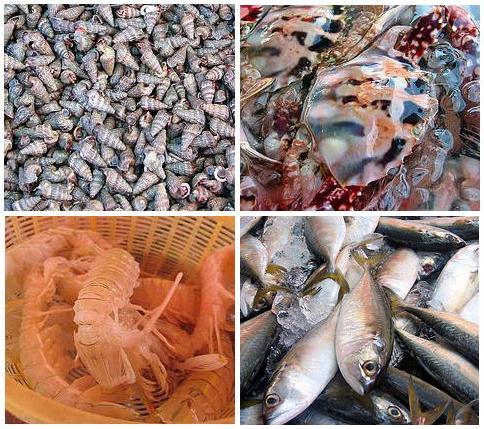 Top left: Balitong - a species of whelk
Top right: crabs ... uhm don't know what kind
Bottom left: Mantis prawns
Bottom right: Mackerel (ikan kembong)
After making our purchases, we got some
pulut panggang
(glutinous rice with a dried prawn and
kerisek
filling, wrapped in banana leaves and grilled) from a hawker next to the veggie stalls and we sat at a road-side drinks stall savouring these and cooling off with ais-kacang (shaved ice dessert), young coconut water and sugar cane juice.
Dinner was:
- mantis prawns (
lai liu har / hare kor
) - maukitten did a yummy chilli-tomatoey dish with these - perfect with copious amounts of white rice ... which we didn't have as we needed to concentrate our efforts on the seafood;
- humongous prawns (maukitten steamed these with a fragrant home-made lemongrass oil);
- clams (
lala
) - boo_licious prepared these with ginger, garlic, chilli (mirin?) all wrapped in a foil packet and grilled by the grill-master "Mr. ecr"
- a great big red snapper (sang hoong joe) - ecr baked this in the oven with Indian-style spices and lots of cilantro;
- a sea bass (
siakap
) and some little mackerel (
kembong
) - I marinated these with Chermoula, a Moroccan herby spice mixture of cilantro, parsley, garlic, cumin, coriander and lemon juice and grilled by the grill-master
- a "love fish" (
ai ching yu
according the fish monger - strange looking creature that had no scales but a tough leather like skin, I was too busy struggling with my
putong hua
to take pictures so am waiting for "Mr. ecr's" slides) which was steamed with Kikoman fragrant soy, sesame oil and a dash of mirin;
- our free fish, a
tenggiri
(I think ... a type of mackerel) which the fishmonger threw in for free - doused it commercially bottled nasi lemak sambal and added some shredded kaffir lime leaves (
daun limau purut
), thinly sliced lemongrass and kalamansi juice, wrapped it in foil and tossed it on the BBQ.
Err... we bought more than this of course ... personal purchases for use later this week

ecr also made a garlicky oven-roasted beans while boo_licious also whipped up a chicken mango salad and cucumber, pomegranate and mint salad. Dessert was a beet and polenta cake from ecr and a plum torte from me.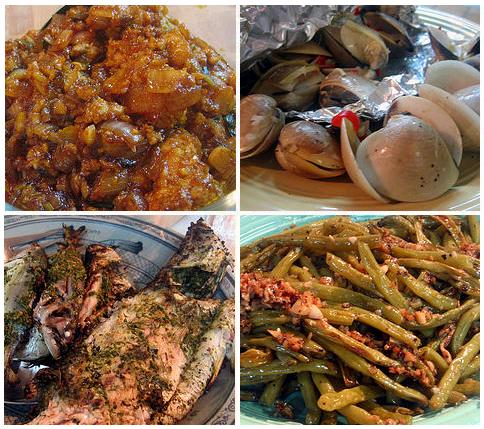 Top left: maukitten's ass-kicking sweet n' spicy mantis prawns
Top right: boo_licious' grilled clams
Bottom left: Chermoula grilled sea-bass and mackerel
Bottom right: ecr's garlickyy oven-roasted beans
(My pictures of the other dishes didn't do justice to the food ... am waiting for boo_licious' pics).
While doing the prep, maukitten and I started panicking at the amount of food we had ... so we quickly rustled up another couple of reinforcements as ecr had threatened that no-one was leaving her house till all the food was gone or we had to go home with leftovers. Any volunteers next time


?
Edited for typos
Edited by Shiewie, 13 September 2005 - 04:01 AM.