I've had some puff pastry pics uploaded for a while now, so I might as well join in the fun. It was, for me, the most intimidating of the pastries to make, but once I'd done it, discovered it wasn't difficult in the slightest. It just took a little confidence, and a little time. It is based on the Roux brothers recipe, which uses white vinegar. The important thing here is temperature - when it comes time for rolling, the butter must be approximately the same temp as the flour. Too cold, and the butter will fracture. Too warm, and it will melt, and seep through the flour. It needs to be malleable. However once you've done this once, you'll understand how for how long or short you need to keep the thing in the fridge until it's ready to be rolled. (Unfortunately I have to do this quickly, so I may need to return and rework some of my descriptions. My apologies if at first some of this seems unclear.)
Puff Pastry
Ingredients:
500g flour (sifted)
450g + 50g unsalted butter (preferably French)
210 ml water (room temp is fine)
40 ml white wine vinegar
1 teaspoon salt.
Equipment:
A cool marble surface, preferably.
A rolling pin.
A pastry brush.
Melt the 50g of butter. Place flour in a bowl. Make a well. Into this, place melted butter, water, vinegar salt.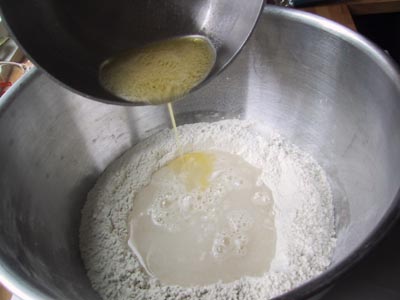 Incorporate all the ingredients until you have a smoothe dough, and then roll into a ball. Cut an 'X' into the top with a knife,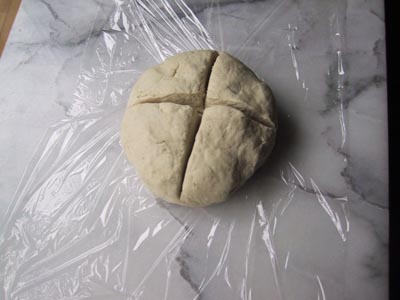 wrap in cling film, and place in fridge for 1 or 2 hours.
Make a block of butter. If using two 250g blocks of butter (minus the 50g you used for melting),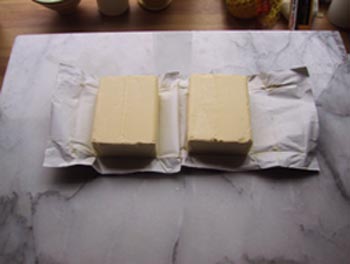 cut them both in half horizontally. Lay two or three sheets of cling film on your surface, and place the four parts of butter together so they make a large rectangular block. Then, with your thumb, join them together:
or alternatively, place a second sheet of cling film over the butter, and using your rolling pin, gently roll the four parts together. Wrap this in cling film, and place in the fridge for approx. 1 hour.
Remove both the flour paste and the butter block, and let them sit for 5 mins. Start to open up the flour paste - you're going to extend each quarter until it becomes a flap. (See images)
Flour your top (this is an important habit to get into with puff pastry). Using the pin, roll the flaps outward in each direction, until they can be folded over the butter rectangle in the center. Here I've placed the butter, still wrapped, in the center to see how much more I need to roll.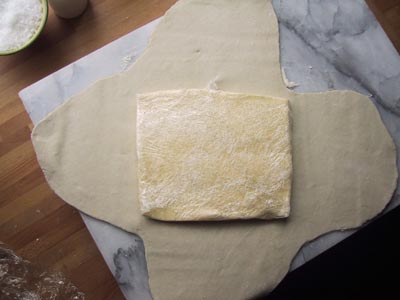 When the dough is big enough, unwrap the butter, and place it in the center of the dough, and start folding in the flaps to meet in the middle. As you fold in each flap, brush away the excess flour. You want to keep the pastry as free from loose flour as possible.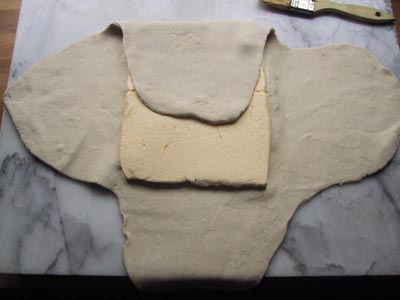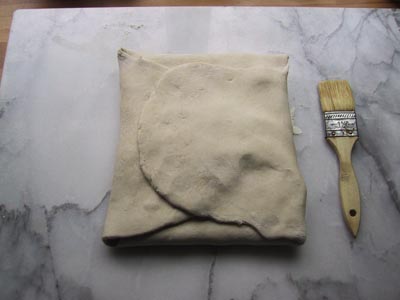 When you have folded all four flaps in, brush away what flour remains. Now, you need to estimate the temperature of the pastry. If it's still cold enough from the fridge, you can start to roll. But if it's a warm day, or it's taken you longer than you expected, you might want to place the pastry in the fridge again for 20 mins, just so it starts to firm up again.
When you're ready, flour the board and your pastry well. Now, you only ever roll puff pastry in one direction, and back again. So working on the long side of the rolling board, I start by 'denting' the pastry block with the length of my rolling pin, just to soften up the thing as a whole, and get a feel for how firm or soft the butter is inside. Then, slowly, roll the dough out the length of your board (or a little longer) until it is a quarter inch thick for it's entire length.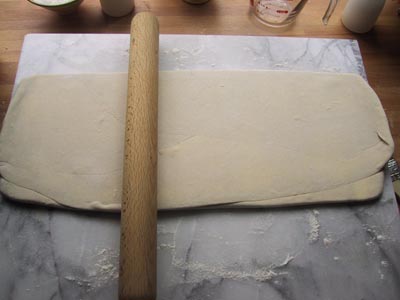 Now we're going to give it its first 'turn.' Brush away the excess flour, and fold one end two thirds of the way in. Brush away the excess again...
and then fold the other flap over the first. Press down the edges gently to seal.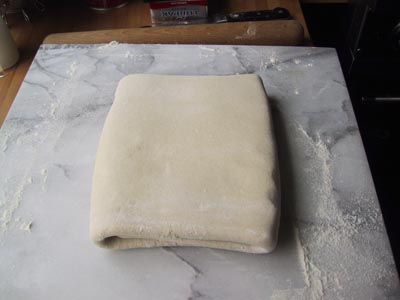 This is the first 'turn.' It means you then take your dough, and turn it 90 degrees, and start rolling out in the opposite direction to the one you did previously. So, if you rolled 'lef to right' for the first one, you'll need to roll 'up and down' for the second turn Or to explain it another way, once you fold it in three, the pastry will be thinner than it is long. Always roll in the direction of the length, rather than the width. Because of the way you fold it, this will be along a different plane each time. (I'm sure someone can explain this better then me).
Ultimately, you need to fold the dough in 3 a total of 6 times, but you have to keep the butter from melting, so it's best not to do more than 2 turns each time. How do you remember? Use your fingers to make indents, so you can keep track.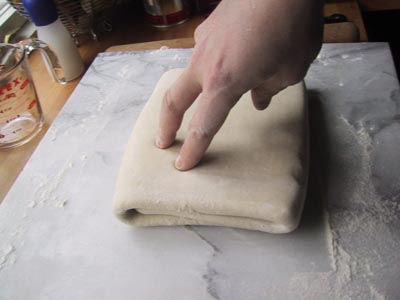 Then wrap the dough in cling film, and place in the fridge for 30 mins to an hour between each 2 rolls.
You can keep the pastry well-wrapped in the fridge for several days, but it also freezes well. I read that you should freeze it only after 4 turns. Otherwise, if you go to 6, the freezing can fracture the layers of butter, and the pastry won't rise as well. Either way, I cut it into thirds (after 4 or 6 turns), and freeze it that way. To defrost, I place it in the fridge for 12 hours, and then either use as is, or roll out 2 more times if I had frozen it at 4 turns. Geddit?
Anyway, many things to do with this stuff. It's absolutely delicious. I haven't been able to use the supermarket stuff since I started making my own. You'll see - there's just no comparison.
A couple of examples of uses...
A classic Tarte Tatin
Some nectarine tarts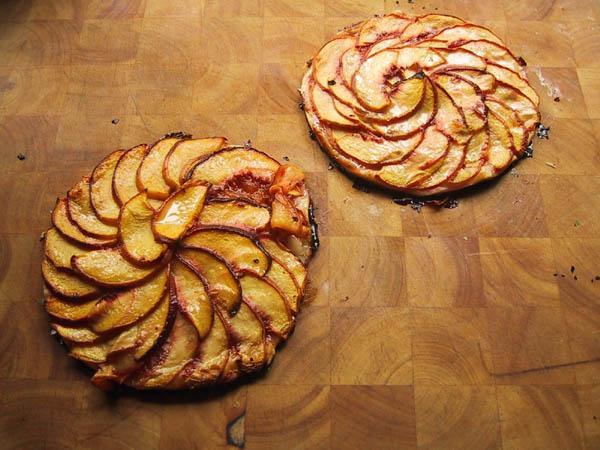 and most recently, a large duck and foie gras tourte.
Again, sorry that I had to do this in such a rush. I'll edit it as I can to make it more clear. Hope this was of some help.
Edited by MobyP, 03 September 2005 - 09:30 AM.