Good morning, all!
Summer is a beautiful time of year in Oswego, NY, and I'm thrilled to be able to share a week of it with you. Oswego is in central New York, on the shore of Lake Ontario. (In fact, my house is about a ten-minute walk from the lakeshore. Next time I head out that way, I'll be sure to bring the camera.) We're on a little bump of land very close to where the shoreline turns northward, so we get glorious water views both to the north and to the west.
Oswego has about 18,000 residents, and
SUNY-Oswego
where both my husband and I teach has about 8600 students, mostly from all over New York. We have three supermarkets, an orchard store up the hill a few miles out of town, and a terrific independent bookstore called the river's end that helps me feed my cookbook addiction. Best of all, every Thursday night from June through mid-October, the city closes down a couple of blocks of West 1st Street for a farmer's market.
It's actually been about a month since I last went marketing, since we just got back from a conference/vacation trip earlier this week. When we left, there wasn't much interesting at the market: lettuce, radishes, the last of the asparagus, and apples from last year. This evening we should get a much wider selection!
This morning started for me with a July ritual: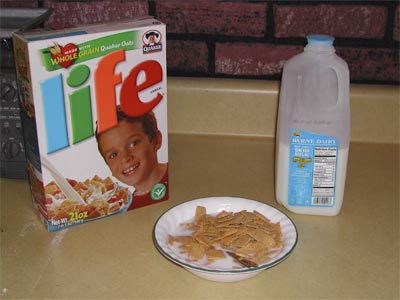 My usual breakfast is a bowl of cereal with milk. The cereal itself varies from day to day, depending on what was on sale that week, what else we have in the house, how much my sweet tooth is rearing its head, and the weather. This time of the year, it's always cold cereal. And this time of year, I always eat it downstairs in the family room, with the TV on to OLN's live feed of the Tour de France.
Today's plan is to head onto campus to start getting things in order for the fall semester, since that starts a little more than a month from now. (Yikes!

) My husband's been there for a few hours already. I'll probably go for a swim at noon, and then go back to work for the rest of the afternoon. The market opens at 5:30 this afternoon, and we typically arrive downtown shortly after that.
Later,
MelissaH