These are gnocchi are made with ricotta, eggs and flour, topped with a homemade marinara (good quality olive oil, chopped garlic, minced onion, San Marzano tomatoes, pinch of sugar, s & p to taste, and fresh basil) and freshly grated parm-reg.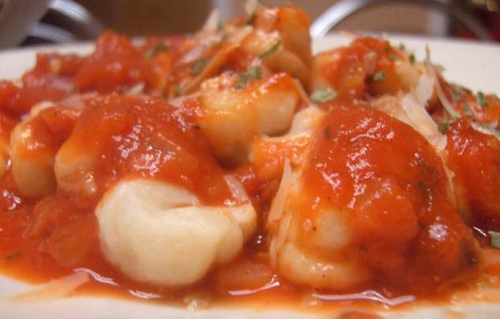 The key to tender gnocchi, whether it be potato, ricotta, butternut squash, spinach, or wherever your creativity takes you, is not too much flour, not overworking/kneading the dough, (as this would allow the gluten to develop, resulting in a tough gnocchi), not letting them sit out too long to dry (try to cook them within a half hour of forming them), and taking them out of the salted, boiling water as soon as they rise to the top.
Also, try not to make them too big. About a 1/2 to 1 inch piece cut off a somewhat slender, rolled rope of the dough, is usually just right per gnocchi, unless you're making a gnocchi grande!
Edited by Lisa2k, 29 April 2008 - 11:49 AM.