Sunday, while relaxing at my friend Nicole's parents' house, her dad was showing me his heirloom tomato plants, when we noticed they weren't looking too keen. Something had eaten the tops and several leaves, and I noticed a few tiny green fruits with what looked like deer-sized bites missing.
We searched the three plants and removed about 20 fat, pinkie-finger-sized hornworms. The writhing mass filled two cupped hands. As people gathered to observe and debate what to do with the vermin, I wondered aloud if they were edible. Nicole disappeared, fired up the internet and procured a recipe (though her printout was only page 1 of 2, so I thought perhaps it was a joke).
We decided to try it, so we heated some olive oil in a cast-iron skillet, then tossed the writhing creatures in alive. They squirmed in agony for a brief moment before rigor mortis rendered them into plump green sausages.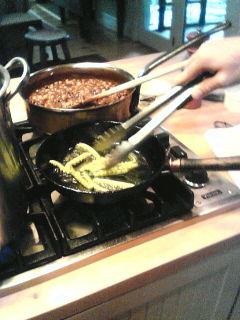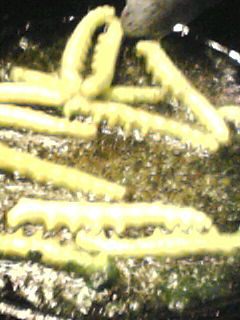 The recipe had warned not to cook them too long or at too high a temperature, lest they burst, but, this being my first attempt at sauteed hornworm, I ignored the advice and fried them a little longer. They did rupture, oozing a dark green substance into the oil.
After a quick drain on paper towels (which were stained dark green), we salted them and brought them outside for tasting.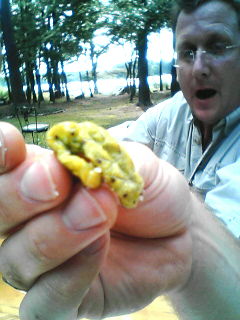 Six people tried them, and everyone was amazed: the worms tasted like fried green tomatoes. Their texture was not unlike softshelled crabs, and I detected a hint of the "mustard" that is inside a crab's shell. Next time I'll be more gentle so they remain plump. I'm thinking Green Tomato Hornworm tacos, and I'm also considering placing a classified ad in the local paper for people infested with these delicious blights to call me.
Sorry the pictures aren't better, but all I had was my cellphone. I'll report any future experiments with better documentation...