I have to admit that when I first read the teaser description of
Molto Italiano: 327 Simple Italian Recipes to Cook at Home
on Amazon last fall, I was worried. Had Mario gone the way of Rachel Ray and FoodTV in general and surrendered to the "quick and easy" path that seems to plague the cookbook shelves at bookstores these days?
As it turns out, there was nothing to be worried about. This is still the same old Mario, who can give a 5 second breakdown of Pugliese cuisine, make an obscure reference to a Rolling Stones song, and grill an octopus tentacle without pausing for a breath in between. So, while the subtitle includes the word "simple", this is not the stuff of other FTV shows like
Everyday Italian
or 30
Minute Meals
. You'll find sweet and sour calves' tongue, tripe, the aforementioned grilled octopus, and an anchovy and almond soup in these pages. In fact I'd say that "simple" is in fact a misnomer or at the least a relative term here: recipes do call for making the pasta yourself, or making your own mustard fruits, Cremona-style.
The book is staggering in its scope and depth, and nearly every recipe has a beautiful, artfully composed full-color photograph by Beatriz da Costa to accompany it. It's laid out in the usual Italian fashion, flowing from antipasti, to soups, to pasta, then onto seafood, meat, vegetables, and desserts. As always, his pasta recipes, both for dried and fresh pasta, seem to be the standout, and truly are "simple", if you can get past making some of the pastas yourself. Peppered throughout are essays by Mario or other guest writers on Italian wine, the glories of cooking cephalopods, why ducks aren't as popular in the U.S, and other varied topics, and Mario shares some of his dry, esoteric worldview in almost every pre-recipe writeup: when you break down a chicken, keep the thighs and legs and feed the breasts to the dog.
That said, anyone familiar with his previous books will be a little dismayed at the number of recycled recipes here. Too, some recipes are only subtly different from one another, with only a minor variation in technique or ingredient to stand apart. The book starts with two fried cauliflower fritters, and there's three antipasti recipes for clams on the half-shell. I'd rather have seen them rolled up into one master recipe, with variations listed afterwards, rather than blow a whole extra page and photo on them.
Mario begins in the introduction by surveying his previous works as an overview of where he was at at each point in his career when he wrote them, and then continuing right up to this book, a summation of his total experiences with three cooking and two travel shows, and an ever-growing army of successful New York restaurants. It's a look at the state of Italian food and cooking today, and he does indeed swing from Italian-American staples, to arch-regional specialties never dreamed of on these shores, to trademark, only-in-a Batali-owned-restaurant dishes. Mario's strength has always been to walk the line between professional, restaurant-level cuisine and simple home-style cooking, and this is no exception. It's hard not to argue that it doesn't deserve a place on the cookbook shelf. Certainly anyone looking to get their first Mario cookbook should now begin (and almost end) here, but those with more familiarity of his previous works may have some misgivings.
I gave a few of the recipes from this book a spin and made a weeknight meal for some friends. Here's the menu:
Antipasto: Prosciutto and Grilled Figs (page 100)
Pasta: Spaghetti with Green Olive Sauce (Page 168)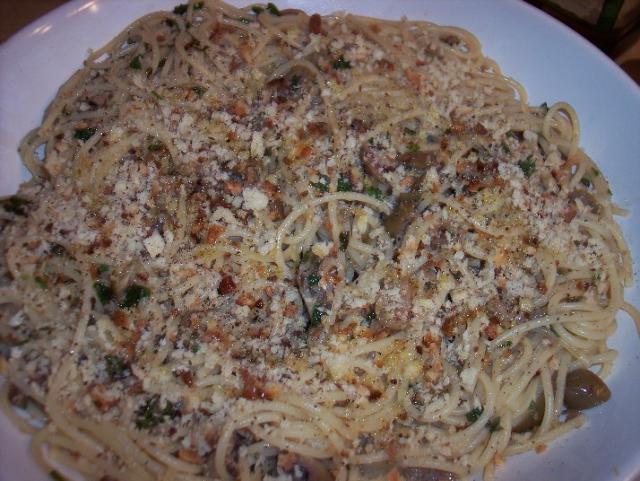 Main: Grilled Jumbo Shrimp with White Beans, Rosemary, and Mint Oil (Page 268)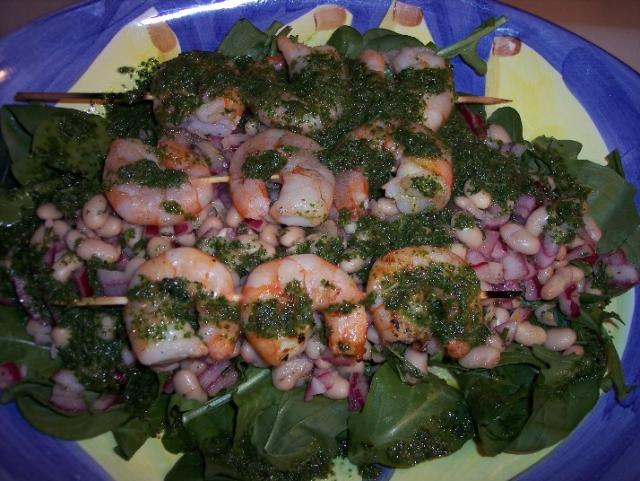 Vegetable: Asparagus with Citrus, Parsley, and Garlic (Page 418)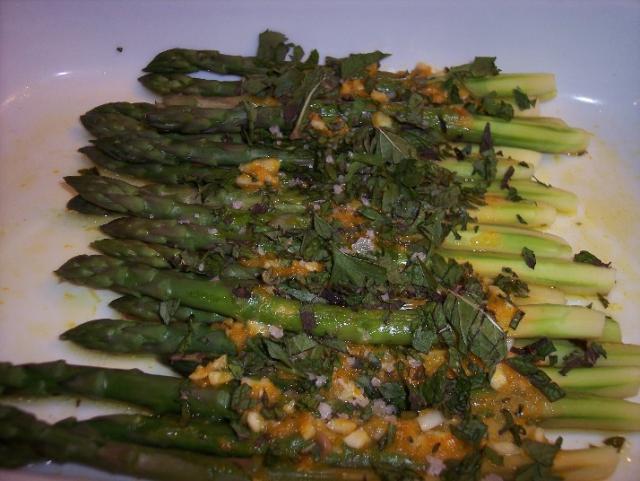 Dessert: Peaches with Primitivo Syrup (Page 486)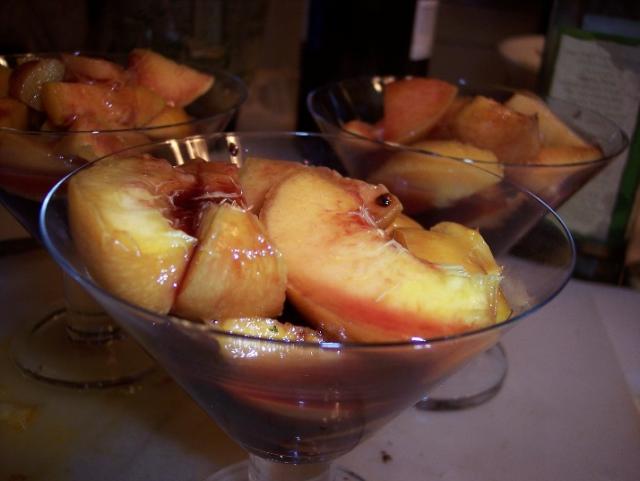 Total cook time from walking in the door to serving the antipasto: Almost exactly 90 minutes. No significant challenges or special techniques in making these items, the title gives almost an exact description of the ingredients. About the thing requiring an unusual technique was making the red wine syrup for the peaches, but seeing as how this was one of my first successful desserts back when I was learning how to cook, it can't be that outlandish.