Hey Everyone. Since the previous demo was so fun and received a lot of feed back I thought I'd continue with more.
Praline's seem to come up once a month atleast. People seem to dispute all sides of pralines, when to use, how to use, and most of all how to make.
So here you go. This praline is made from chopped Macadamia nuts, which I will use for a white chocolate and macadamia nut mousse with rainier cherry compote. You can check that out here>
Egulleteers Plated Desserts
. Which will be post shortly after this demo.
Heres a start:
In this picture is 5 oz of chopped/blanched macadamia nuts already to go. My oven is at 400F conventional.
They will bake for about 5 minutes or until lightly toasted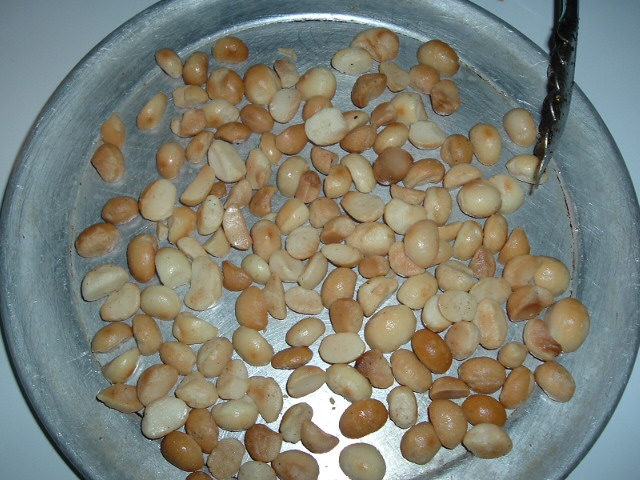 While the nuts are toasting, put 9 oz of sugar in a saucepan and just cover with water.
Cook on high heat brushing down the sides of the pan with wet brush until rapidly boiling.
Once signs of caramel become prevalent
toss your toasted nuts in once a deep caramel, which could come to happen in secounds so be ready.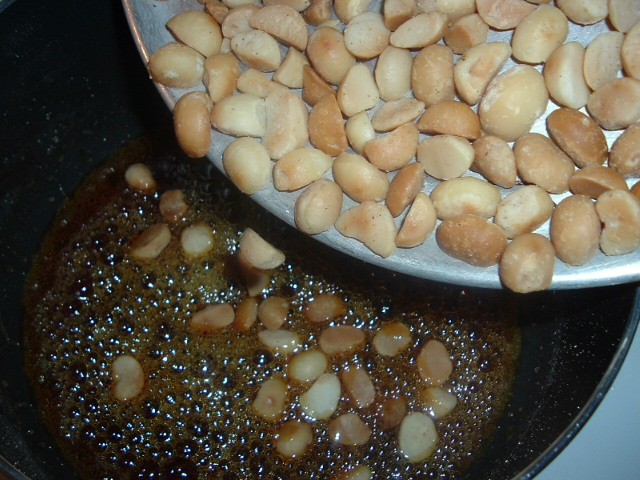 Once all in, poor onto a silicone baking mat or a lightly greased SS pan/ Non-stick pan
Next, this is how I do it if your at home and dont have a constant source for everything you need as I do in the restaurant. I made extra caramelized sugar so I can use that later in a simple syrup when processing.
So carefully, when beginning to cool and very malleable, pull/cut/tear off the excess sugar from the pralines and put back into your saucepan.
While doing that, mold your praline how you want it. I put it all together so its even throughout. This way I dont have clusters of nuts and big splots of solid sugar.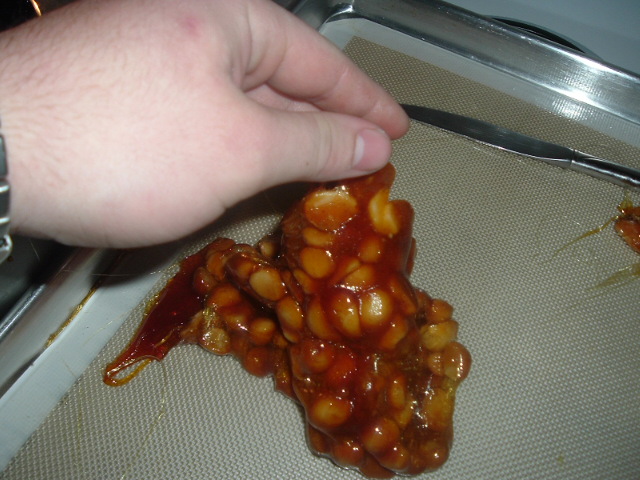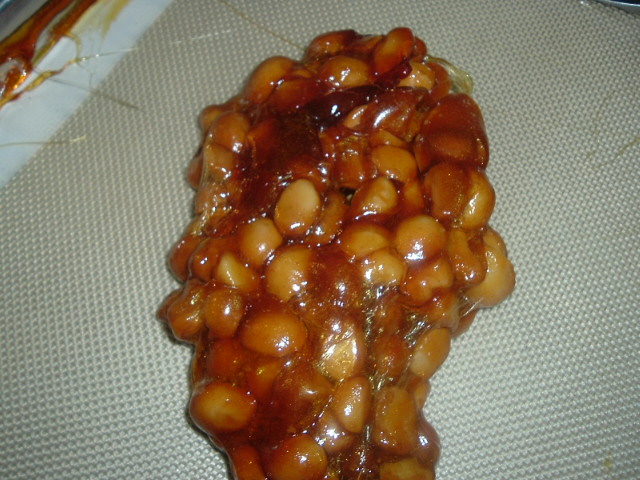 If all I was making was Pralines I would actually want a little less sugar coating my nuts, but this is fine for what I'm using it for. Even if you were making pralines this would be quite good too.
Next, cover the excess sugar in water and big back to a boil to dissolve.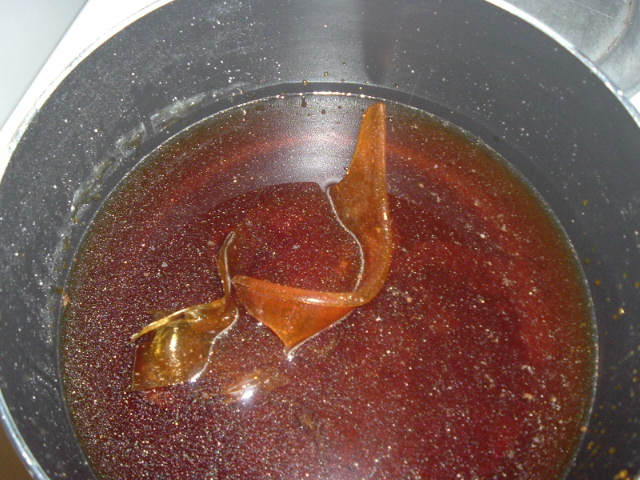 Let the pralines cool mostly. While warm but hard go ahead and break it up as much as you'd like. Then put about a quarter into your food processor.
Blend it until its well broken up.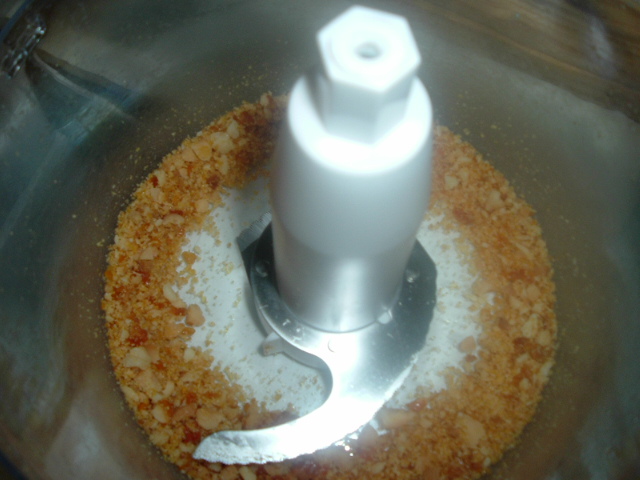 Add a quarter at a time blending consistently until all is added. Blend fine.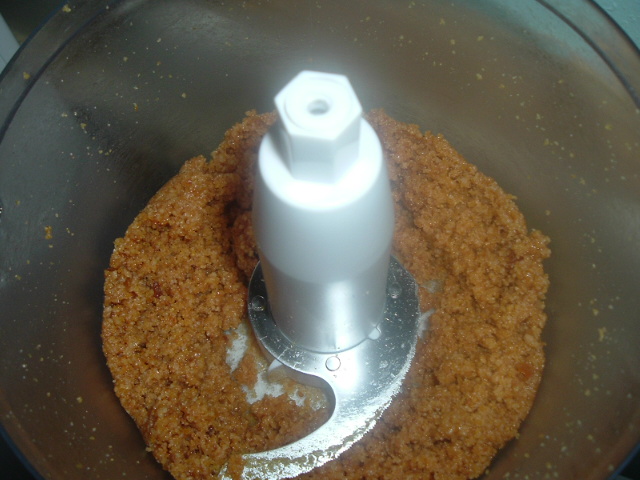 You see its fine but still dry and crumbly.
You should be reducing the water out of your caramel syrup while doing this until simple syrup stage. You'll know this because the bubbles will just become larger and consume the entire surface. Before this desired stage the bubbles will be sporatic and small.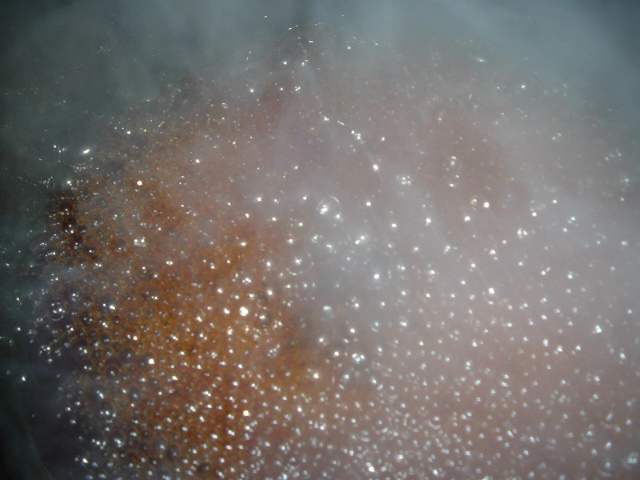 Once you get your syrup, take it off the heat and allow to cool just until warm.
I put my syrup into a cup for easier pouring
Turn your processor on and gradually pour your syrup into the ground pralines just until its starts to come together. It will look like a paste, hence it being praline paste.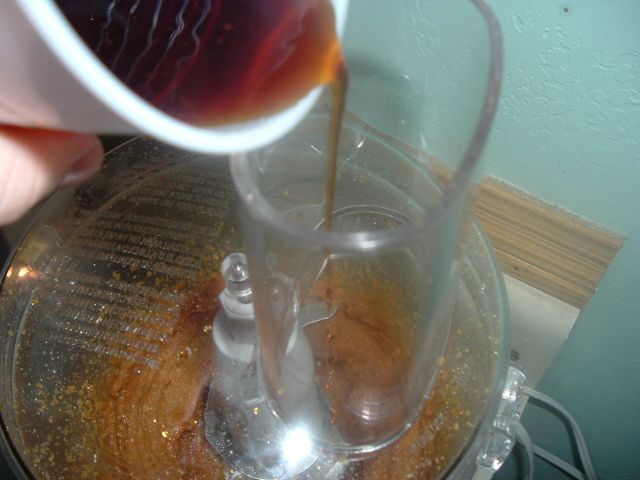 Keep processing until very smooth and somewhat shiny/sleek. Don't worry about adding too much syrup because the paste really can only absorb so much before the oils block it out. What you will get is a little syrup laying onto, just place your paste in a seive and toss it around until a single consistency.
Once finished your praline should look like this: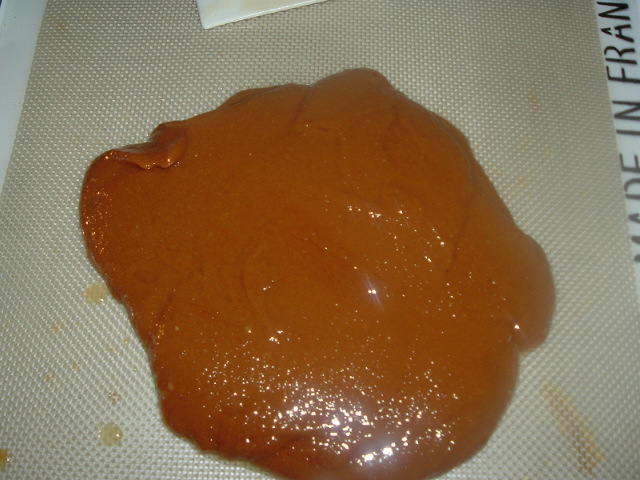 Its all one uniform texture and is very malleable, almost like taffy. It molds easy but doesnt stretch.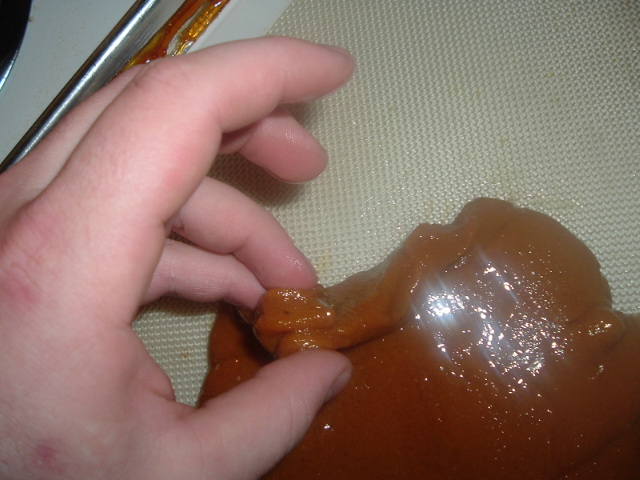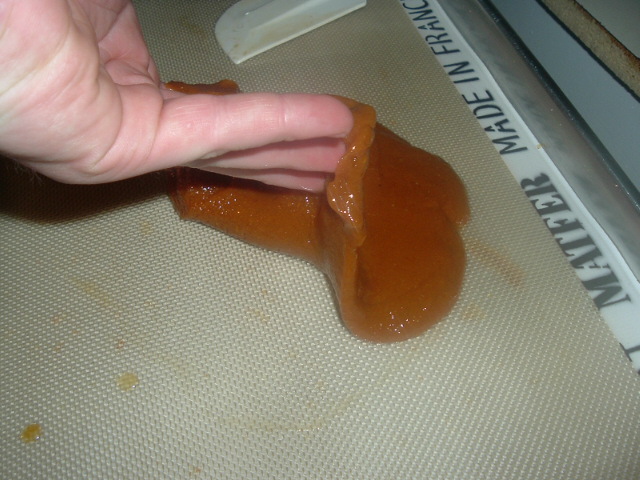 Very simple, and you see it doesnt stick to my hands.
Lastely I place it in a sealable container and place it in the fridge to be used at my disposal.
I hope this helps you all, and if you have any questions on the process or other processes that I maybe be able to document for you, dont be afraid to ask.