Hey everyone. I told you I'd get to this for you and I did.
Heres the mixing method and stages for you, plus the usage of gelatin when and how.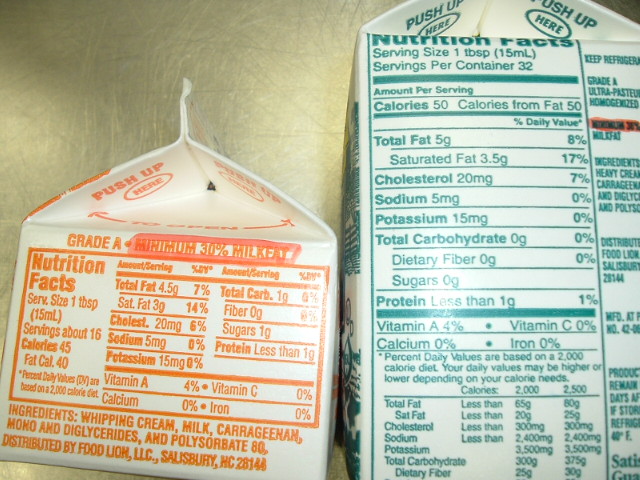 Here are the differences between heavy whipping cream and whipping cream right on the label. The heavy says a minimum of 36% milk fat while the whipping says a minimum of 30%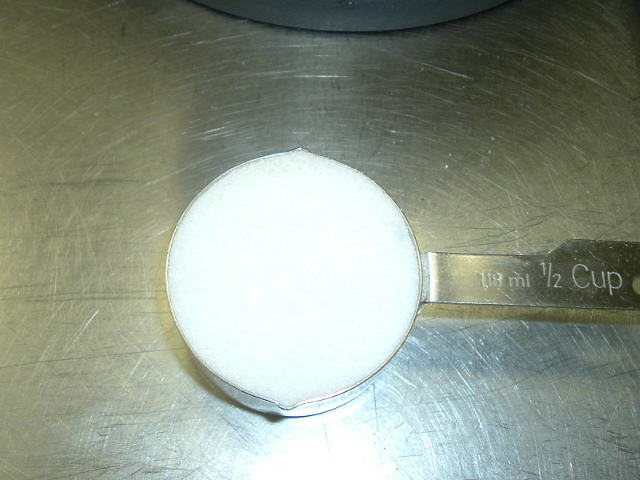 Ok lets start with the pint of cream and a half cup of sugar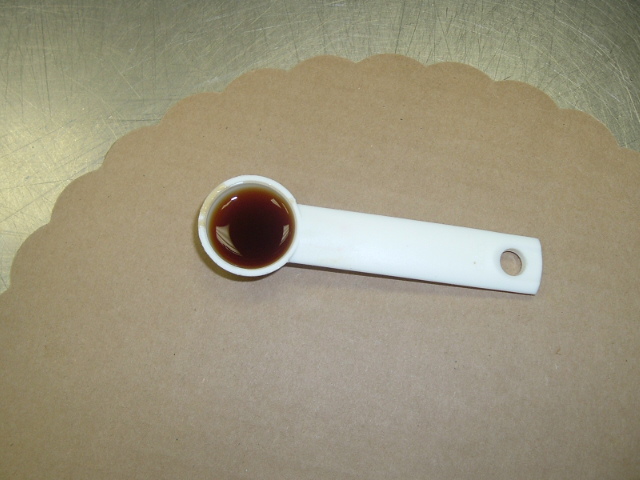 Add a tsp of vanilla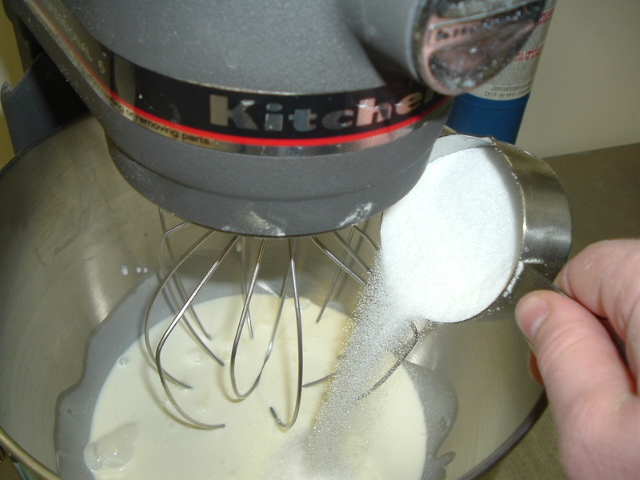 All ingredients ready to go and dissolve. Lets mix on medium/low.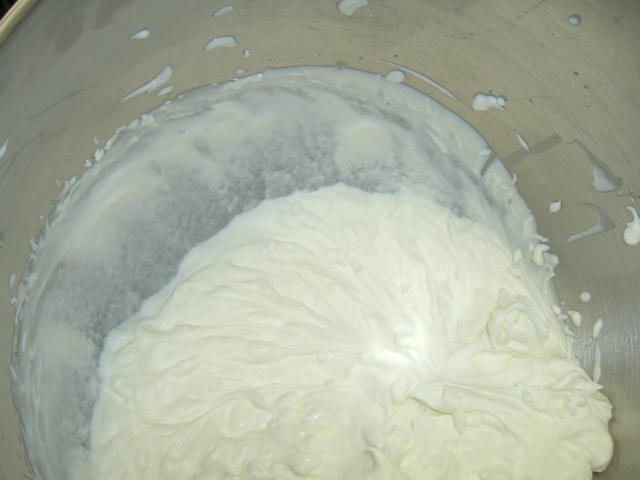 Once you get to this point, which is soft peaks, you can tell its getting thick but its still sliding from the bowl when you tilt it. This may be where some of you are stopping and this will last approximately 2 hours on its own before its liquid again.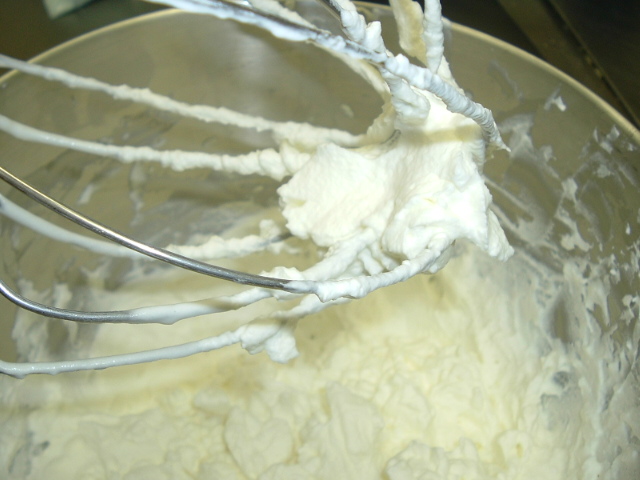 Here is roughly medium peaks. This is where you need to start paying attention and possible take the bowl into your own hands and whisk.
You can see that it has enough form to stay on the whisk but if I tilt the bowl it will still recede a little.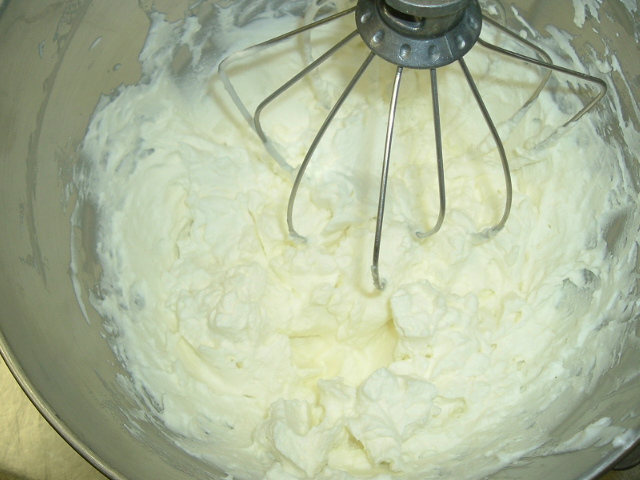 This now is stiff peaks and is what you want. Try and see how high some of the peaks are. They are perfectly stiff and unmoving with gravity. I can even take a spoon (sorry for no picture) and flip it upside down but the cream wont budge.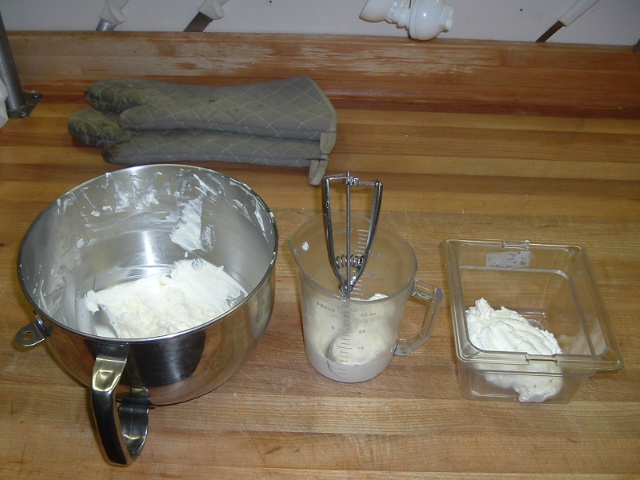 Here for our experiment is a seperation. One plastic, one plastic with a stainless steel 2 oz scoop carelessly left inside, and remaining 1/3 in the SS bowl. Wrapped and stored in refrigerator.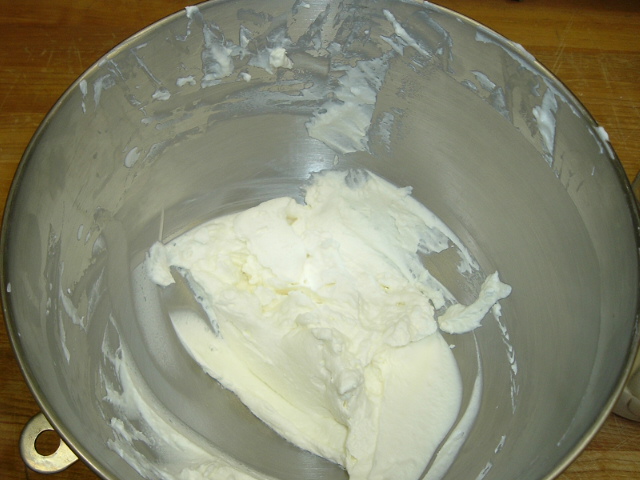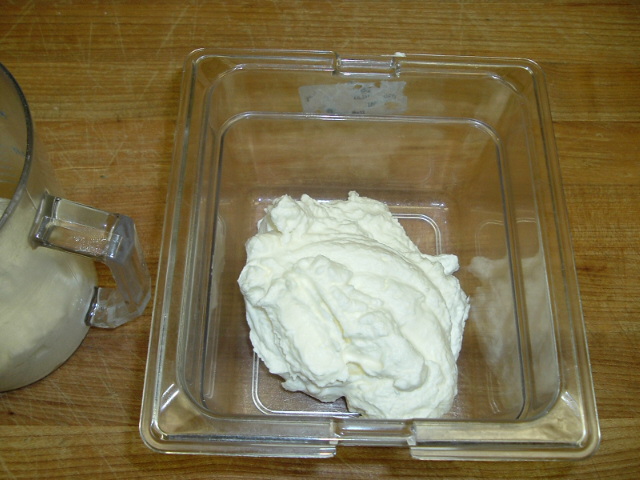 Ok, with that said and done lets go on to GELATIN.
Heres a start with two sheets of gelatin weighing in at 1/10 oz each will be used for a pint/2 cups of cream.
Submerge these bad boys in COLD water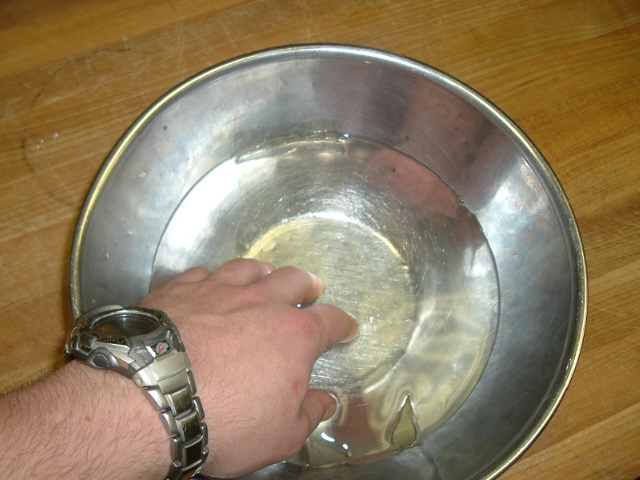 If they are hanging out a little just wait a secound until soft enough to fold and fold them so they are completely submerged.
after a about 2 minutes of soaking while setting up the cream/sugar/vanilla in a mixing bowl, pull the softened gelatin. They should kind of feel like mini water beds with a leak.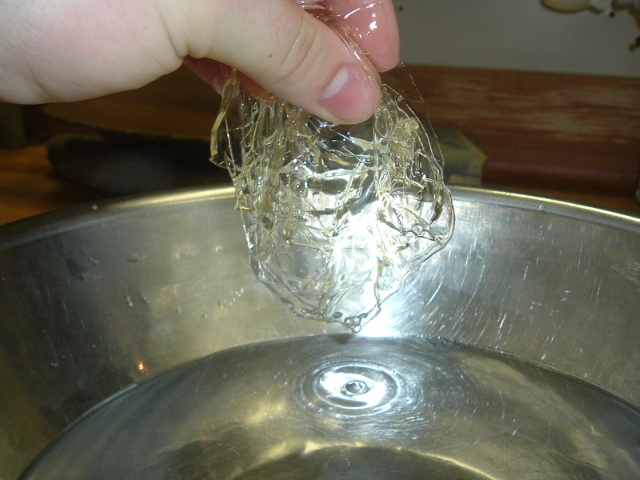 Next squeeze the gelatin a little to get excess water out plus any water that may be trapped inside after handling.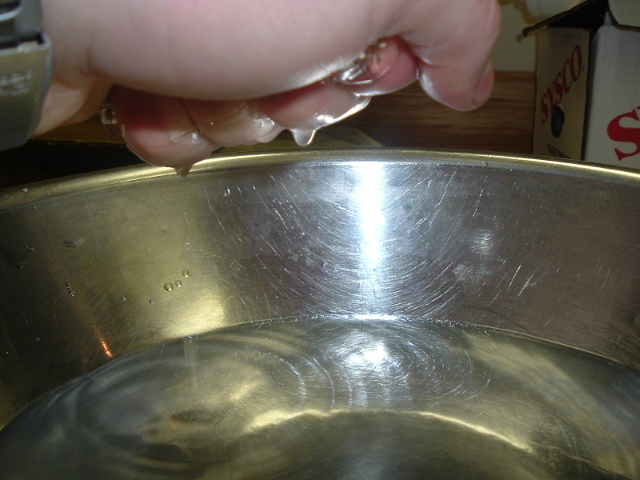 Dump the water out of the bowl and put the gelatin back in. While doing that heat a burner, electric or gas on high.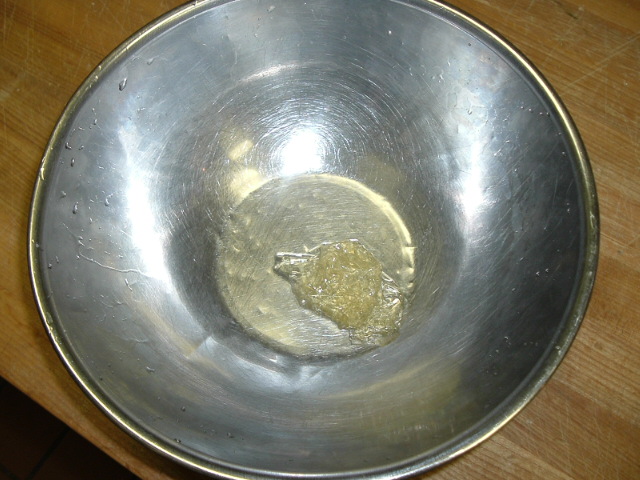 Once Hot turn the burner off and place your gelatin bowl on top. This way it has no direct heat but is kind of like a hot plate. Microwave works very well too but i would use a metal bowl.

Just put it in a plastic container and nuke for 10 secound intrevals until its warm to the touch.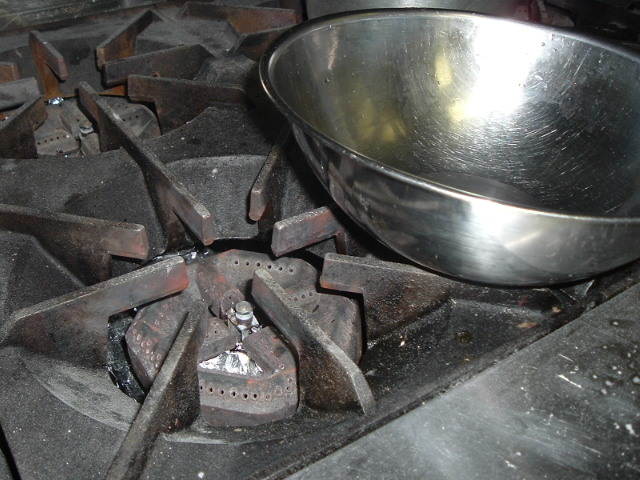 Right before you put this on heat start your mixer at medium-low speed and gradually bump the speed up as it gets thicker (paying attention to your gelatin)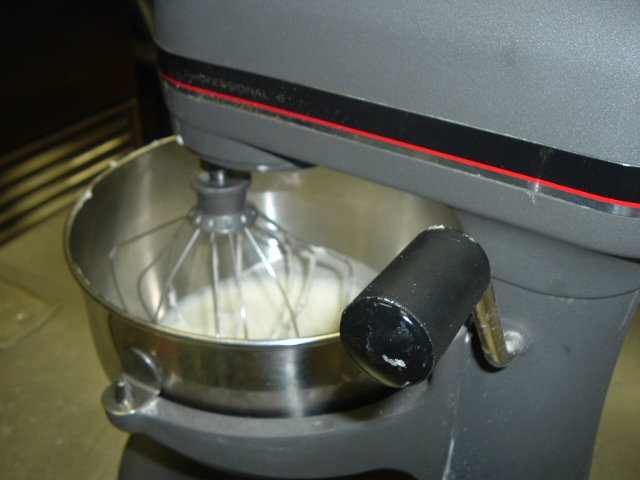 Now as thats going check back with your gelatin and you'll notice it starting to break down and "clarify".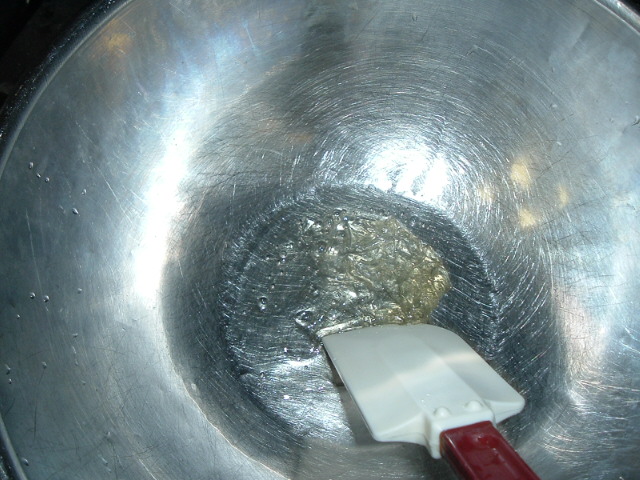 Finish clarifying until its decently warm to the touch. To me its warm but for anyone whos not use to the heat in the kitchen it might be hot to you. If you really want to be sure you can temp it and if its around 110-120 degrees your good. If its over 130 your in bad shape and its lost considerable power and form.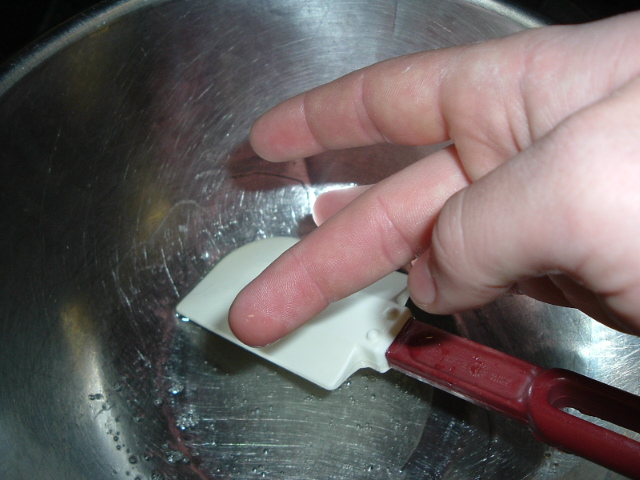 Now lets turn off the mixer at soft peaks. This way the gelatin should fall right in and dissolve nicely without too much mixing/agitation.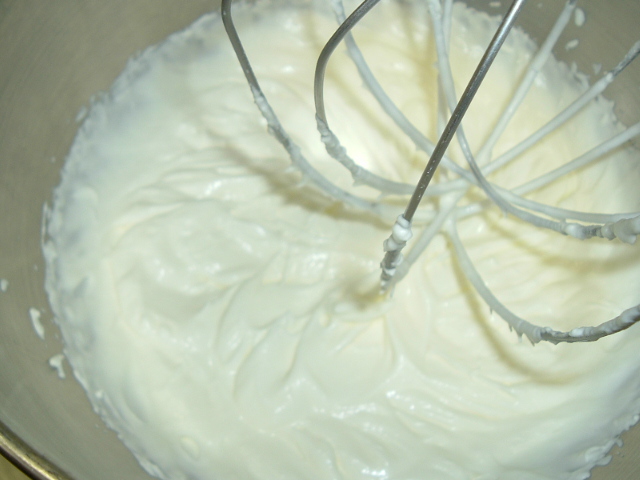 Scrape gelatin into the edge(tilted) of the bowl to be poured.
Pour gelatin in steady stream, fast enough to get it in fast enough before it cools and slow enough so it doesnt build up ontop. The cream is a lot cooler than the bowl and will set up the gelatin much faster.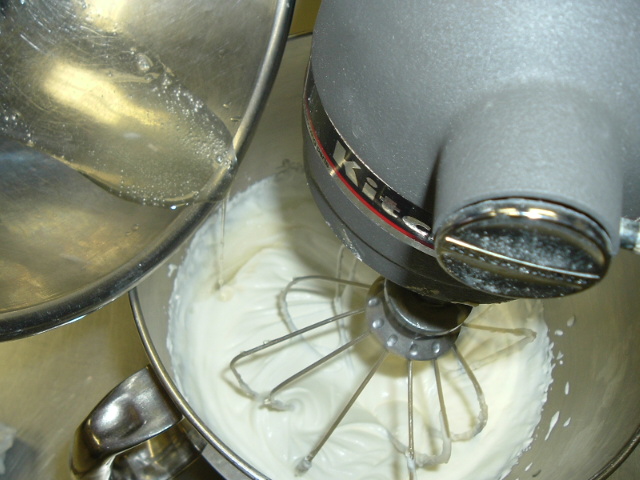 Now beat on high to stiff peaks while gelatin is relatively warm and unset.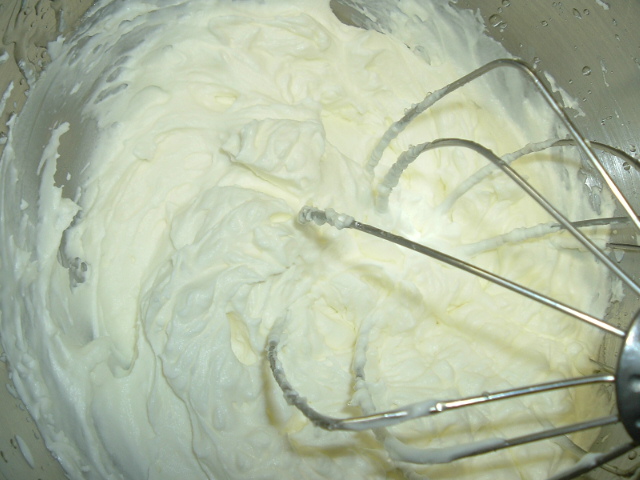 See how thick the cream is, and geuss what, no lumps of gelatin at all.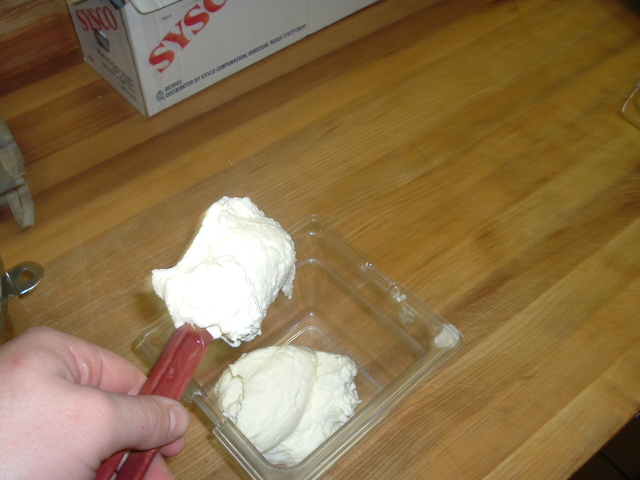 Just for a last note, this is the Stabilizer we use at the bakery I work at. It's made of modified wheat gluten and phosphate lactose. Directed to use 10g to every L of cream.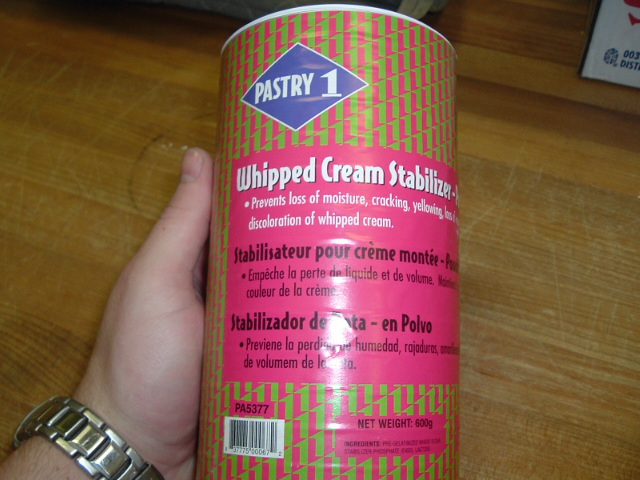 I'll be back periodically to show you time results of the seperated cream. I hope this helps everyone.