Hi There
Wendy asked me to do a demo on pastillage - so I thought I might as well get started since it has been a couple of weeks. I plan to do this in several installments - so please be patient.
I would not really consider myself a great expert on pastillage --when Steve and I competed nationally he usually did the pastillage ahead of time and I concentrated on the pulled and blown sugar--but these days I do use it quite often and usually have some dough on hand in the freezer - it is a great go-to tool in pastry decor as long as you have a day or two for it to dry. Anyway, as a way to give a little back to the forum I'll share some of my experiences with pastillage over the next few days and talk about what pastillage is, how to design and prepare for a pastillage piece, how to make, use and assemble with pastillage, and then pack in order to move pastillage from place to place. There's real skill in deciding what you can do ahead, what has to be done on-site, and how to get it there safely.
I welcome questions and will have some pastillage handy, so if you have any burning questions about pastillage - please ask.
So, let's get started - shall we?
What is pastillage?
I thought I would start out by explaining exactly what pastillage is – and after checking around on the web – it appears that there is more diversity in what people think of as pastillage than I had realized. Here are a couple of definitions of pastillage that I found on the web:
"A paste mixture used for making molded decorations. Works especially well on flowers and leaves used to decorate wedding cakes."
(I believe that this is actually referring to what I think of as gumpaste – which is more elastic, used in very very thin sheets, and makes excellent flowers)
From Baking 911: "Pastillage is rolled Fondant without any of the softening ingredients (glycerin corn starch or shortening). It is used mainly for decorative ribbons, three dimensional shapes and appliqués because it dries bone-dry and crusts more quickly than Fondant."
From chefsimon (original in french – my translation here): "It is a paste for decorations composed primarily of confectionary sugar. There are many recipes depending on the smoothness desired and these are closely guarded secrets! Of course there exists for less exacting among us simple receipes but which prohibit a real work of smoothness or precision."
I tend to agree with chefsimon, all except for the closely guarded secrets bit. Pastillage can be made different ways and of course can be used for pretty much anything you can think of, but generally it is sort of a decorative and structural pastry workhorse. Because it is stable, dries hard, is relatively strong and durable it generally provides bases, supports, 'skeletons' of decorative efforts upon which more delicate items are displayed. Pastillage is often used in conjunction with gumpaste and other sugar work like pulled and blown sugar. It has been used to build petits fours stands, cake stands, containers, long lasting cake toppers, etc--it's also been used to build churches, replicas of airplanes, it can even be sanded, carved and sculpted. While it is often left perfectly white, it can also be colored or painted.
Pastillage, while made 100% of edible ingredients, is what might be termed "technically edible." First of all – pastillage is hard and crisp – essentially like Necco wafers. Depending on the recipe used it could be unpleasant to eat. For instance all the recipes I use involve vinegar. Personally, I have never been tempted to eat any pastillage. I feel that while it might amuse children it's not something you would want to include on your menu for any purposes other than decorative.
Fondant, gum paste, sugar paste, and pastillage are all related but have critical differences. Fondant (and there are several kinds) remains soft for quite a while and makes a great cake covering – you can use it to make decorations but they lack the finesse and delicacy of décor created from gumpaste or pastillage. Fondant will harden up given time, but essentially remains soft.
Gumpaste recipes also vary extensively but typically involve gum tragacanth. The dough is very elastic and soft – more so than pastillage. Gumpaste can be rolled out thinner than pastillage, as thin as parchment, and it makes lovely flowers and petals. It can be worked longer than pastillage--meaning it is a little more forgiving, you can take longer to do what you want to do with gumpaste before it crusts than you can with pastillage. With pastillage, you have to work very quickly, make your cuts and shape it as quickly as possible. Both will hold up fairly well in humidity, but gumpaste will take on moisture more readily from the environment and other sources (such as buttercream). It is never as sturdy as pastillage.
Check this site to see pictures and information on some very cool historic pastillage creations--and realize pastillage has been used as a decorative medium for hundreds of years. Note the intricate molds. This makes one think about the close association of various artisans in the households of the aristocracy and how the changing social and economic conditions of the world have influenced pastry.
http://www.historicf...r-Sculpture.htm
On this site, you can see a really nice pastillage Taj Majal:
http://www.geocities...cakes/Misc.html
Uses for pastillage
How you use pastillage depends on what you do. For a wedding cake artist, we've already mentioned that pastillage would be used for cake toppers, décor, possibly a cake stand. For a pastry chef in a hotel or restaurant, pastillage might provide the structure for a centerpiece for a buffet table or the stands for petits fours or other mini-dessert items. Unlike chocolate, which could melt, and sugar, which could absorb humidity, pastillage is relatively indestructible. (Pastry chefs often save pastillage for a long time and recycle pieces again and again...)
Pastillage remains somewhat obscure, if not completely foreign, in daily life in America, but you can still see it in competition work. Here are a couple items I have made with pastillage over time - some also employ gumpaste. Multi-media sugar art is a good thing. It gives you variety and depth that is hard to achieve in a single sugar medium.
This is some very early work of mine from a competition in NYC. It is an example of pastillage as a petits fours stand--the petits fours were the "requirement"--I hoped making all the stands edible would help make a better impression on the judges, and it did: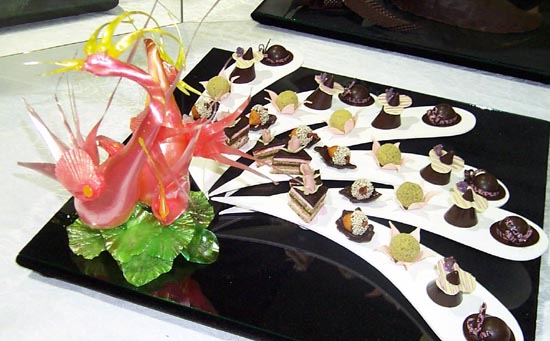 Here is even older work, my very first pastillage & sugar showpiece. A funky violin concept which admittedly, in retrospect, could have been improved upon with better planning - but I did it under pressure (it was one of 5 different showpieces I had to assemble and display that day at the same time) and considering the way I was shaking when I put it together I feel fortunate that it didn't end up a pile of rubble. This is an example of larger pieces that are curved in two dimensions--drying and assembling curved pieces is much more difficult than flat. In case it is not obvious - it is a sort of deconstructed violin with blown sugar birds (who are presumably enjoying the melodious tunes). The challenge in this was my interest in having pieces pierce through one another and undulate. My mock up in cardboard worked out great - but it is really important to keep inmind that dry pastillage has no flexibility whatsoever.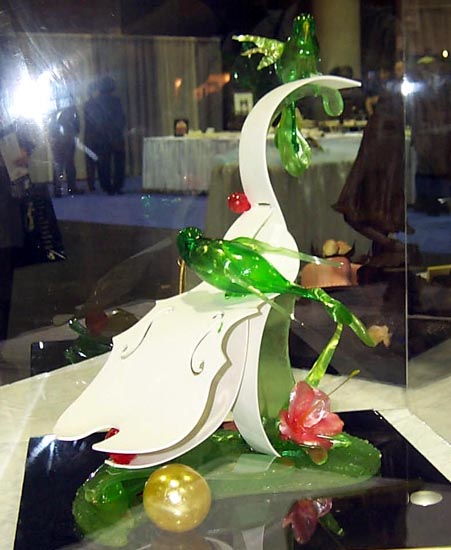 Here is an example of a quick ad-hoc pastillage construction used as cake decor--note the tree trunks are rolled while the "snowflake" foliage were stamped out with a cutter: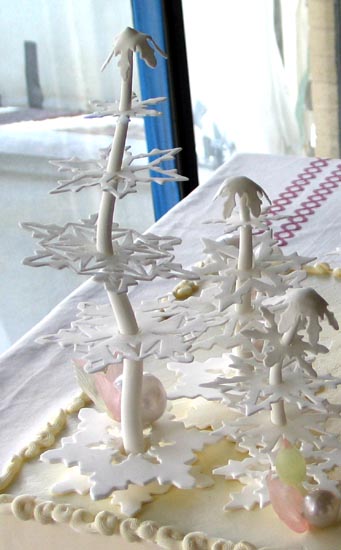 Another cake decor implementation, this time a bridal shower cake for my sister. Here the pastillage is painted using petal dusts with water. Originally I had a completely different plan - but due to some problems on the road from DC to Boston that resulted in breakage I had to improvise. I was pretty happy with the result:
Here is another, more traditional, cake decoration piece--for a 50th birthday cake for a Harvard grad--where I used pastillage to provide stability and combined it with gumpaste pieces that were lighter and more delicate: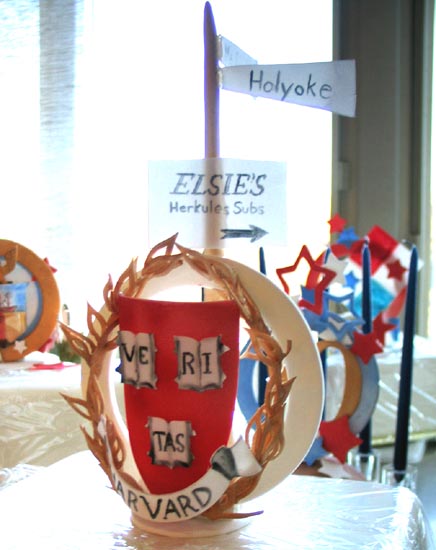 And here is a fun Baby shower cake - (the mother to be provided Cowboy Cody pictures of the zillion items that would be employed in the baby's room - I tried to follow suit.) The wagon itself is pastillage but the wagon top is gumpaste. Otherwise all the other decor--campfire, cactus, stones, etc--is pastillage: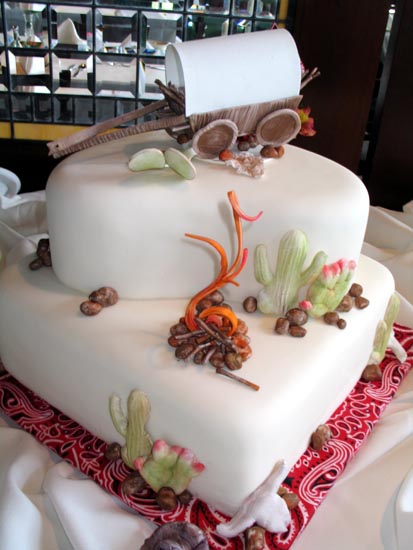 Next installment: Design and preparation