Fellow eGer kellytree and I undertook a 48-hour blitz of Hamburg's St. Pauli and Ottensen neighborhoods, followed by a regenerative Sunday in the countryside. Here my report:
The month of May being otherwise known as
Spargelzeit
, I gladly accepted an invitation to my friend Carola's mother's house on Friday for an asparagus lunch. I was given a peeler and pitched in cleaning the asparagus, which was then boiled. IMO, the Germans cook their asparagus too long, and the result is often a mushy etwas. This version was no exception, but when in Rome... The asparagus was served with a butter sauce with sauteed
Brösel
, roughly the equivalent of bread crumbs, along with simple boiled potatoes and a terrific
Katenschinken
, a cured ham Carola's mom gets from a farmer at a weekly farmers' market.
Kelly arrived in time for dinner, and we made our way to the Portuguese quarter next to the harbor. There are plenty of restaurants to choose from, and we settled on Beira Rio. A friendly enough spot, but the food really didn't cut it. Back in the day, I frequented Sagres regularly, and I remember it being far superior to Beira Rio's fare. Olaf presents a well-cleaned grilled sardine: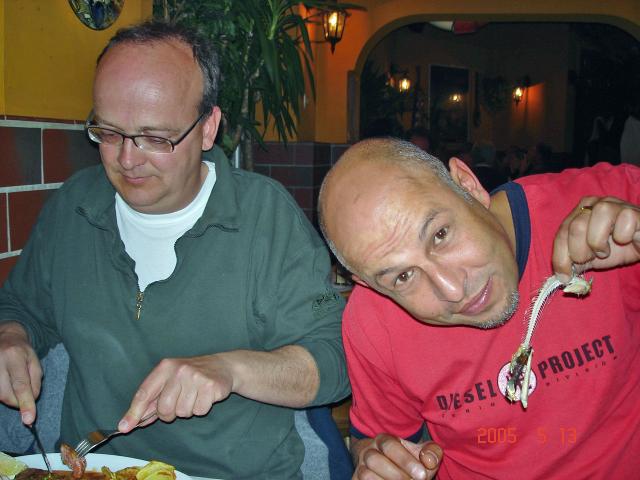 From there, we proceeded back to Olaf's Ottensen neighborhood. There are a wealth of bars and
Kneipen
, all within easy walking distance of one another. We spent an hour or so in Duschbar (Bahrenfelderstr.), the current hipster venue. Then it was on to Blaues Barhaus (Große Brunnenstr.), a dancehall/pub. Good crowd, good music, good drinks: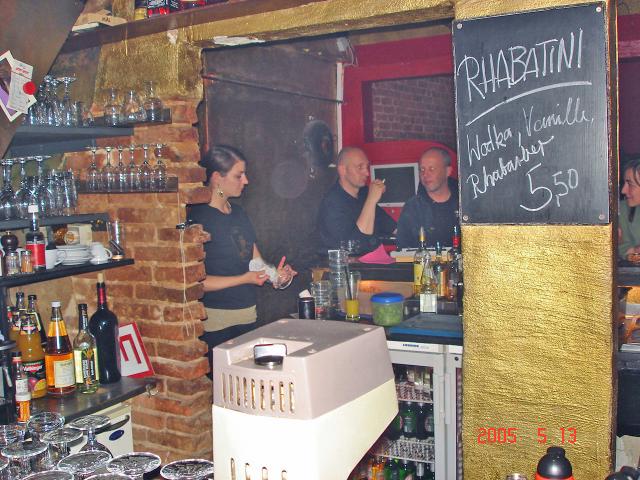 IIRC, bars in Hamburg are required to close for two hours each day, meaning some stay open until 6 or 7. Familien-Eck (where Friedensallee and the Bahrenfelder meet) is one of those joints. Ooohh, bad craziness there. If interacting with trippy freakouts, leeches, and just plain wacked-out drunks is your bag (and it certainly was ours), then this is the place to be at 4 AM. Still, Kelly has a knack for sussing out people that can hold a conversation, too: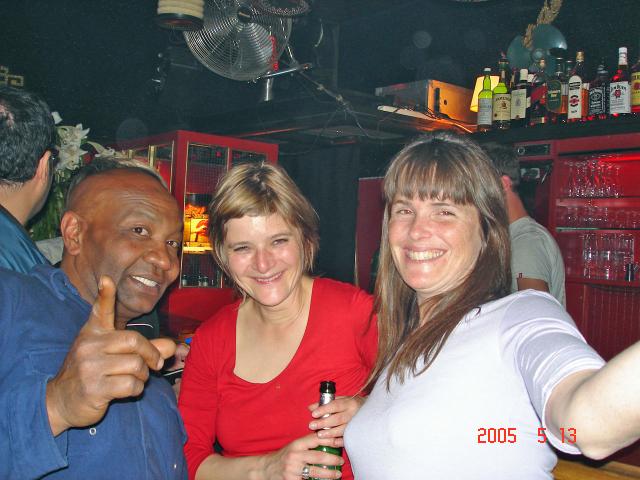 On Saturday morning we meandered through the various
Passagen
downtown, stopping for a beer at the Alster Pavillion (Jungfernstieg), an outdoor café offering a nice view of the Inner Alster, Hamburg's manmade lake. Then it was on to the Landungsbrücken (Hafen) for a disappointing Thüringer Bratwurst and a delicious Flens. I'm thinking Werner would approve of this shot of his favorite beverage: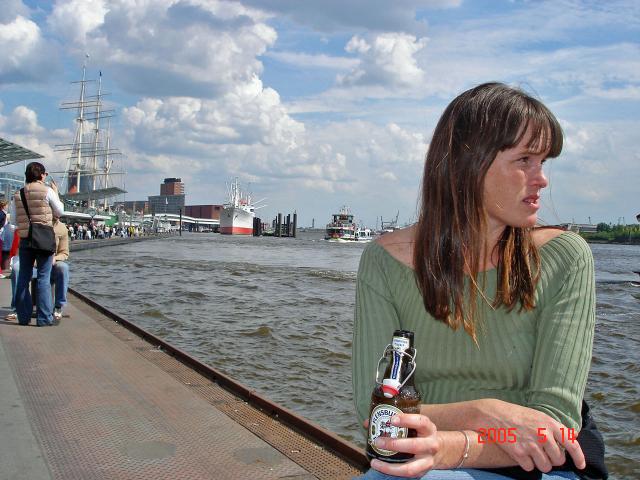 The latest fad in the Hamburg gastro scene are beach clubs, where tons of sand are trucked in and dumped alongside the Elbe, around which tacky clubs are built (I understand this is happening in Paris, too). We passed on these and instead made our way out to the venerable Strandperle (Övelgönne), a self-service bar/café on the Elbe. The pleasant weather made for long lines for drinks: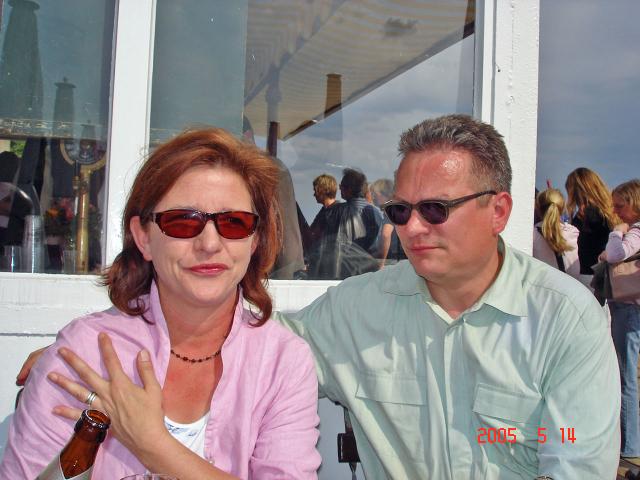 Saturday dinner was at
Stocker
(Max-Brauer-Allee), located in the former workshop of the Children's Theater next door. Chef Stocker is Austrian, and so is the cuisine. I'm afraid I was too busy socializing to keep many notes, particularly about the excellent wines our superb (and most entertaining) server selected for us. I arranged for a long Tafel to accommodate the 12 of us: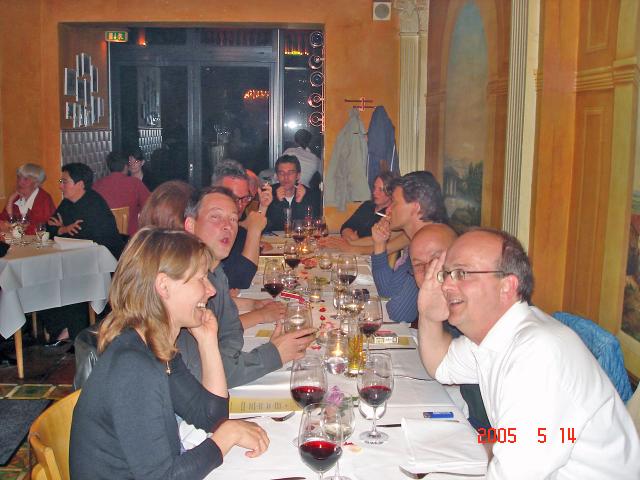 First up was South Tyrolian bread salad (
Südtiroler Brotsalat
) with grilled quail. I'm ashamed to admit that this was the first time I've had this well-known Austrian specialty – essentially marinated bread with tomato, onion and basil. The quail was excellent.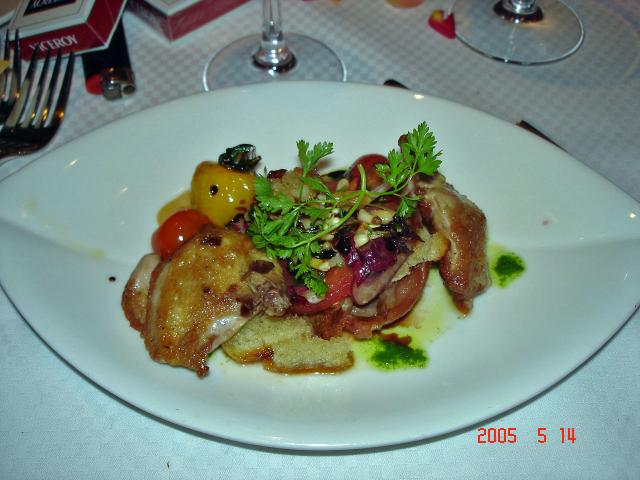 Next came a ramps soup (
Bärlauchsuppe
). Ramps is the current fad in German cooking. There are ramps in just about everything, making it hard for me to believe it's like the truly wild, seasonal product we have here in the States.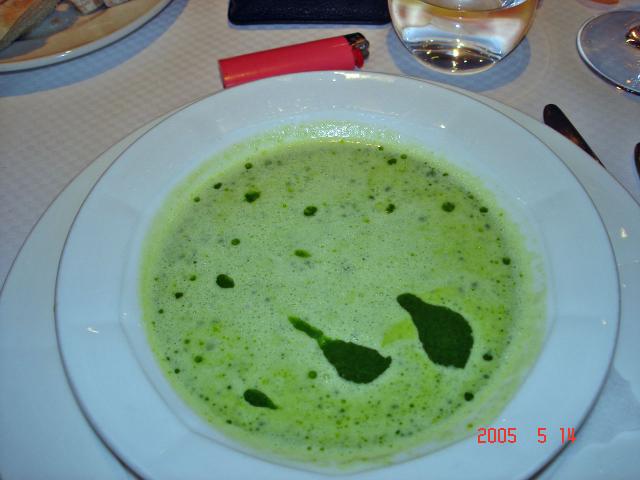 Cinghiale pronounced the soup quite good: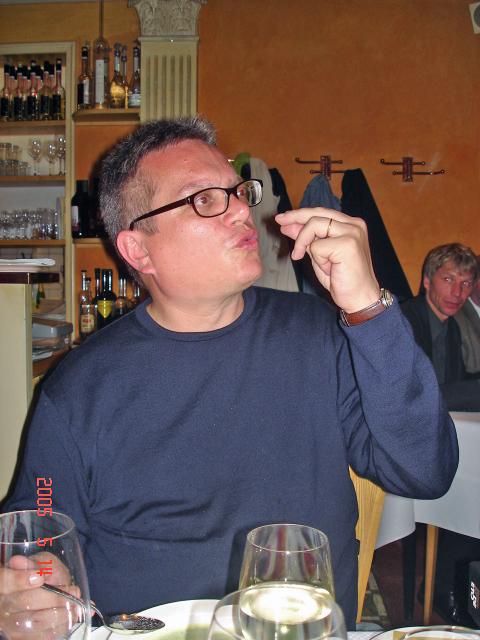 The third course was Arctic Char wrapped in cabbage (
Krautwickerl vom Saibling
), served with a Riesling sauce. This was an intriguing combination of flavors and textures. A good dish: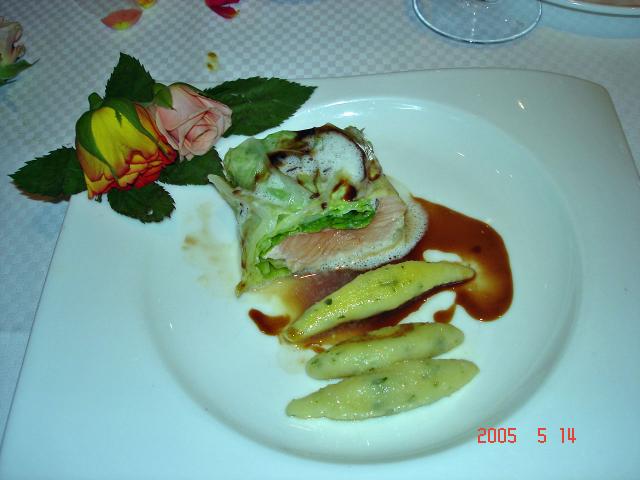 I asked that there be a choice for the main course: Either veal loin, served with a ragout of asparagus and a ramps pesto (rich, very nice):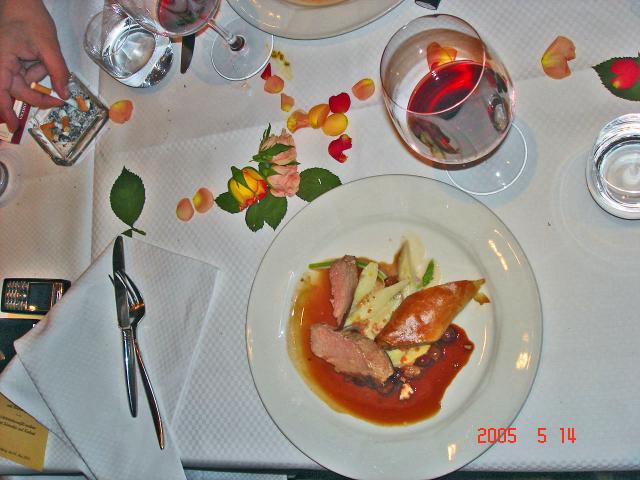 Or sea bream (
Dorade
) with spinach:
Dessert was chocolate souffle with caraway ice cream and a crocant: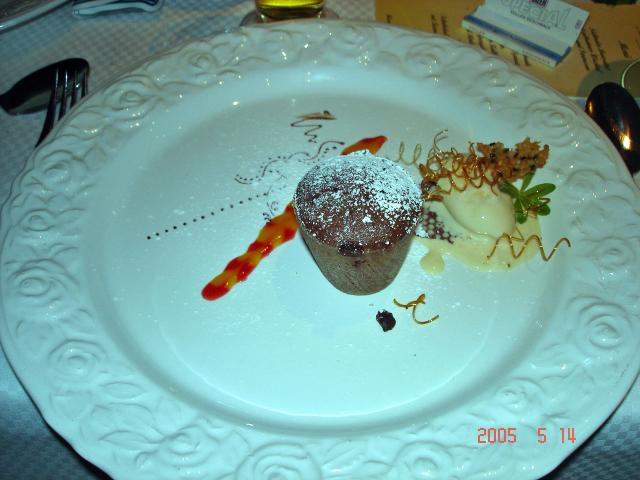 Dinner broke up around midnight, perfect timing for a crawl through St. Pauli's teeming nightlife. It happened to be one of Germany's many holiday weekends, this time
Pfingsten
(Whitsun – what is that, anyway?), so the quarter was jam-packed. We started at the new Comet, which was depressingly way less fun that the old Comet, formerly located next to the Herbertstraße, the street that's, umm, closed to women pedestrians. So we crossed over the Reeperbahn and hit the Hamburger Berg, a two-block street packed with at least 20 bars, ranging from hard-core dives to super-hipster joints. We passed on the too-crowded Ex-Spar (scene of a legendary riot between skinheads and anarcho-punks following Germany's victory in the 1990 World Cup) and made our way to the even more crowded Rosi's:
The heat drove us out after one beer, and we retreated to the somewhat saner Sorgenbrecher: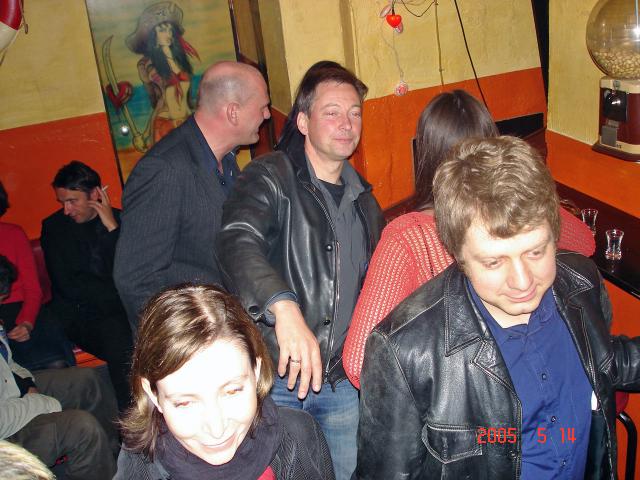 From there, we wandered over to Toom Peerstall (Clemens-Schultz-Str.), where a recent renovation has robbed it of its flair. Gone are the transvestite barkeepers and the anything-goes atmosphere. Wary stares greeted this marauding crew, so me moved back over the Reeperbahn and spent a good time in Beat Club (nee Gun Club) (Hopfenstr.), still one of my favorite bars in Hamburg: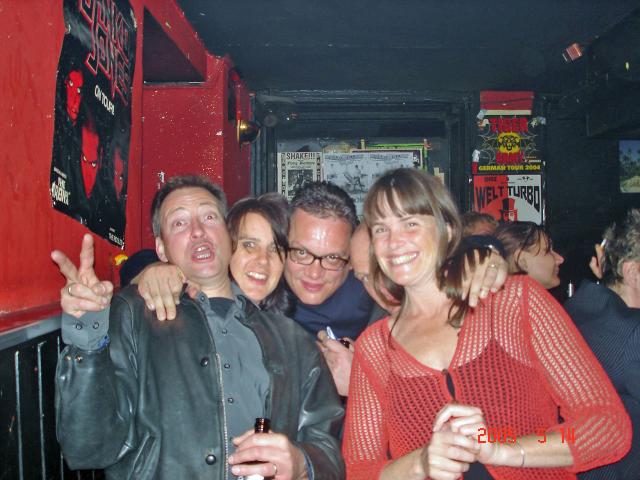 Onward toward the harbor we stumbled and ended the night at Golden Pudel, which was filled to the rafters at 3 AM. No chance of moving on the dance floor, room only to drink a beer: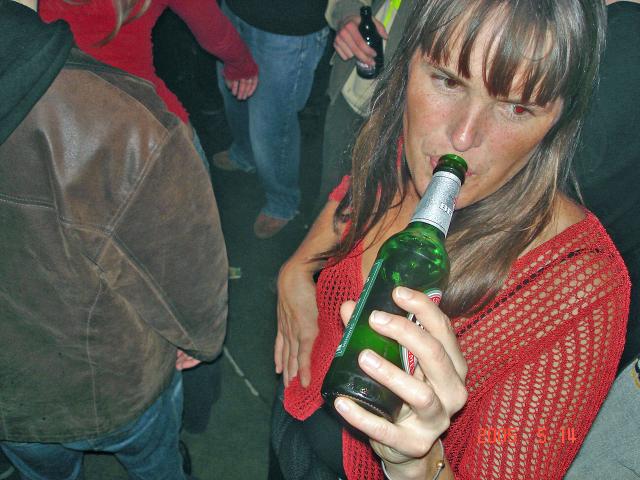 As we left, my addled condition caused me to neglect having us check out the Fischmarkt next door, Hamburg's open-air institution/circus/market open from roughly 4 AM to 9 AM every Sunday. Oh well. If Behemoth's around, she'll scold me.
On Sunday morning (well, later Sunday morning), we drove north of the city to friends' Grimms Fairy Tale-like, thatched-roof cottage. A regenerative breakfast was the order of the day. Here, porchetta and prosciutto crudo, brought by Kelly from Italy, together with wild boar liver pate, pork liver pate,
Rotewurst
in the glass,
Johannisbeer
(black currant) jam, and somewhere on the table
Griebenschmalz
, rendered pork back fat with porky bits, and a nice, cured, homemade
Bauchspeck
, all served on great German bread.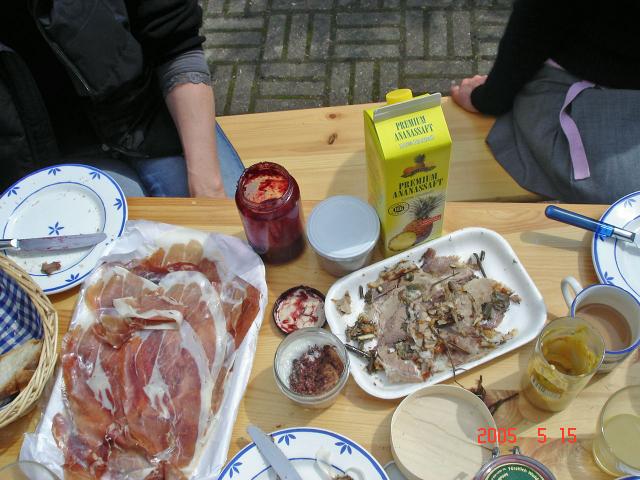 A long walk, and then shrimp risotto for dinner (thanks to former Italy host Craig Camp for the recipe, found
here
), which Kelly very nicely tweaked by sauteeing in some of the prosciutto crudo. Shrimp, pork, cream, rice -- delish:
Hamburg is a good eating and (it goes without saying) drinking town. I neglected to report on my trip last year, which included stops at Poletto (Germany's only *'ed woman chef), Tafelhaus (in a sleek new building in HafenCity), and the inspired Artisan, set hard up against the abbatoirs of the Schanzenviertel. While I usually focus on St. Pauli and environs, the city is cosmopolitan and, foodwise, very diverse.