So my pal Rob dropped by with a few scallops yesterday. He'd gone out early and did two scuba tanks on his "secret spot" out here in Casco Bay. There is a Red Tide alert this week but the abductor muscle of the scallop (the part we eat) is not affected. Good thing he has a license to do it as many clammers and mussel aquaculturalists are losing money while they sit on shore and play cribbage. Rob also
takes people out fishing on the F/V "Maine Lady III".
Among the bag of treasure he brought by was this gigantic scallop...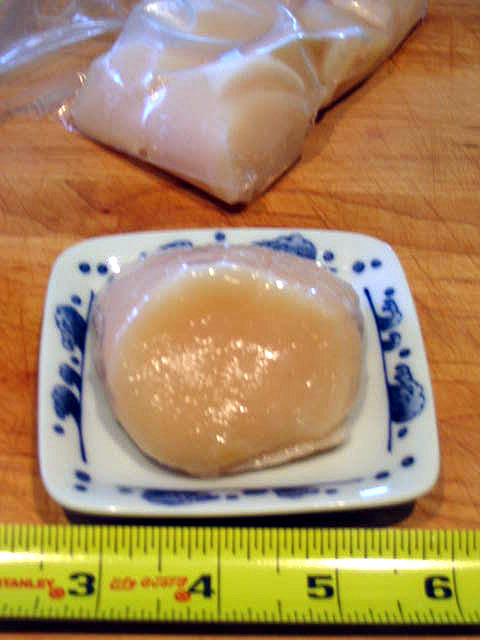 It's about two and half inches wide at the small end. We call these "hockey pucks".
Here's a better look (still perfecting my shutterbug skills). This thing was ginormous so I had to post it for all to see.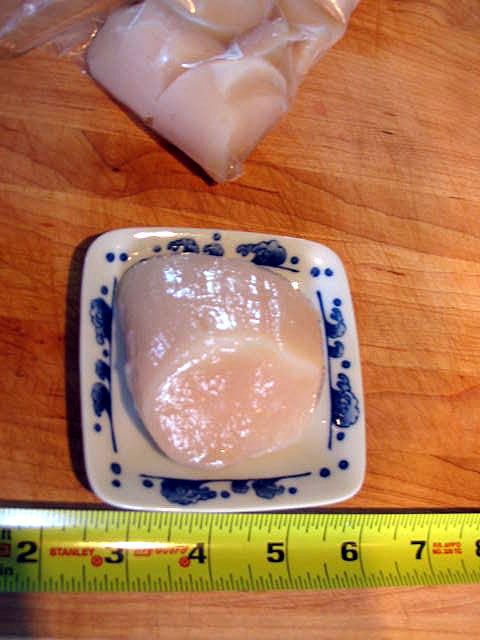 I heard of some chefs in NYC that serve just two of these monsters in a mornay sauce and charge about twenty-five bucks. Could be a bargain.
Since they don't come any fresher, we have to get started on a ceviche right away.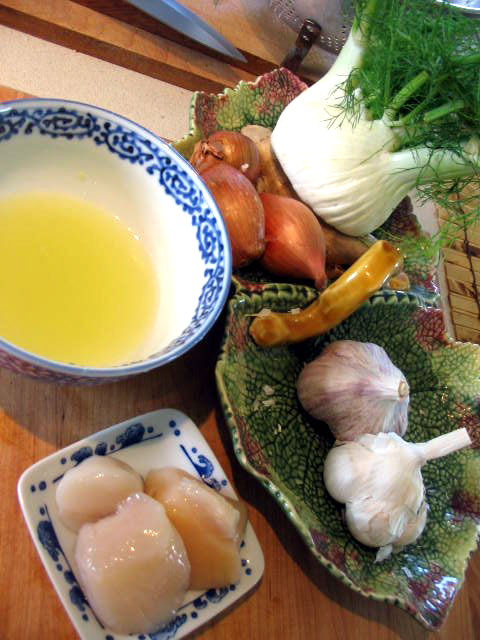 I'm not a fan of too many ingredients in ceviche. A Peruvian friend of mine, also a diver, once whipped up a stunning version with just lime juice, cilantro, and thinly shaved shallot. The addition of chili pepper in some form is de riguer but his young daughter preferred it without that day.
I'm out of cilantro and it's only five inches tall out in the herb garden so we're going with fennel bulb, shallot, garlic and juice of two limes today. After removing the tough bit on the sides, I took four regular size scallops and sliced them into rounds about a 1/3inch thick.
I added sliced shallot, one clove coarse minced garlic and fennel bulb, coarsely chopped. Dug out some fresh thai chilis which I cleaned and sliced into ringlets. Of course I forgot I did that until I had to get something out of my eye, and ended up running around like I'm being chased by bees.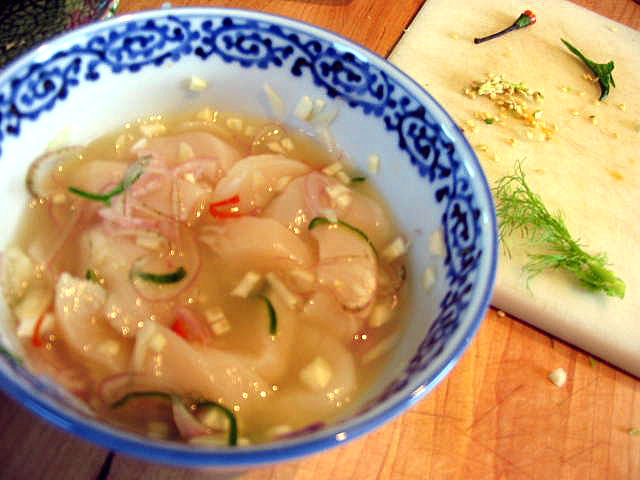 Now the hard part. Waiting! I wrapped the bowl and put it in the fridge. An hour should be fine (everyone has their opinion), but I couldn't resist a taste. It was fresh scallop alright, but there hadn't been time to "cook" in the lime juice. Chili blew my mouth apart for a quick second. Perfect!