NOTE: This topic is part of the Eating New Orleans series.
We wanted some andouille and tasso to bring home, so Louisiana forum host and site manager Brooks Hamaker (Mayhaw Man) suggested we try "Jacob's in La Place". La Place is pretty much considered to be one of the key centers of Cajun specialty meat production in the state. For an interesting article on andouille and La Place, read
this peice by Pableaux Johnson.
We looked it up in our GPS, and that yeilded
Wayne Jacob's Smokehouse
769 W 5th St # A, La Place, LA 70068.
Main Phone: 985-652-9990
Fax: 985-652-0999.
We arrived to a somewhat ramshackle-looking building that included a small restaurant, and a small counter and fridge where you can buy Andouille, Smoked Sausage, Tasso, and Beef Jerky. Brooks made the place sound like it was a big operation like Poche's, but it wasn't.
As it turns out, after discussing all things Andouille with David, the smokemaster and butcher at Wayne Jacob's, that we came to the "wrong" Jacob's, and he was glad that we did. Wayne Jacob's Smokehouse is the genuine heir to the original Jacob's Andouille recipe, and they've been producing it for many years. The OTHER Jacob's Andouille, also located in La Place, which is much more well known and is a much larger operation, uses preservatives and heavy nitrates in order to make their product shippable and thus has a USDA certification. Wayne Jacob's Smokehouse, on the other hand, only can sell locally, because its goods are highly perishable, even though they are salted and smoked. David encouraged me to compare his product to Jacob's Andouille, and he invited me to watch him make the product to show me how superior it was. I took him up on it.
Here is finished andouille, after smoking in one of the 4 smokehouses for 10-12 hours.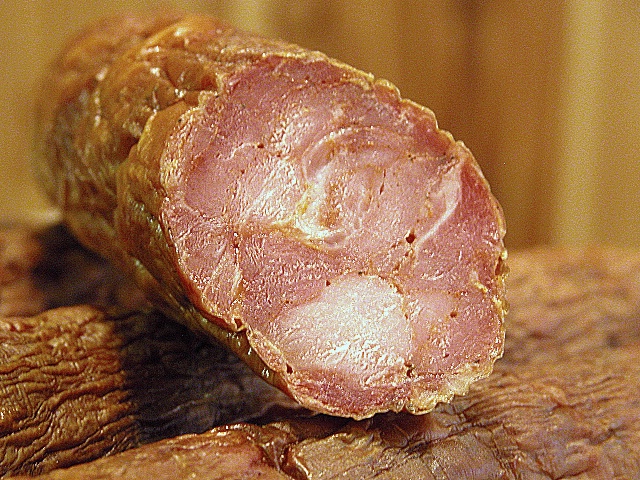 This is a cross section of a smoked andouille sausage.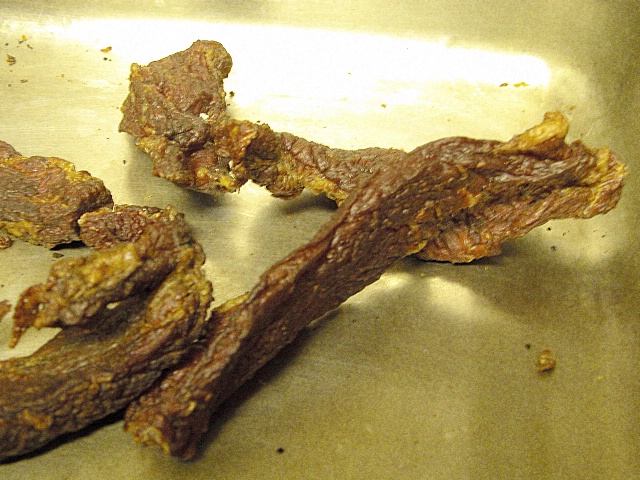 This is finished tasso. Tasso is kind of like a beef jerky but it is make with pork. Tasso is smoked longer than andouille, for close to 12 hours.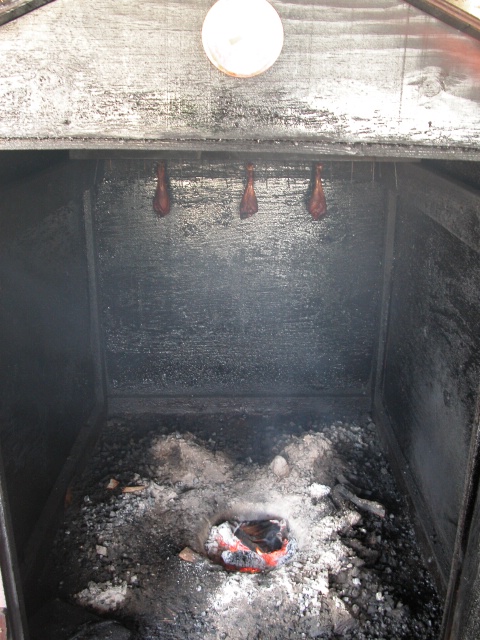 This is one of the smokehouses where the prepped meat products are hung to cure and smoke using oak and pecan wood.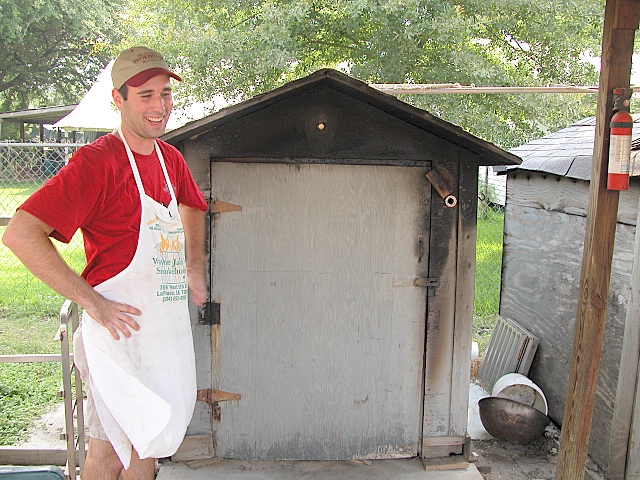 This is David, the master butcher and smoker at Wayne Jacob's.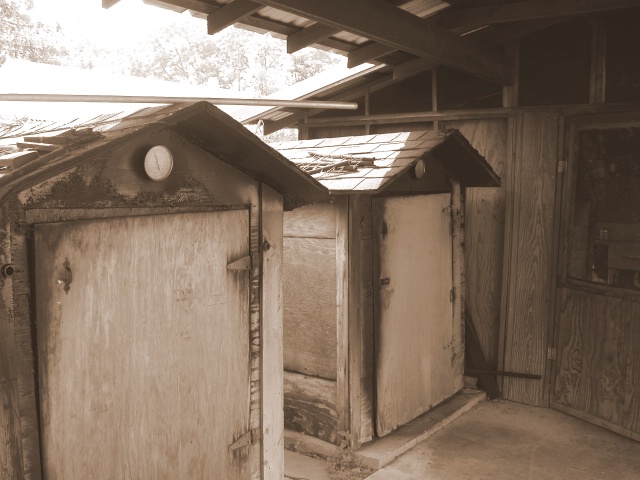 A side view of some of the smokers.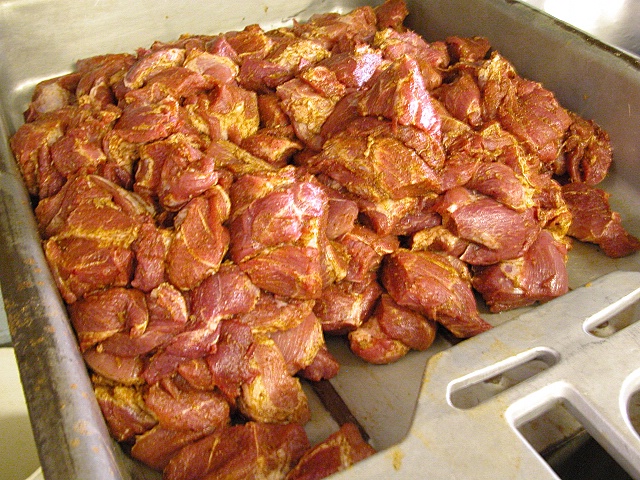 This is pork shoulder --"boston butt" , which has been fully cleaned of all sinews and veins, and has been salted with cayenne, garlic, and black pepper added. This is the starting point for both tasso and andouille -- in the case of tasso, the meat is cut into large slices and brought directly to the smoker for smoking. For andouille, the process continues.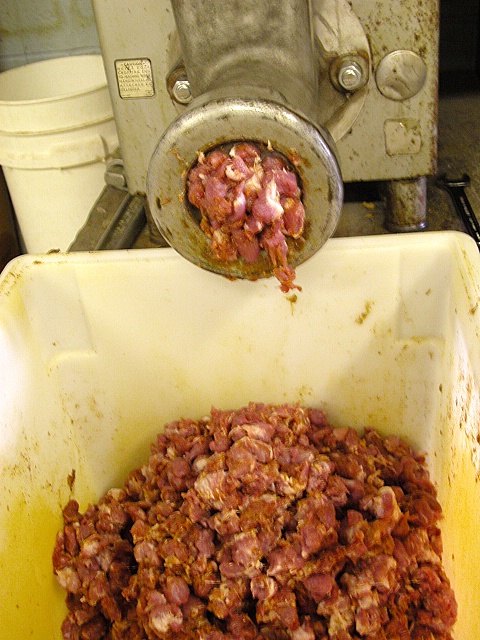 The pork butt is then put thru the meat grinder, and it comes out in smaller chunks.
The chunks of pork butt are then stuffed into the hopper of an old hand-cranked stuffing machine made of cast iron which is about 80 years old. They have an electric stainless steel unit, but David prefers the older one because its easier to clean and much more simple to use.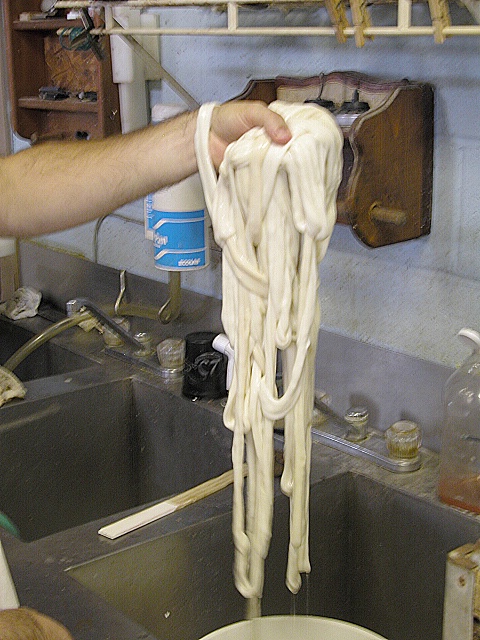 Beef intestine casings are washed and prepared for stuffing.
The beef casings are hooked up to the stuffer, and you crank away!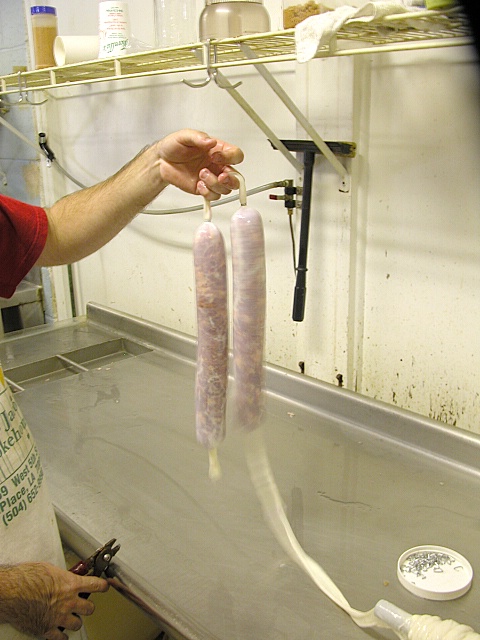 The first two links.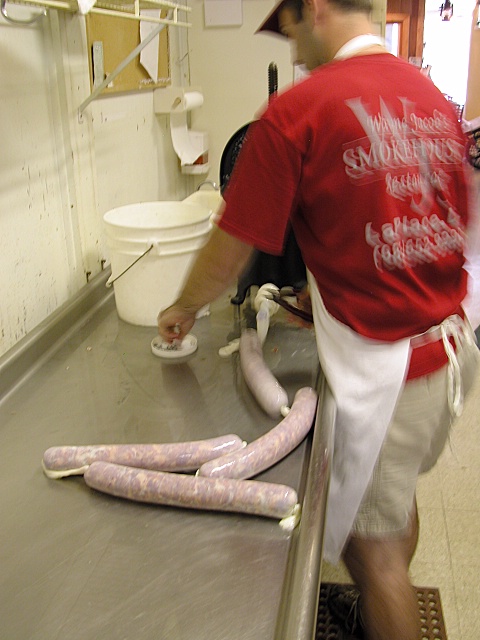 Makin' sausage.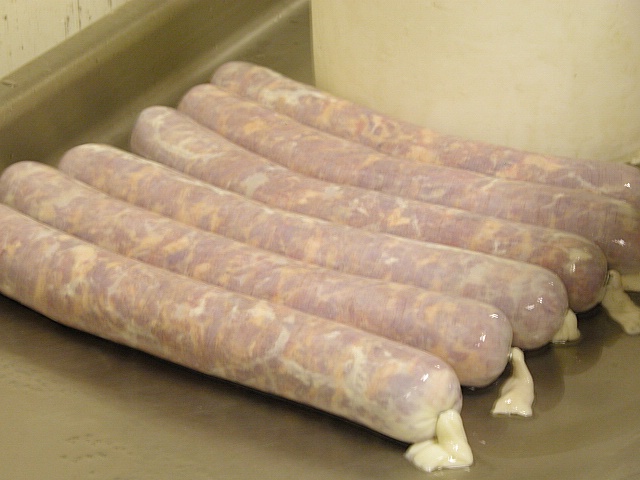 A whole bunch of andouille, ready for the smoker.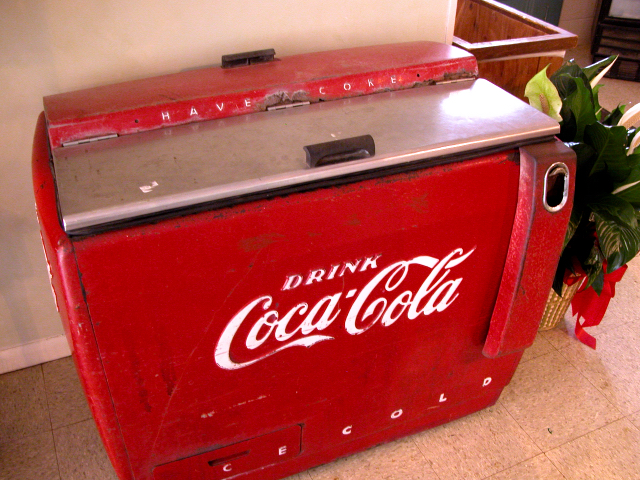 While at Wayne Jacob's, you can have a few po boys or some jambalaya or gumbo featuring their meat products. They also have a fully working, functional antique coca cola cooler stocked full of Coke and Barq's in old fashioned glass bottles.
I highly encourage you if you are in the La Place area to buy some smoked meat products from Wayne Jacob's. If you have to, go to the nearby Wall Mart, pick up a cheap styrofoam cooler, and then have David fill it with ice to keep your vacuum-packed meat cool while you bring it back to your hotel -- in our case, we had a freezer/refrigerator in our timeshare, and we were able to keep the stuff cold. Then when you are going home, pack the meat in the cooler with frozen gel-packs (you can get them at local shipping supply stores), put the cooler in a cardboard box, and bring your stuff back home. The vacuum-sealed meat packed in that manner was easily able to survive a 6 hour trip back from New Orleans to New Jersey.
Now that I have shown you Wayne Jacob's, here is their competitor, Jacob's Andouille: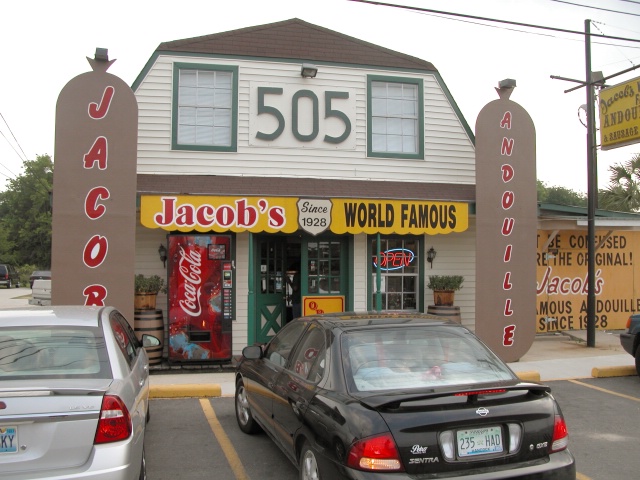 This is Jacob's Andouille, which claims to be the original.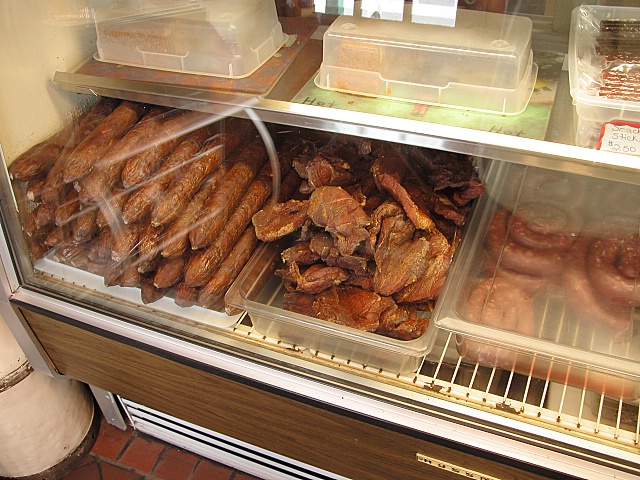 Andouille, tasso, and fresh sausage at Jacob's Andouille.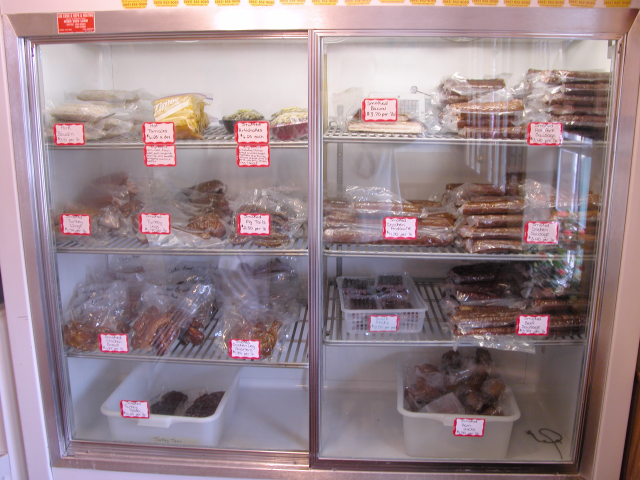 The freezer case at Jacob's Andouille. They have a much wider variety of products than Wayne Jacob's, and of course they can ship throughout the US. Its a pretty good product, but its no comparison for something that is artisanally made. We did buy and taste products from both places, and we both agreed Wayne Jacobs has the better andouille. However, if you can't go to Wayne Jacob's Smokehouse in person, this is probably your best bet if you want good Andouille and tasso shipped to you.
Here is their website:
http://www.cajunsausage.com/