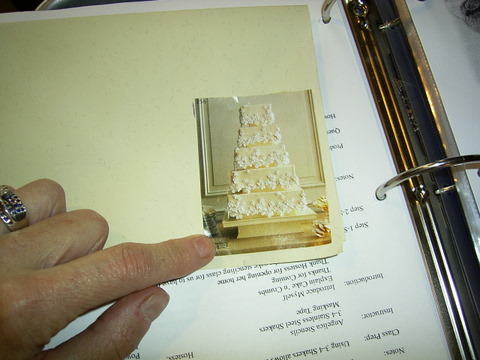 That is the picture of the picture of her cake. It is a Martha Stewart cake.
I was asked how long it took me to make her flowers. I said, "Two days and twenty-five years." (The 25 years of course in reference to the daughter herself :) I made about 900 small, medium and large sized hydrangea blossoms. I think I have the picture posting thing figured out. I hope these photos are the right size.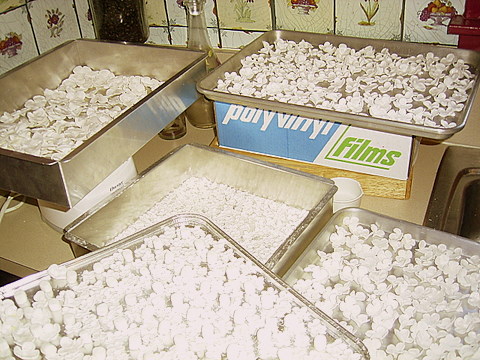 My one regret and we'll get that out of the way first is that I did not get to place all the flowers on the cake myself--I had cake angels helping me and very thankfully so because I was running out of time--but the placement wasn't exactly as I wanted it but all in all it was a huge success and it all worked out great. sniff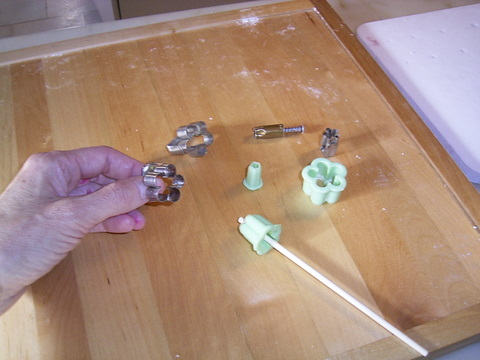 I had a variety of cutters to choose from, the plunger kind, but mine were too small, the kind with the cute little handles, but there's not enough room to pop out the flowers quickly or efficiently, the green plastic Wilton ones were the most user friendly because they have smooth more cushiony tops where you don't slice your fingers off when you press down about 900 times. But I did use one metal one, since I made three different sizes but I put bandaids on my thumbs to protect them from the sharp edges. The green cutter with the white stick is just a Wilton cutter and a sucker stick.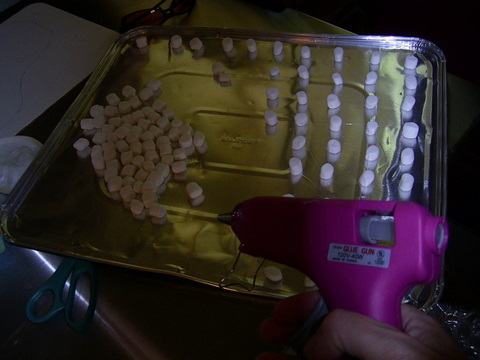 I hot glued marshmallows onto an oven liner pan for two reasons. One is so I could have an easy count of all my flowers and the other is so that I had a nice upside down resting place for my blossoms to dry out. I was using raspberry flavored fondant with tylose to help it dry nice. Another added feature --no extra charge--of the hot glued marshmallow pan is that hot glue makes great long strings that mimic hairs all over everything--as if I didn't have enough to worry about

This handy dandy roller outer board made life much easier--I had the same correct depth fondant with just a couple rolls of the pin--every time--made things go much smoother and cleaner and easier.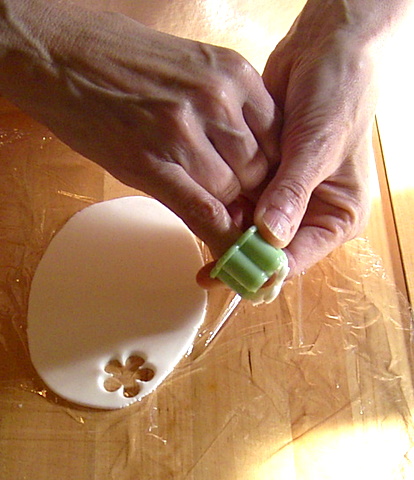 When the cutter got too small for me to push out the flower with my fingertip, I used a sucker stick to push it out. I just cut out beaucoups of flowers and piled them all in plastic containers until I could get to the next steps.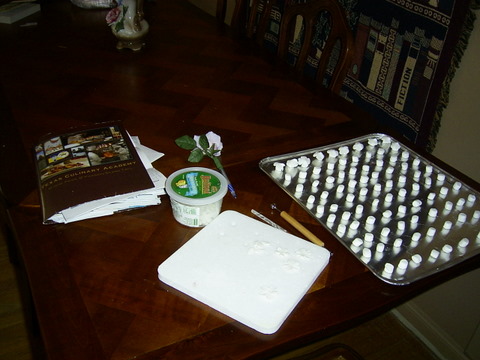 This shot and the next show where I made my operation mobile to a certain extent so I could cut out beaucoups and stuck them in plastic containers until I could get to the next steps whether I was at the table on the phone or watching tv.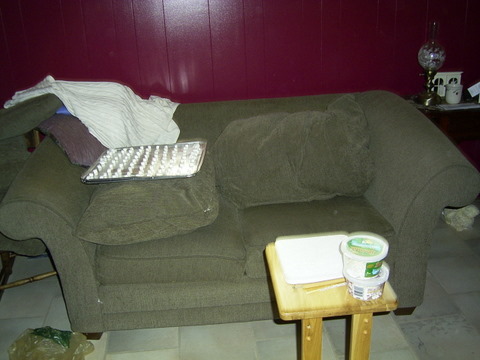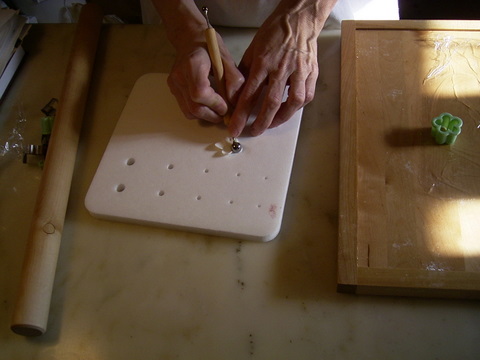 I used three different methods. For the small ones I just used a ball tool and after sprinkling with cornstarch, I just pushed the ball tool into each petal so they cupped up around it.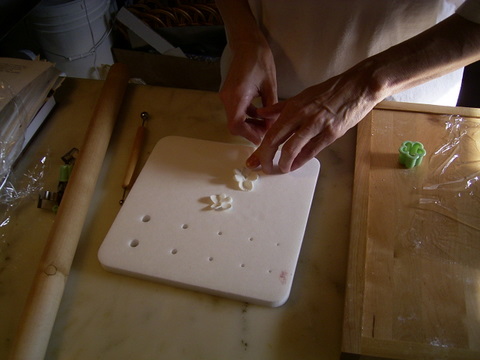 Medium sized ones, I textured the petal close to the center of the flower. Then thinned the outside of the petals by running the ball tool over the edges of the petals--you could use a marble for the same effect.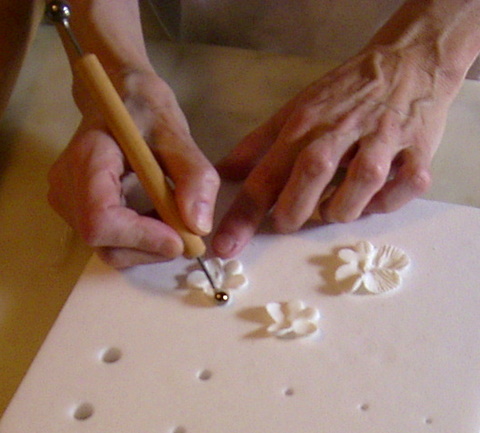 The large ones I rolled out twice as thick as the others so I could get the greater size--small and medium I rolled out 1/8" thick--larges I rolled out 1/4 inch thick--
then I just ran a fabric texturing little baby rolling pin over the entire petal--but ran it over the petal like the spoke of a wheel--not just across the edge--from the center--maybe two rolls-you can kind of tell in the picture
See how fat the fondant is too??? Real thick so I can get a greater size out of it when I roll it.
However my dilema was that I needed 4-petal blossoms and I only had a 5-petal cutter. So here's the five petal one...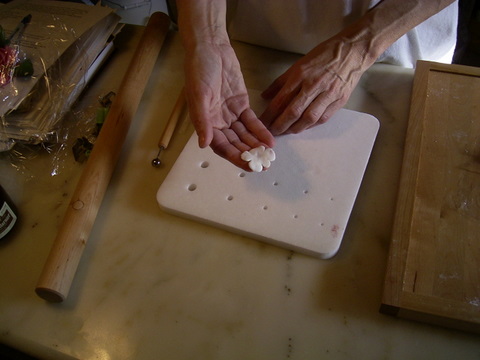 Then I turned it over, pinched off one petal and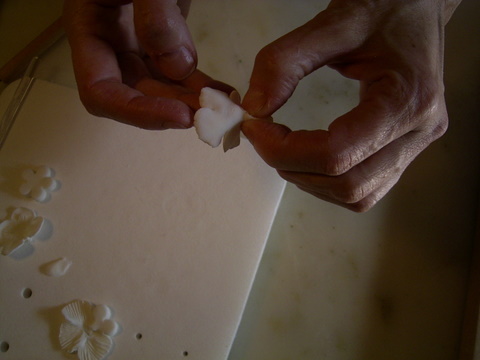 Wa a a la there you have it times 900

. But each one had to be turned over, pinch off a petal & away you go.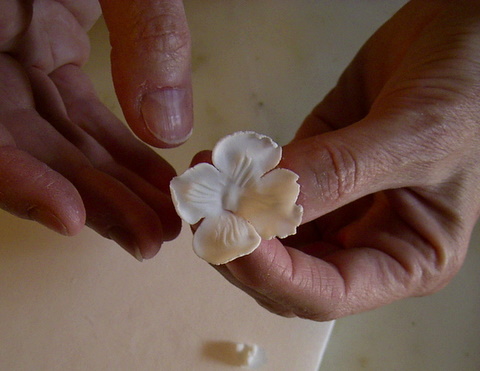 See the textured little baby rolling pin in the shot there in the top left corner of the picture??? Rather clear acrylic looking pencil shaped roller with little grooves in it. Ordinarily you would use a flower veiner for this--but this worked better for my purposes. A flower veiner is just a plastic mat with the texture imprinted on it and you press the flower dough into it to imprint the texture into the dough.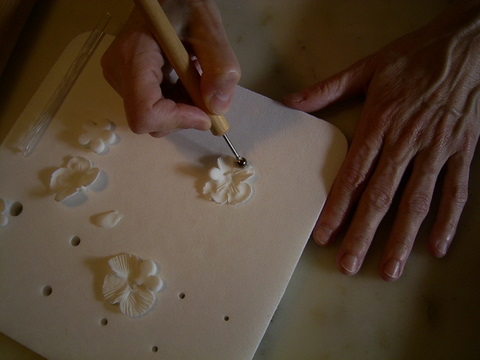 This next is a shot of how much super pearl dust I used per air brush bowlful--it was real gas to just blow the stuff on my zillions of blossoms--I used everclear and mixed each batch as I sprayed it on. Made each bloom come alive.
To be continued...