Good morning.
I'm Randi. I live in Exeter, Ontario, Canada( pop: 4,400). You might be wondering where in the heck Exeter is. I wondered that too when I met my spouse and she told me this is where she lived. Exeter is about 25 miles north of London, Ontario. We're also about 2 ½ hours from Toronto. I moved here in December 2002 right after I graduated from law school. I left Long Beach, CA to live here because I married my female partner, Robin. If you're not aware, Same-sex marriage is legal in Canada and we were the first same-sex couple in this county to tie the knot.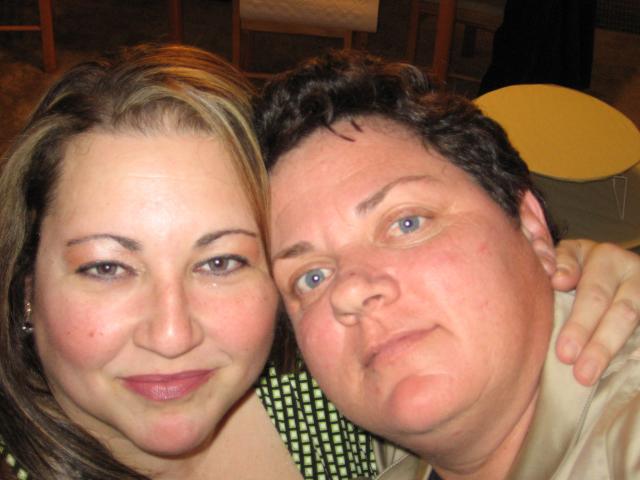 Here we are, I'm on the left.
To say that I've experienced culture shock would be quite an understatement. I'm very much a big city girl, having grown up in Ft. Lauderdale, FL and then Southern California. I took for granted the ability to eat out at 9pm, to run up and meet friends for coffee at one of the plethora of coffee shops in Long Beach , or to find any ingredients I needed without any trouble. My life has changed dramatically, and this week I'll introduce you to rural country life. Robin( username: Bennett) will be making frequent guest appearances here as well.
When I moved here, I brought my two " boys" with me. Oliver is 6 and Harley is 5. Oliver is a black and tan smooth standard dachshund and Harley is a wirehair dachshund. They would eat themselves to death if given the opportunity. Like a lot of semi-obsessed pet mothers, I often cook for them. They wont touch their bowls of kibble until I put a little bit of people food on top. Often its some of what we had the night before, but other times I'll boil them some chicken or vegetables.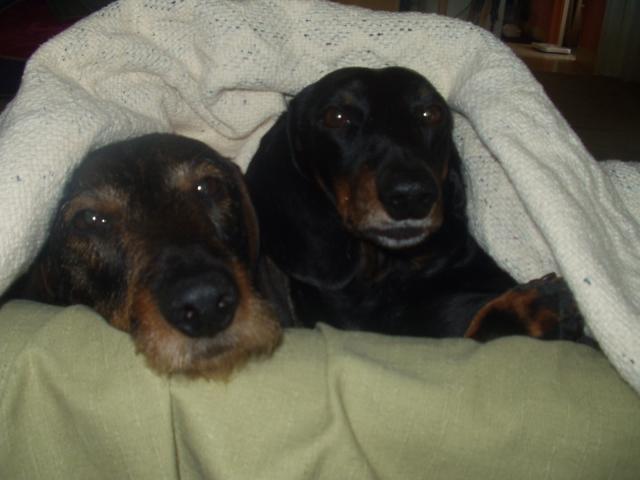 and here are the boys, Harley and Oliver.
Now, a little culinary background:
I graduated from college when I was 32, I took 2 years off and then went to law school. Due to a bunch of weird regulations here, I doubt I'll ever practice law in Canada. My next option would be a cross-border commute, but that would entail us moving closer to the border( we're 62miles away now) and Robin finding another job. That might happen one day, but for now I'm looking into finding some type of work in the food business. I attended the culinary program at UCLA Extension in my early 20's. I enjoyed it immensely, however I didn't complete the program because I couldn't afford the tuition. I put myself thru college working as a private chef for families. Luckily, I never had a problem finding a job. I did the grocery shopping, planned the menu for the week and cooked each night. It was the perfect job for me at the time. However, all that changed for me when I started law school, I basically stopped cooking. I had no time and a teeny little kitchen so I lived on El Pollo Loco and sandwiches. When I moved here, necessity forced me to become a much better cook that I ever was before. I had plenty of time to read cookbooks and source out ingredients and experiment. We occasionally eat out in London, but honestly, when we do, its not because I think I'll find some extraordinary place to eat, rather its that I just don't feel like cooking.
So on to the week:
We were in Ft. Lauderdale last week and we ate out a lot. Robin and I are both really sick of restaurant food. We ate out some great meals last week, but I think my favorite meal was one that I cooked with Robin and my best friend. I'll talk about that meal and post some pictures.
I'll be cooking dinner at home this week. I also plan on baking some dog biscuits. I brought back a jar of something that you'll see soon. I have no idea what to do with it, so hopefully, someone can help.
Please feel free to ask as many questions as you want. You can also PM me regarding anything that doesn't pertain to food. I'm an open book.
And now, I'm off to the gym. I dont eat breakfast before I work out. Be back later.