Beard Papa's Cream Puffs
http://www.muginoho.com/beard_papa/
http://www.muginohousa.com/
Shirokiya Department Store
http://www.shirokiya.com/
O.K., this has been a real long hiatus, but finally here's something again. And only a few weeks after the fact, which is pretty damn quick for someone like me. So you guys who stood in line foreverto buy exactly 5 (five) double-crusted cream puffs can look back in nostalgia.
This Beard Papa cream puff has apparently become kind of
a cult thing in New York
, and apparently some similar, on a smaller scale is happening in Honolulu, as
this story
by Betty Shimabukuro points out. We don't actually have a permanent Beard Papa's in Honolulu; they just crop up every now and then in the
food floor of the Shirokiya Department store
in Ala Moana Center.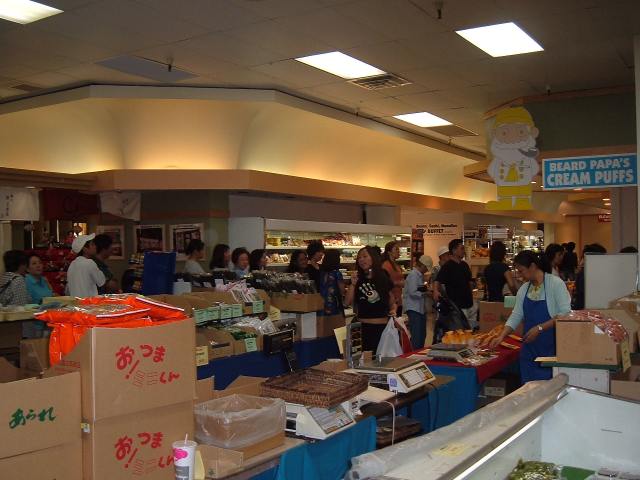 But for whatever reason the line stretched past the Minamoto Kitchoan, the Yoku Moku, and even the Dee-Lite bakery stands. You had to wait for at least half an hour to get your maximum allocation of a single 5-pack of choux pastries per customer. It's Shirokiya's most popular seasonal rotating feature by far. Given that, it seems only a matter of time before they set up a permanent Beard Papa's somewhere around the city.
Anyway, the wife, kids and I waited, and waited, and finally were able to scrouge 2 5-packs, which constituted our dinner. But there's been enough discussion earlier about how the stuff tastes - the vanilla bean specks, the "lightness", and the
real
contribution of the pie crust. I don't have much to add to this other than the things that make it most distinctive by U.S. standards is simply that it's made from scratch, not mix, and uses real vanilla, yet is available in a takeout context that doesn't require exhorbitant prices. The double-layer shell, I kind of doubt this is the key to the whole thing. The whipped cream / custard mixture - I bet you most Americans would prefer pure custard, but maybe I'm wrong. . .
Since cream puffs are not a Far Eastern exoctica, why hasn't the U.S. developed its own Beard Papa-style establishments long ago? Japanese pastry takeout (even the scandal-plagued
Mr. Donut
) tends to be somewhat more upscale in general than that of the U.S. One can speculate - but perhaps the most plausible reason is that sweet pastries in Japan occupy a different place in the traditional eating culture. They are less likely to be a grab-and-go breakfast or the ending after a big meal, but something eaten on its own in the afternoon as a leisurely interuption to the work routine. I'm not claiming that contemporary Japanese are going to be sitting down with Beard Papa and
sencha
in the gardens, but rather that the context of eating pastries still involves, to a greater extent than in the West, or for that matter, even typical Japanese meals, sitting down in one place, enjoying extended conversation, and nibbling slowly on your pastry, whether it be
wagashi
(Japanese-style sweets) or a cream puff. In such a context, you're more likely to care about the actual taste of what you are eating.
Given this, what seems routine in Japan can seem like a revolutionary idea in the U.S. It seems less likely that Muginoho's other major takeout concepts will take off to quite the same extent. The "Garam to Masala" (sic)
kareepan
(curry meat bun) is something that is distinctively Indo-Japanese conglomeration and I may simply appear strange to those who were not raised on Japanese-style curry. The "Tio Gluton" cheesecakes may have a better chance, but are playing into a market that already exists in the U.S. (slightly upscale cheesecakes), and may seem too "light" for American tastes. . .
By the way, it took me about three years to realize that
shuu kurimu
(the Japanese term for cream puffs) had nothing to do with shoes . . .
But anyway, this kind of sloppy musing aside, I thought it would be more interesting to look at the cooking process for the Beard Papaa cream puff, since it's (mostly) done on site and in the open. So here is the obligatory pictoral essay:
The whipped cream is produced in this cool machine. In fact, the process is about as mechanized as you can get for a product that is touted as all-natural. No whisking until their arms fall off, no superfluous drugery. . .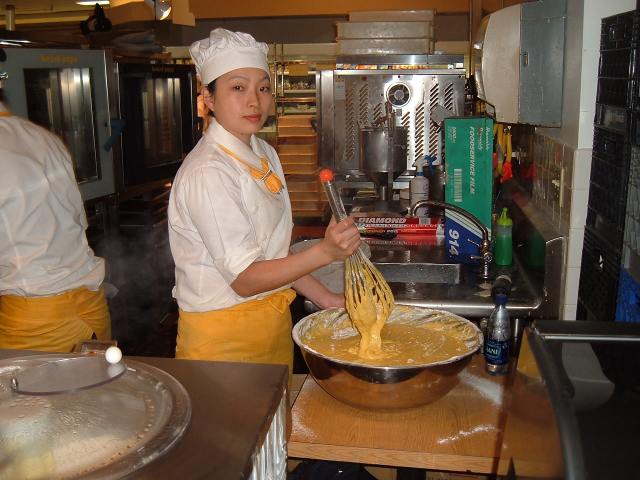 The whisking comes in when they're mixing the custard and whipped cream. She was obviously not that thrilled having me take her picture but stoically decisded to continue going about her business. I can tell you that there were about 10 gallon cartons of Meadow Gold milk sitting on the side - I bet they got it at Costco - local sourcing and all that. The vanilla is supposed to be ground pure Madagascar, and it seems to be brought over from Japan.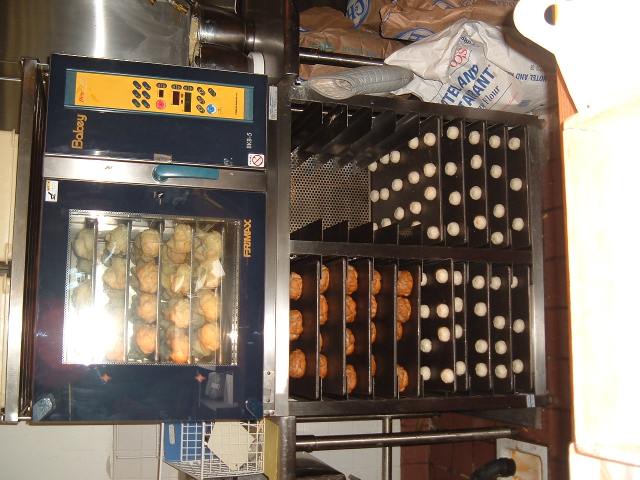 O.K., I'm too lazy to rotate the picture. If the shells were made on-site, they had been completed long before the customers started to arrive. So all you could see was the baking process. So small and cute, yeah, the uncooked ones? So you get the super-expansion and hollowing-out of the choux pastry when it's heated. But a question - how do they do this without breaking the pie crust on the outside? I was too ashamed to ask. . .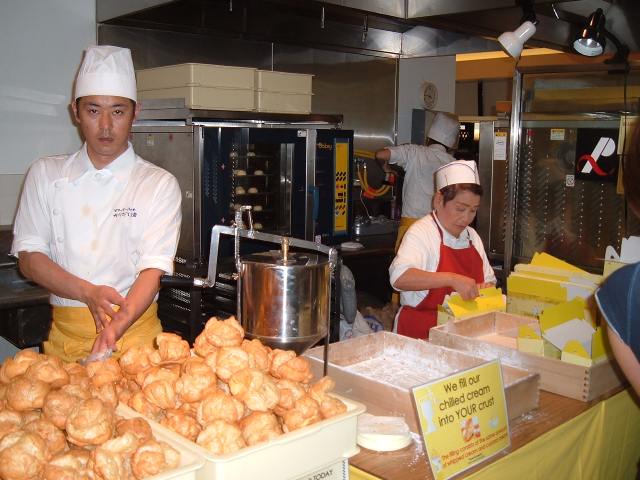 So you end up with a huge pile of shells. There's actually a sign asking customers not to massage the shells, which is actually really tempting. . .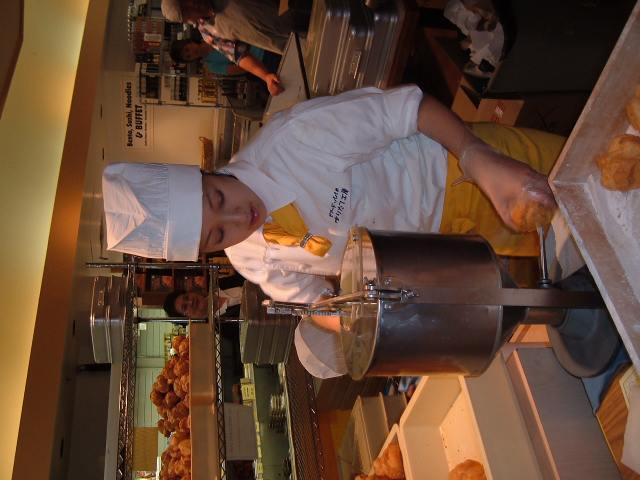 The squirting process. They do this incredibly fast using a diabolical device that somehow seems to shoot the whipped cream / custard mixture into the shell through a tube that looks much to thin to work. Somehow it doesn't explode and leave the mixture (is there a specific term for this e.g. demi-anglaise?) all over everyone's faces.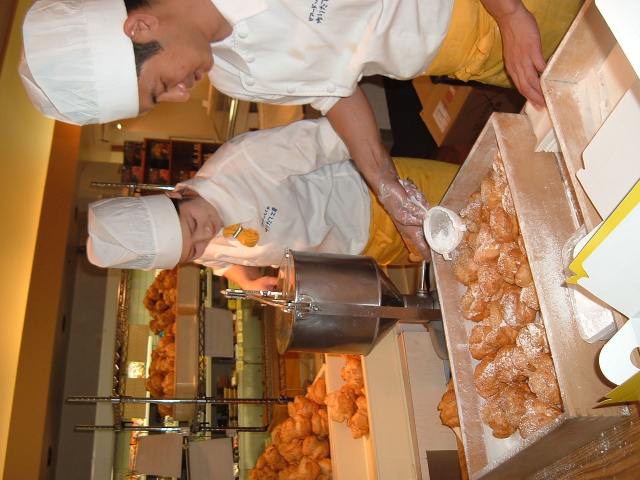 The confectioner's sugar is an extremely light coat - I don't know why they bother since it hardly shows once it's in the box.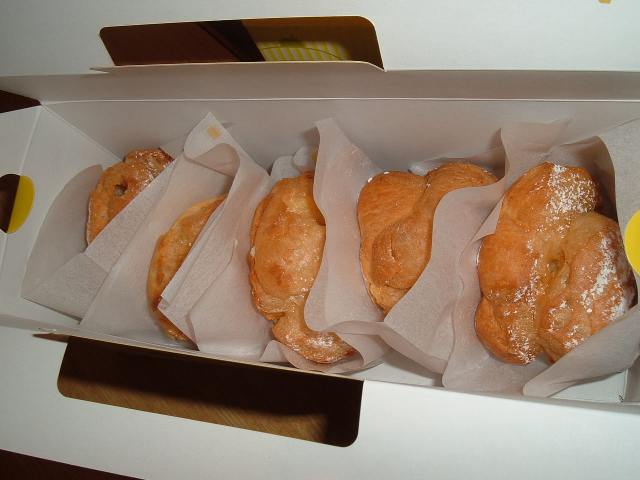 itsutsu ni narande, shuukurimu shuukurimu. . .
.
Enjoy! You can actually eat an entire 5-pack of these without getting too full, though you won't hit all the major food groups.