My husband is a thyroid cancer patient, which means that periodically he has to do an iodine-free diet for two weeks. This is VERY restrictive, and makes baking a huge challenge. Every bite he eats has to be prepared at home, no restaurants, almost no canned or processed foods. Since iodized or sea salt, bleached flour, and dough conditioners are verboten, all bread has to be home-baked. No dairy products at all, including butter. No egg yolks. No soy. No brown sugar or molasses. No chocolate, except cocoa powder. And there are more restrictions, but these are the baking challenges.
So I've been playing around with baking for him, and here are two really successful treats I've made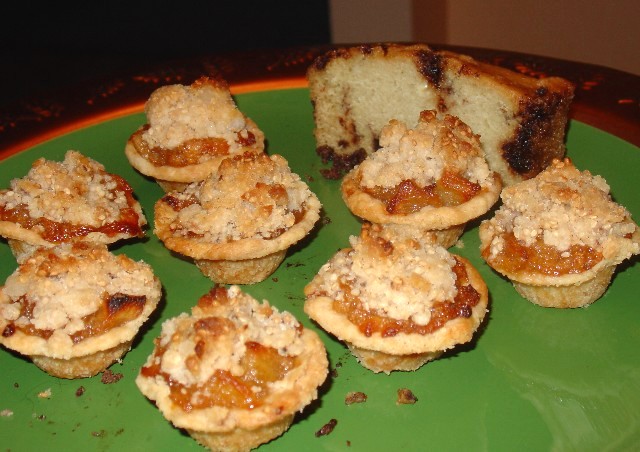 On the top is the remains of a cinnamon bread he's been eating for breakfast. The little tartlets are made with a lard pastry (home made lard), and nutmeg-simmered apples. I made a crumb topping with flour, sugar, sesame seeds, and walnut oil, then decided to put a layer of that under the apple layer, as well as on top. I haven't tasted them, but he pronounced them delicious, so I'm happy.